We've been slow to get our Christmas cards in the mail. Even though we did something really out of the ordinary this year and, on a whim, worked with a professional photographer to capture some family shots – back in early November – I still haven't gotten it all together card-wise. We might order cards to mail out, I might work with a local print shop… I have no idea at the moment.
But until then, I've been playing with diy Christmas cards. Because they're super cost-effective and super easy to make. I'll share the process today so that if you'd like to create your own $.13 Christmas cards you can.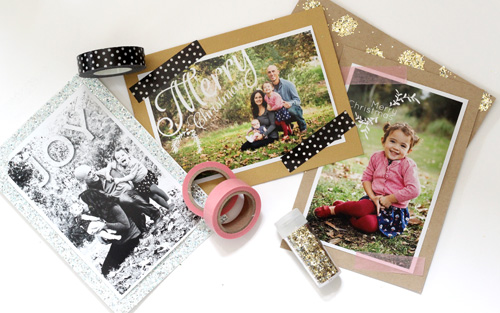 Costco in our neighborhood prints photos for $.13, but they might be $.09 or $.15 depending on your local Walgreens/Target/Sam's Club. And if you mount them on paper like I did for my samples they'll be just a bit more.
So here's how these easy diy Christmas cards work. I've created five holiday overlays to download – these are .png files that you can download to your computer and then 'overlay' on top of your family photos following these steps through the totally awesome and free online photo editor program, Pixlr.
Here are my five overlays: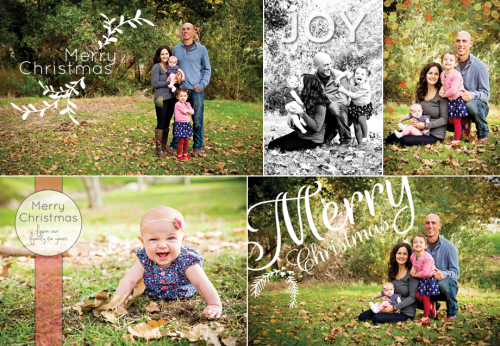 They can be adjusted for horizontal or vertical photos, I'll show you how I did that as well.
First things first, here's what the photo looks like with the overlay on top: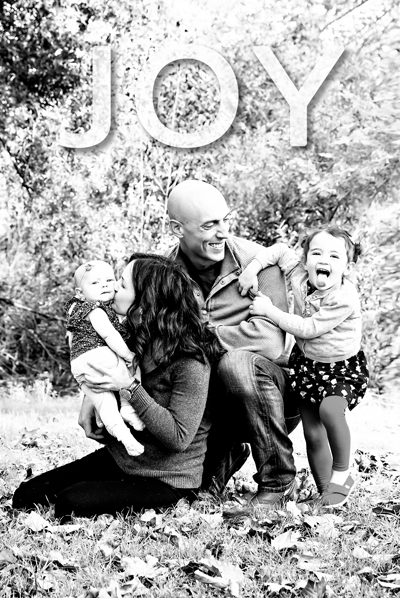 But here's what you'll be downloading: This is so easy. No editing programs to download, nothing to buy. Pixlr is a free tool that you use right on the internet.
Once you've saved the overlay to your computer, open Pixlr in a new tab in your browser. Go to File | Open and select your family photo (I'm using my 'Merry Christmas Holly' overlay as the example). You're using the full size photo straight out of your camera (don't resize to a 4×6 or 5×7, your printing company of choice will do that for you).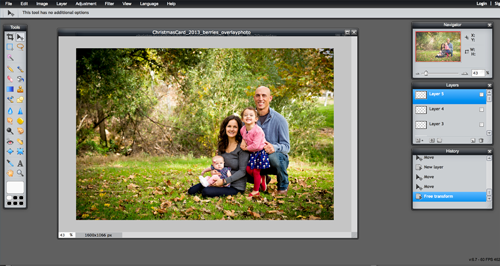 Then go to File | Open and select the downloaded overlay off of your computer. See the grey and white boxes in the background? That means that the background is transparent with the exception of the white lettering.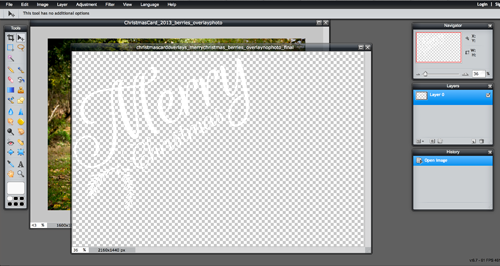 Now go to Edit | Select all to select the entire canvas of your overlay.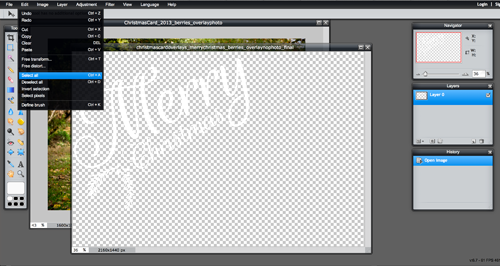 Then Edit | Copy to copy the white lettering.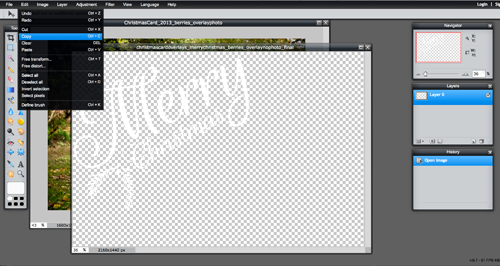 And moving back to your family photo, Edit | Paste.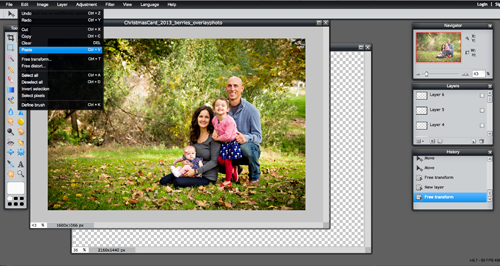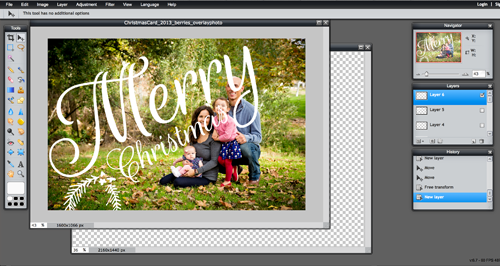 Now the overlay might be an odd size for your picture, so you can 'transform' it by going to Edit | Free transform.
Note: These overlays are big – you'll want to downsize most of them to fit your photo but not upsize (or make them any bigger) or they'll be pixelated. If the overlay is too small for your photo, first resize your photo to an 8×10 (or something still larger than 4×6) and then try pasting the overlay again.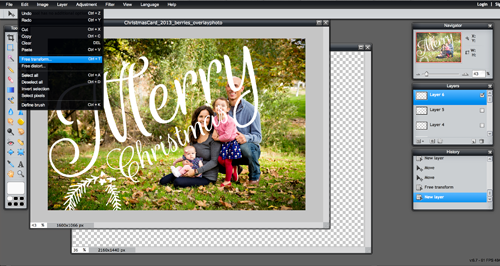 Resize, rotate, move the overlay around until it looks just right (this is why these overlays can be used on vertical photos easily as well).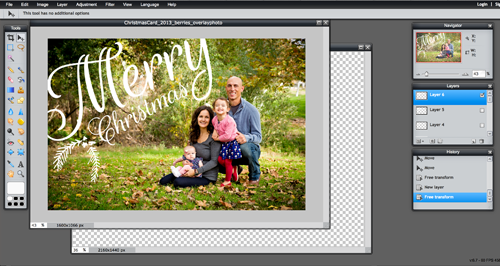 You could also use the built in text tool to customize your card with your names.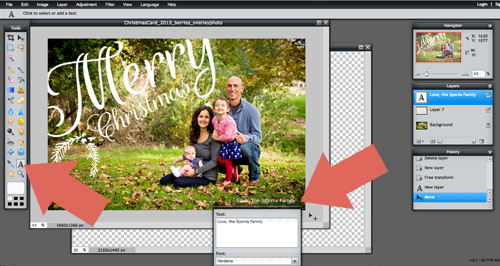 Now it's time to save. Go to File | Save.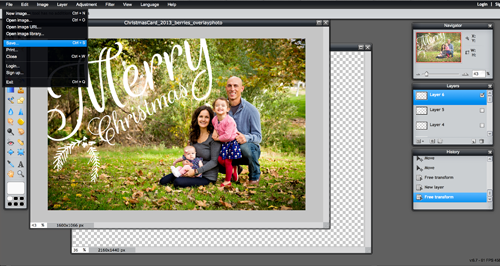 Select the very highest quality (default is .jpg and that's just fine for our purposes).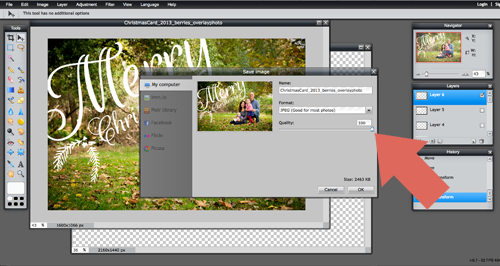 And upload to your favorite printing store (I chose Costco and printed with a white trim – which is an option with most photo printing companies). You might want to run a batch of one or two before printing all just to make sure they turn out okay. I went back to Costco twice before they were just right – but it's totally worth saving $100.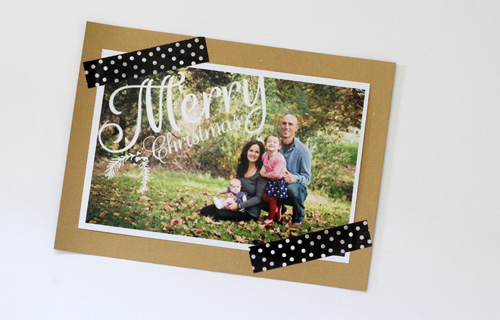 Here are the overlays to download (download by right clicking the link that says HERE and not the photo with the example).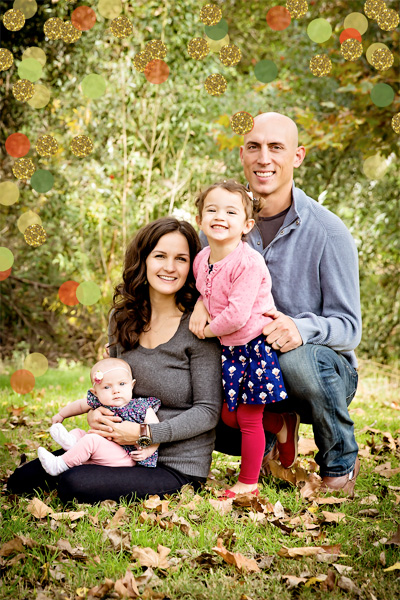 Christmas Confetti overlay download HERE.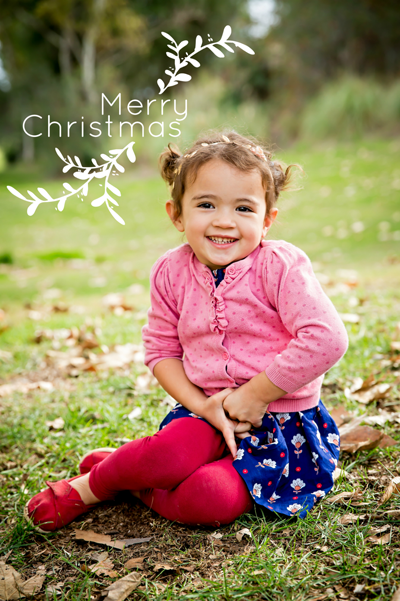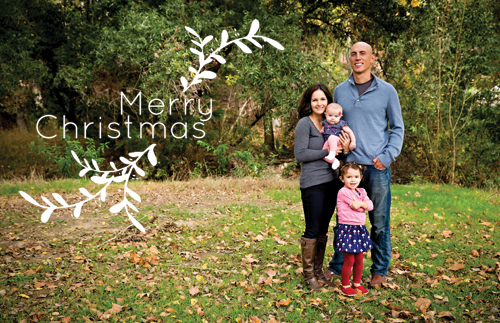 Merry Christmas Garland overlay download HERE.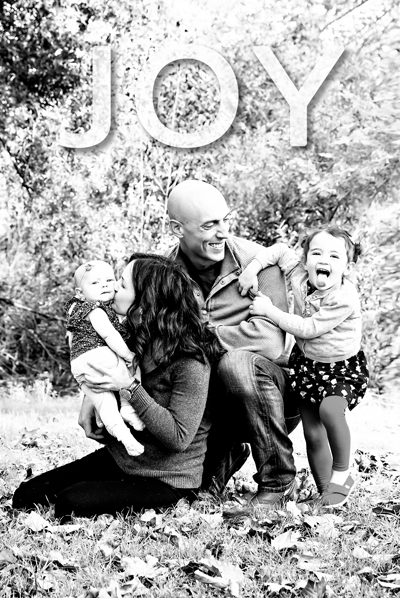 Joy Lettering download HERE.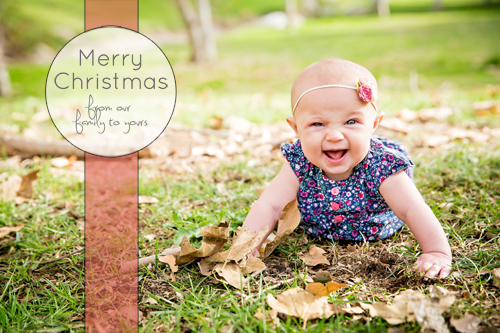 Christmas Badge download HERE.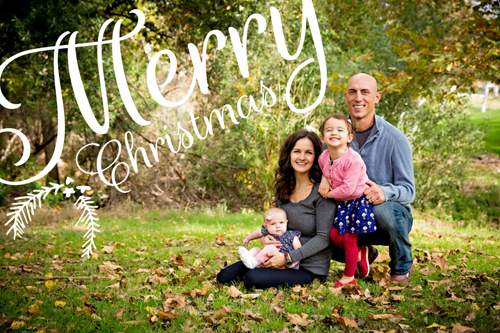 Merry Christmas Holly overlay download HERE.
If you want to go above and beyond basic printing, you could mount your photos on pretty paper. Here are a few of my favorites: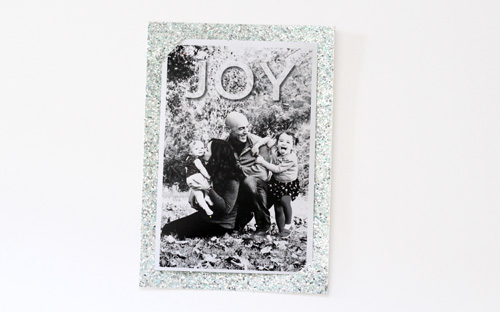 Glittery blue for our Joy photos (to attach the photo to the cardstock I made two little slits in the corners).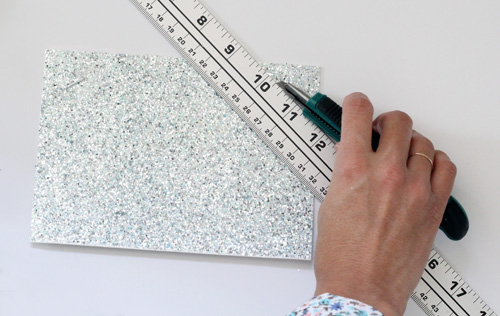 For a fun glitter background, I dotted brown cardstock with a glue stick and shook glitter over the wet glue.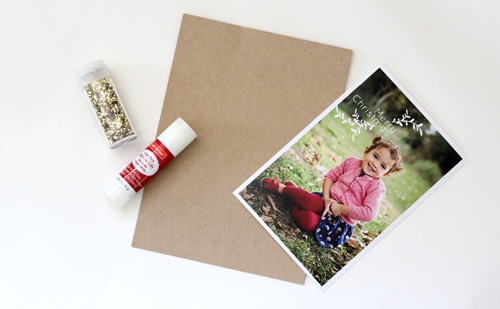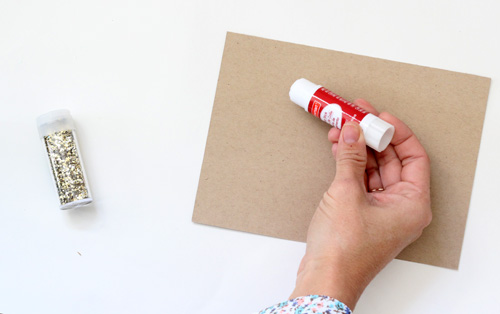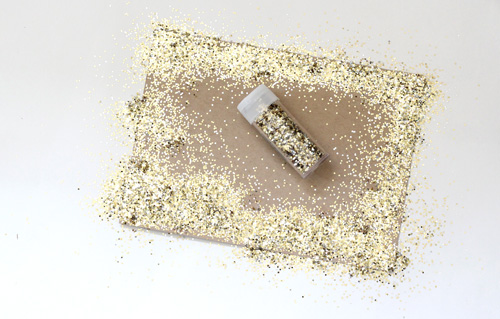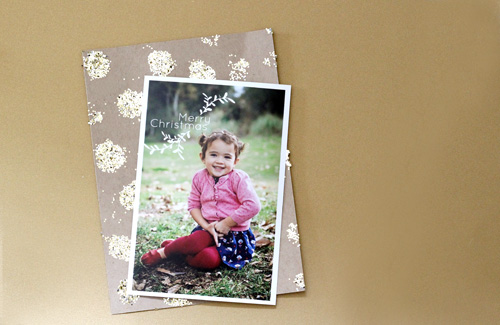 Or a basic washi tape is fun!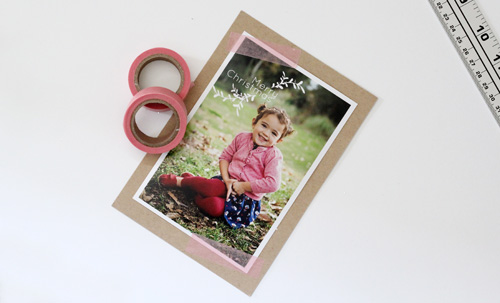 The black polka dot (from Michaels) might be my favorite.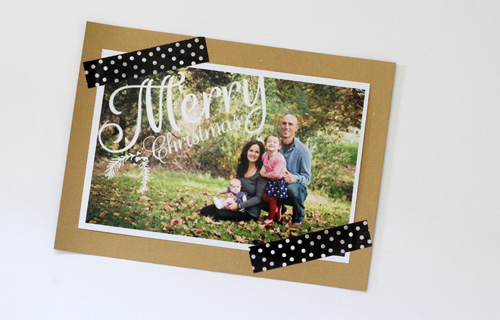 There you have it! $.13 Christmas cards for the whole fam. Shoot me an email (morgan at pepperdesignblog dot com) or leave a message in the comments if you have any questions. I'll make updates to this tutorial as I hear feedback.
Now, back to my Christmas cards I go :).
PS That photographer I mentioned? That's Stefanie of Joie de Vivre Photography. She's amazing and does very reasonably priced 'mini sessions' for the whole family. We'll definitely be working with her again!