Can you believe it's already June? That means summer and Father's Day are right around the corner. Kev's Father's Day present is usually handmade and from Liv (this is T's first) with maybe one or two store bought essentials that I know he needs or wants.
Those are always the go-to gifts for guys, right? The classic socks, everyday belt, summer flip flops… that plus favorite alcoholic drink accoutrements (another win!). Here's my list of can't-go-wrong Dad items for this year that I think most guys will really appreciate.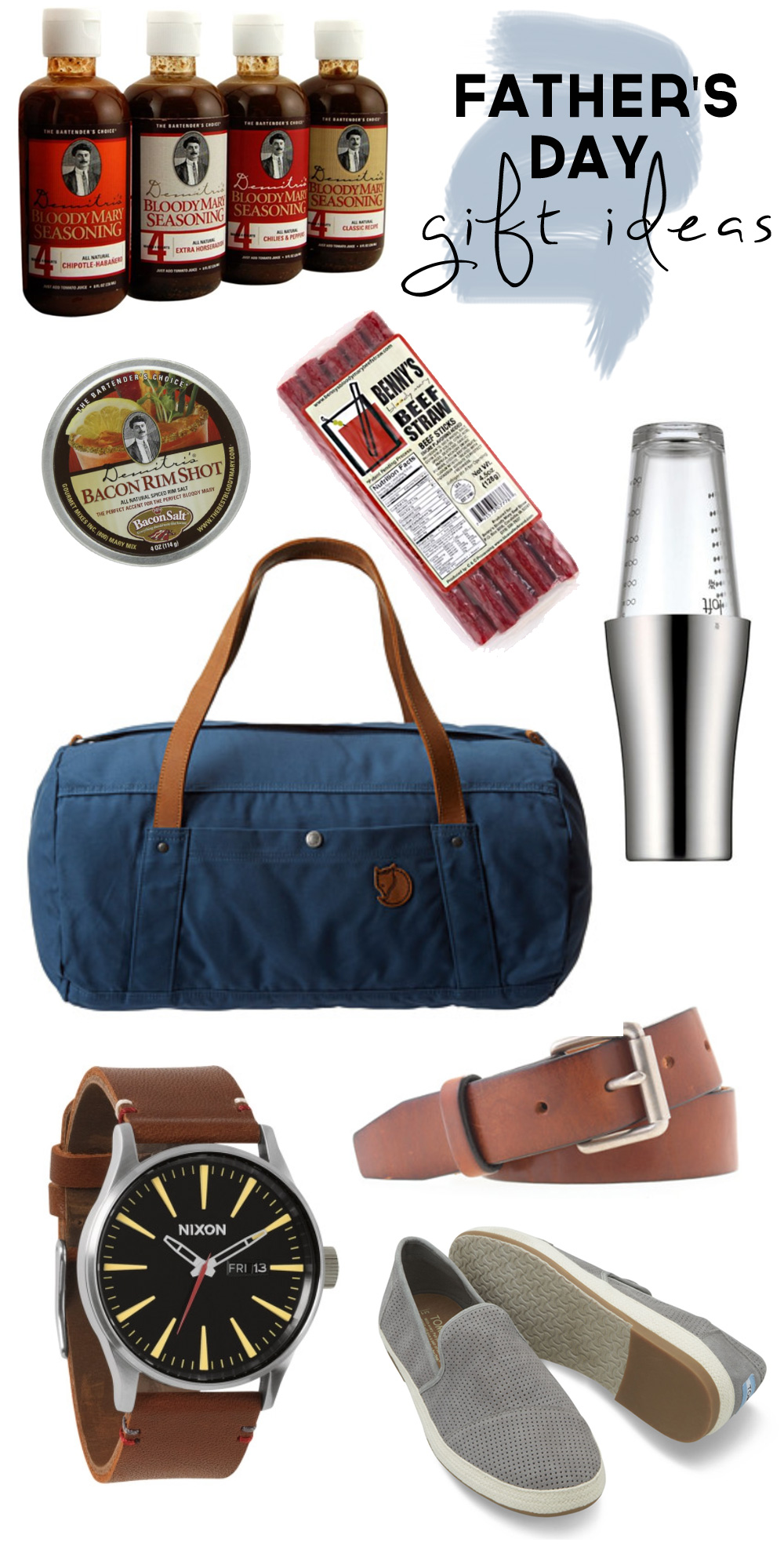 Demitri's Bloody Mary mixes | bacon spiced rim salt | Bloody Mary beef straws
WMF Loft Boston Cocktail Shaker | navy duffle No 4 | leather roller-buckle belt
Nixon leather watch | grey suede men's Toms
A little backstory: Kevin loooooves a Bloody Mary more than almost anything in the world and I think it's so fun to try and find treasures for him to try. These Demitri mixes (which boast flavors like 'extra horseradish' and 'chipotle-habanero') seem right up his alley, as does the bacon spiced rim salt! I wasn't even sure that was for real when I first saw it… For some unknown reason to me the above Bloody Mary beef straws are his current favorite. If you have a hubby/dad/son with similar tastebuds, I highly recommend. If they like to mix any kind of cocktail drink (I suppose Bloody Mary's don't apply here) a real bar & restaurant cocktail shaker is always a sure fire win. Will make any home bartender feel official, though it takes some practice.
One of my gifts for Kevin this year is a solid duffle bag (debating also on this one). He likes soft (as opposed to a structured suitcase) bags that can hold a weekend's worth of clothes easily. He prefers rugged for camping, I'm sneaking in a slightly less vinyl version for weekend getaways, too (I've waited for a well-duct taped trash bag full of clothes to come down the conveyor belt at the airport more than once, he's a simple guy). The above belt was a Christmas gift and is probably an everyday staple these days. The suede slip on Toms look just about perfect for summer. A new watch for Kev is on my list for later this year (maybe Christmas or our anniversary?).
We're celebrating a week early because I'm traveling for a graduation with the girls on the actual big day, I'm thinking a hike in San Diego and brunch is in order. Yay for awesome dads!
Past Father's Day posts (such as this favorite gift from last year) found here. And all gift guides are right over here (just to keep those juices flowin').