This past weekend I made two flourless chocolate cakes. The first, as a request for a gluten-free dessert for a bridal shower on Saturday. The second, because Liv was heart broken that we didn't have one to share with our family (she was a diligent little helper for the first cake and was truly disappointed that she could poke her spoon into the bridal shower version before I left).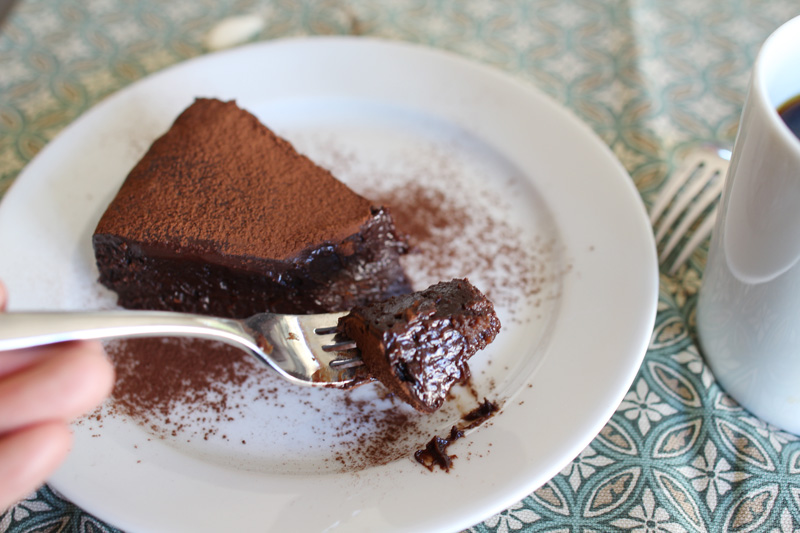 When first asked for a dessert that was gluten-free (several guests have an intolerance), I was a little baffled. Dessert? Without flour? Gluten is my thing. But then I realized that my favorite cake is indeed of the above described and it is sans flour. I am so excited to share with you all today.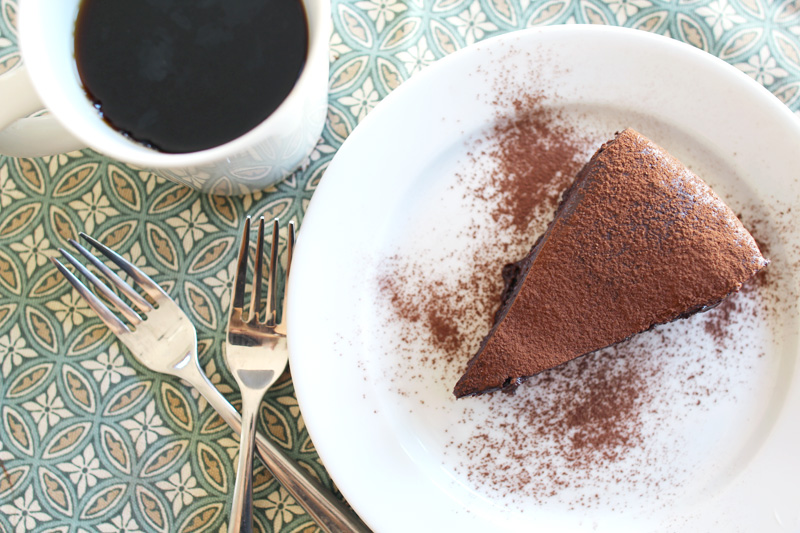 This dessert has four ingredients! It does not get easier than that. And you really can't mess up on the ratios because, as I learned early, early on, baking with chocolate and sugar and eggs always = deliciousness. Kev swears that he knew that I was the one when I labored over a chocolate cake at a dinner party when we first met (maybe a little dramatic, but I think it's awesome – blushing emoticon here).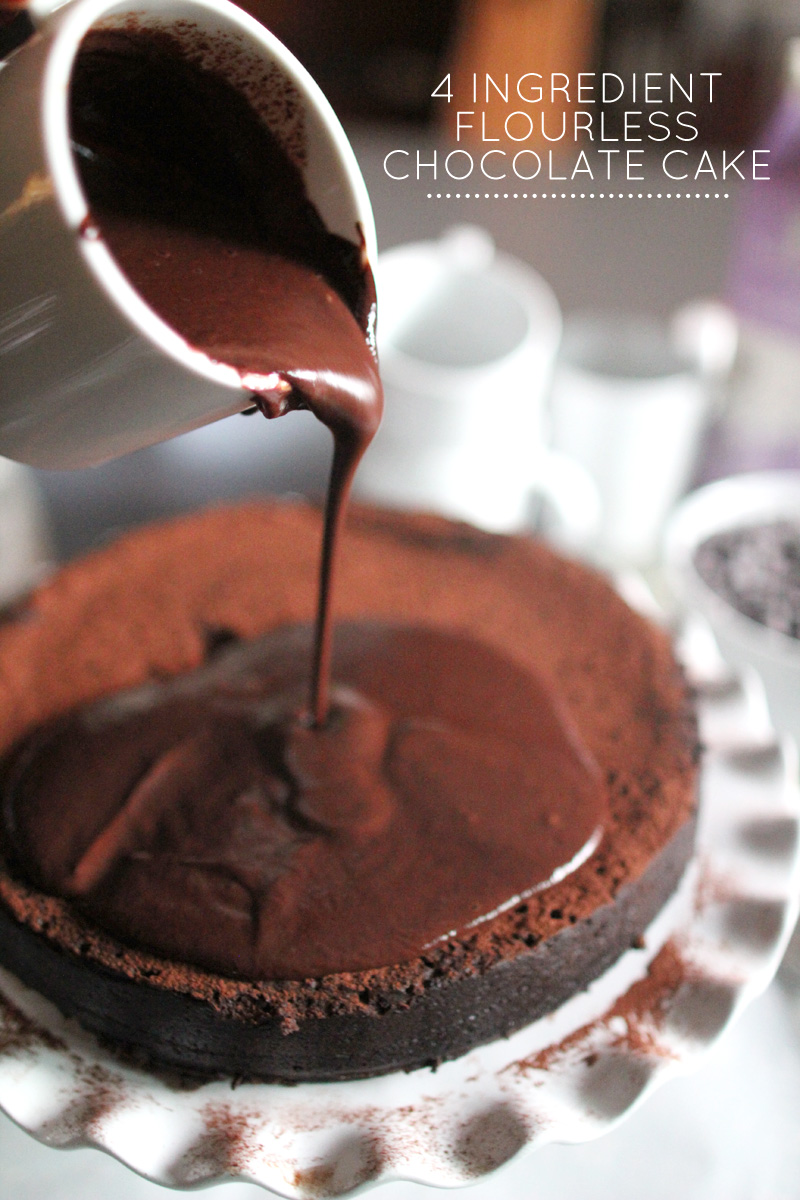 Most people have a love/hate relationship with cake. Often it is dry, lacks any dense 'flavor' and is, well, cakey. Flourless cakes skip all three of those though and are perhaps one of the richest, sweetest desserts you can find. They are so moist and so dense (hence the no flour) that it's true that you only need a few bites to fall in love (and immediately enter a sugar coma).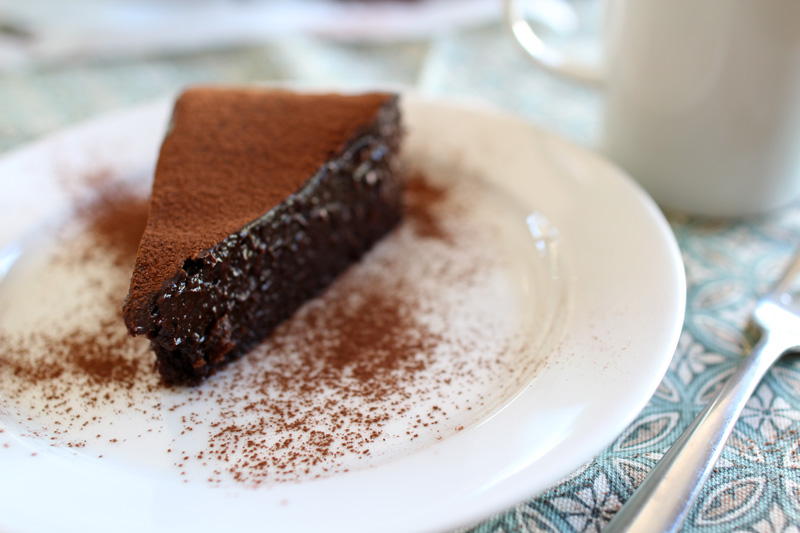 Here's my recipe of choice that I have modified and played with:
4 Ingredient Flourless Chocolate Cake
9 eggs
2 cups sugar
1 cup + 3 T butter
2 cups + 1/2 cup chocolate chips
cocoa powder (optional)
Preheat oven to 350 degrees. Cover the bottom and sides of a springform pan with a generous layer of butter (about 1 T) and set aside. Optional here to also coat in cocoa powder.
Beat all nine eggs together with sugar by hand until frothy in a large glass bowl.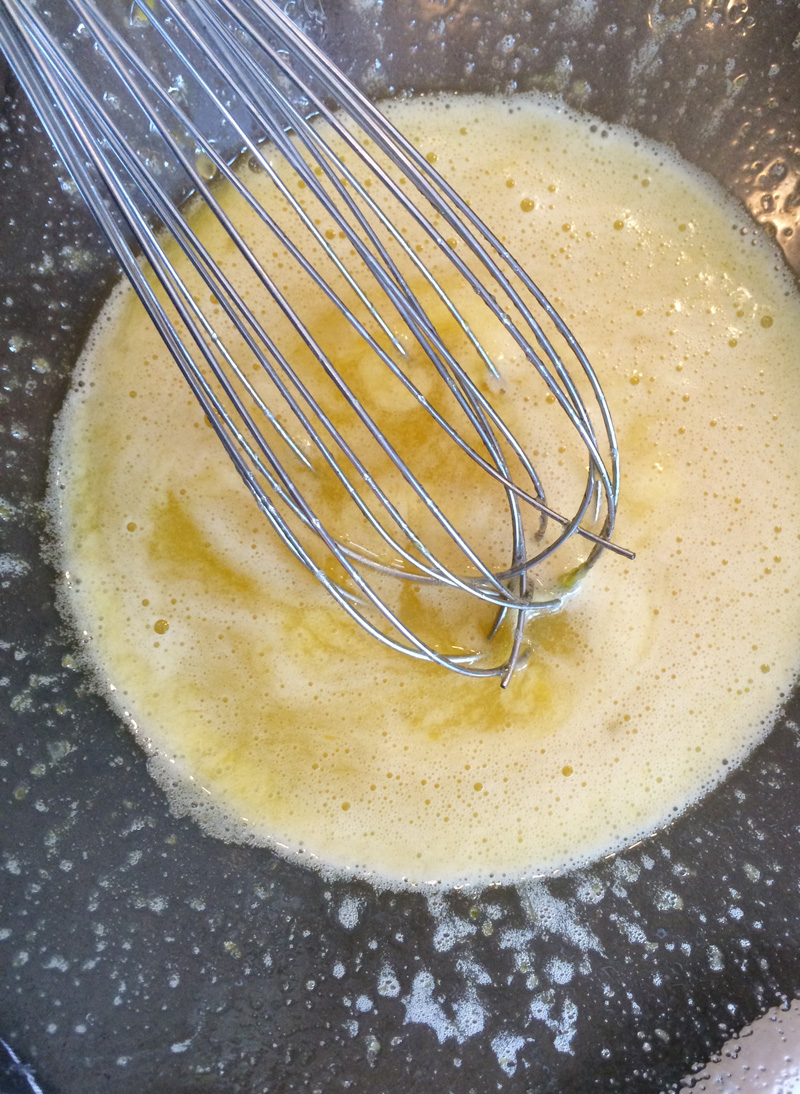 Over medium/low heat, boil 2″ or so of water in a deep saucepan fitted with a glass bowl. The glass bowl should not touch the water but should be close enough to feel the immediate heat of the steam (perhaps 2″ above the water). These are the key components of my homemade double boiler (a real double boiler).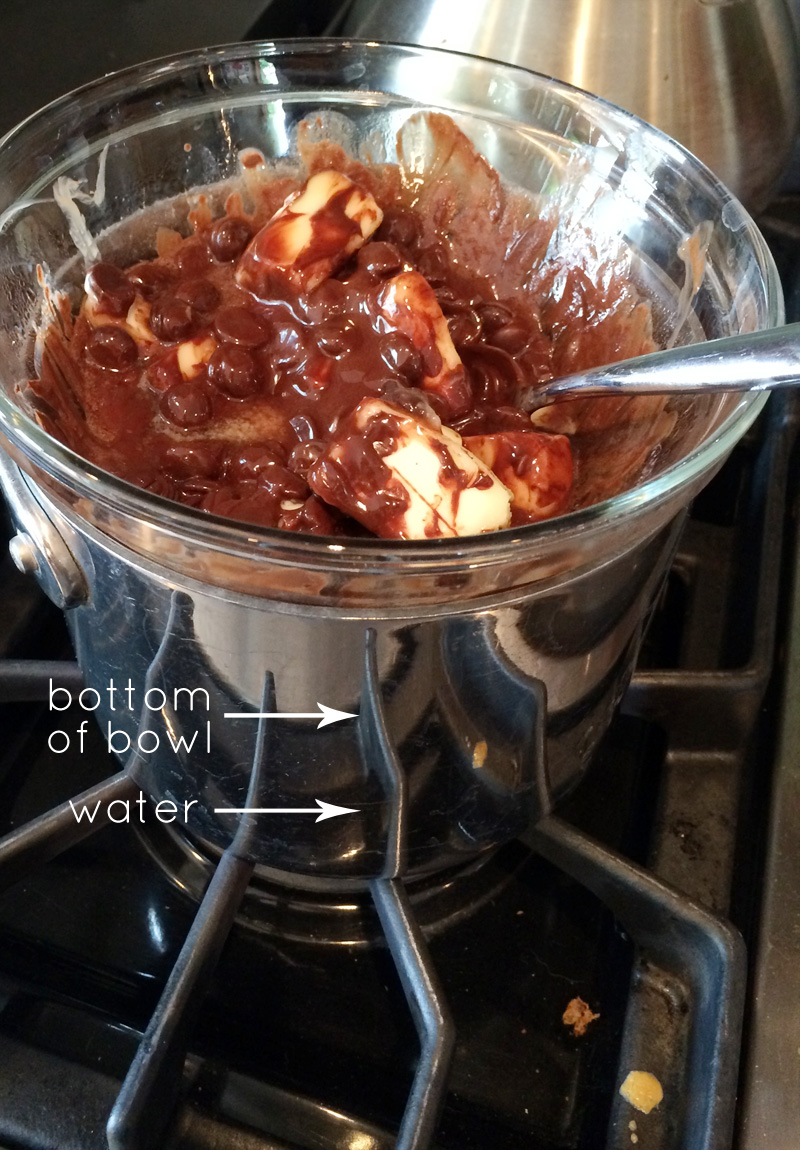 I melt the chocolate in two batches because my double boiler is rather small: 1/2 cup cubed butter goes in with 1 cup chocolate chips. Stir slowly and frequently until liquid gooeyness emerges. Transfer batch one to the egg and sugar mixture and start on batch two in the double boiler. (Keep an eye on your melting chocolate, this is where it can burn rather easily. Once burnt, best to start over. Butter makes for the perfect fat to create a smooth, melted chocolate consistency – this is also my go-to combination for a dipping chocolate that you might use for strawberries, etc).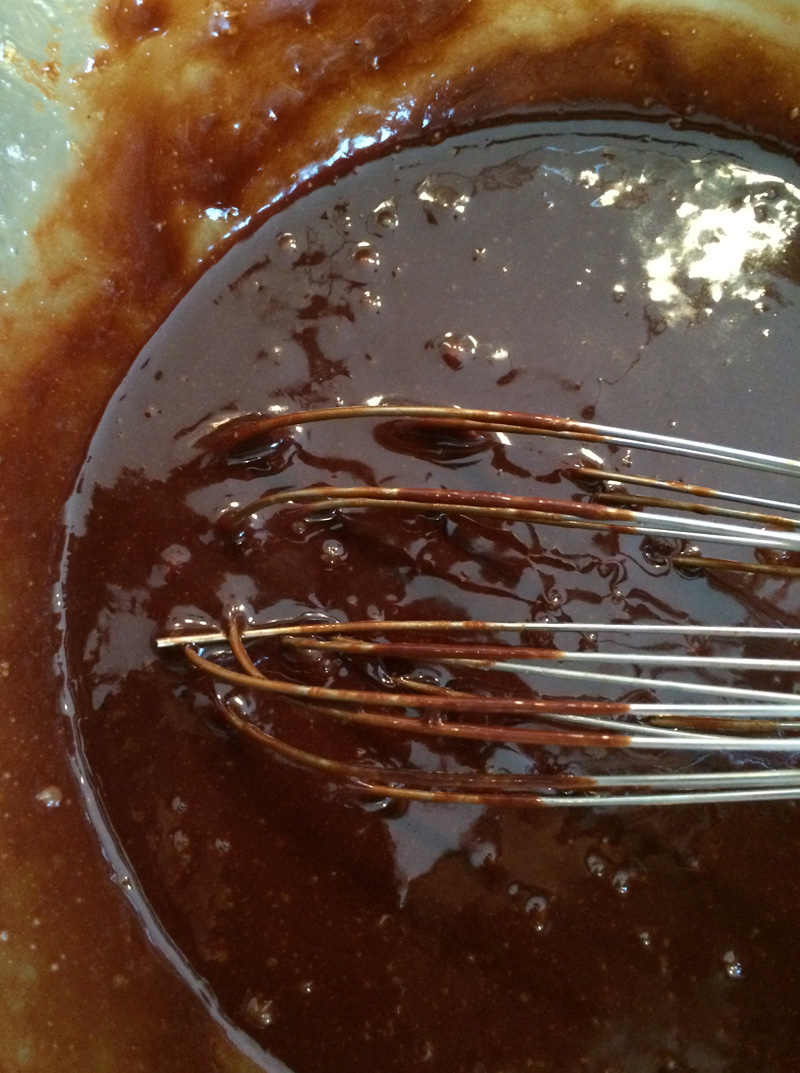 Once all four ingredients are mixed together in the large glass bowl, slowly pour mixture into the spring form pan.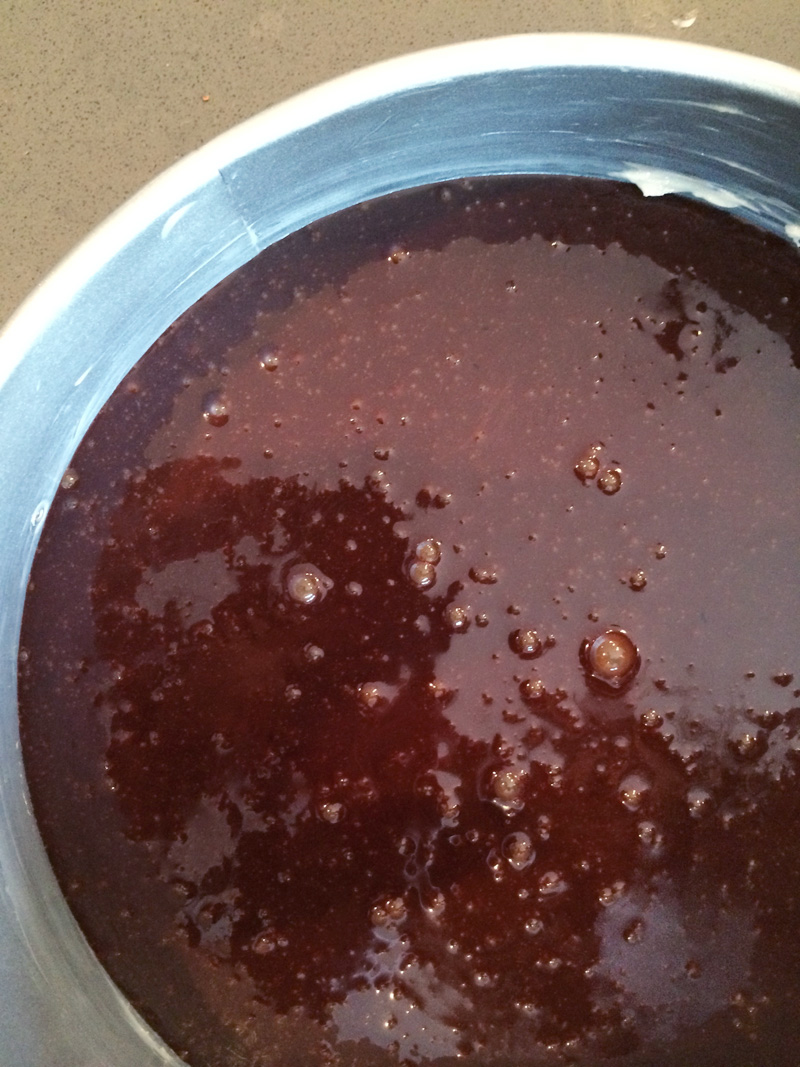 Here's where you really want to be careful about sealing up that pan. We're going to bake the flourless cake in a water bath, so you'll want to cover your springform pan with several sheets of foil at the base. I have giant rubber bands that I use to keep the foil on (saved from bunches of broccoli and what not from the produce department), but you could also use tape or layer upon layer of foil. Wrap that baby up like a present that you want someone to have a difficult time opening.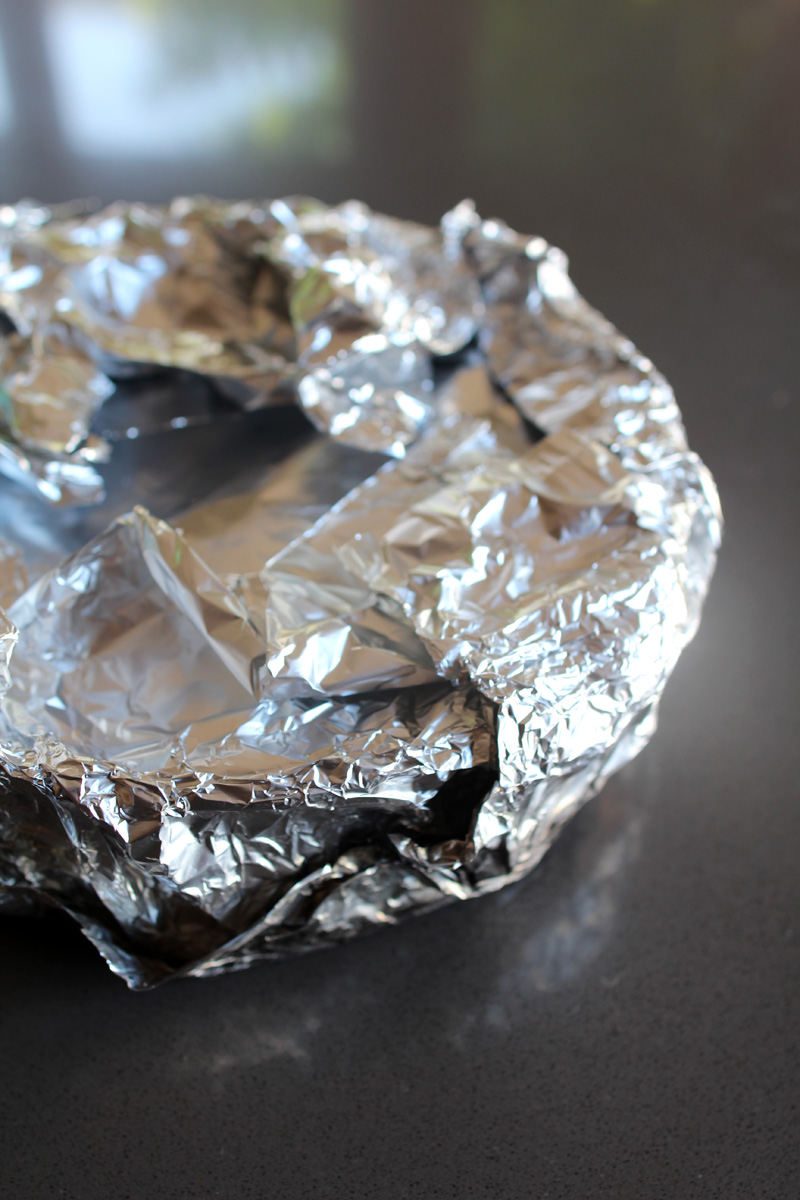 We're talking maybe 4 or 5 foil layers here that are pressed in tight (tighter than the photo shows above).
Fill a roasting pan with 1″ boiling hot water (I use my kettle). Place the foiled springform pan into the roasting pan and all into the preheated oven.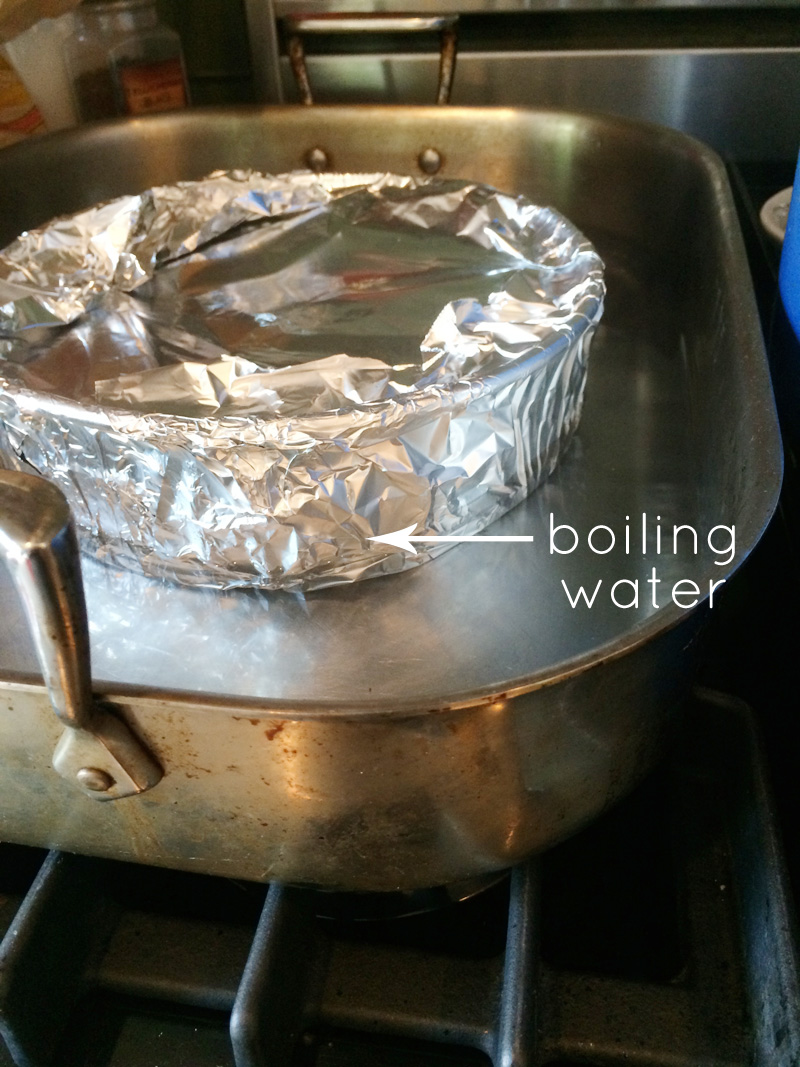 Allow to bake for 1 hour, 15 minutes. Pull springform out of the roasting pan and pull back foil to ensure there is no water leakage, if you do find water, simply poor it into the sink and allow cake to cool completely in the springform pan.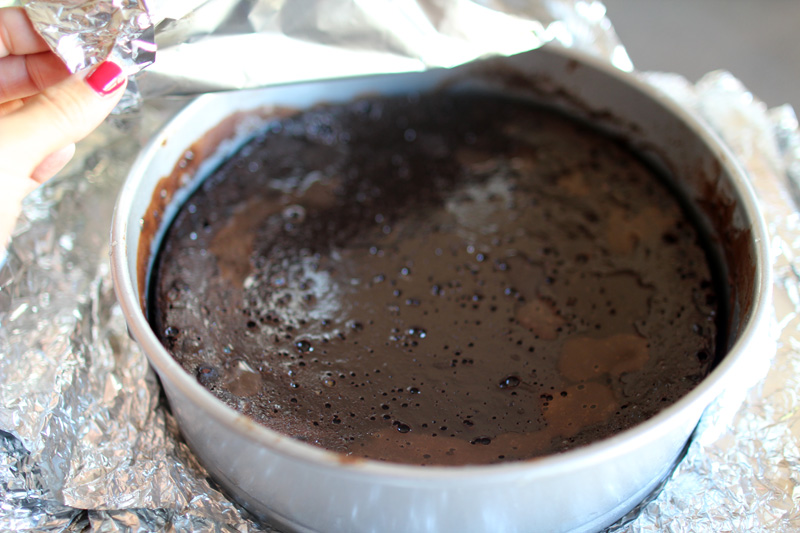 Once cool to the touch, pop off the outer layer of the pan.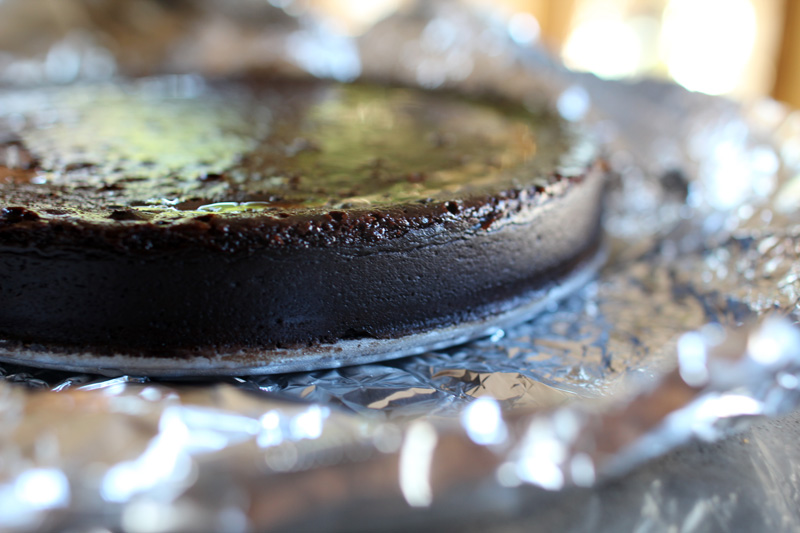 To keep that beautiful and moist top side up, use the double flip method to land your cake on your platter/pedestal.
Line a perfectly flat plate or platter (or even a cookie sheet) over the top of the springform pan and flip once.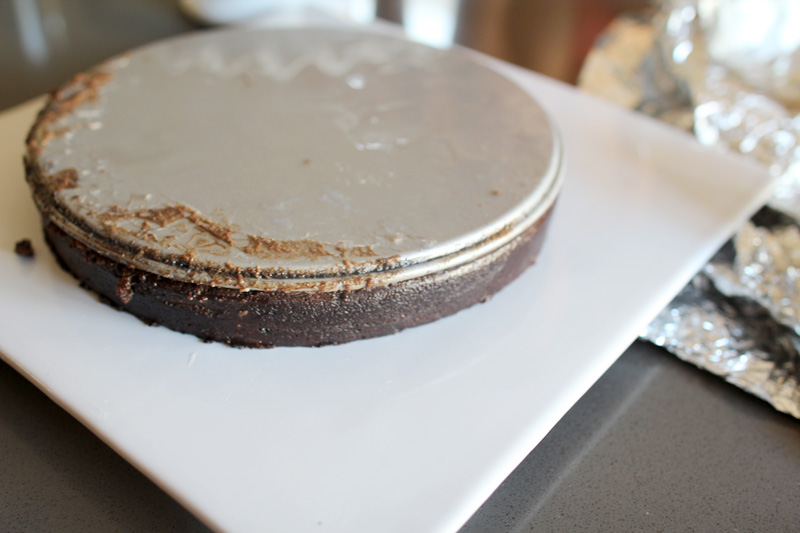 Slowly pry off the bottom of the springform pan with a spatula.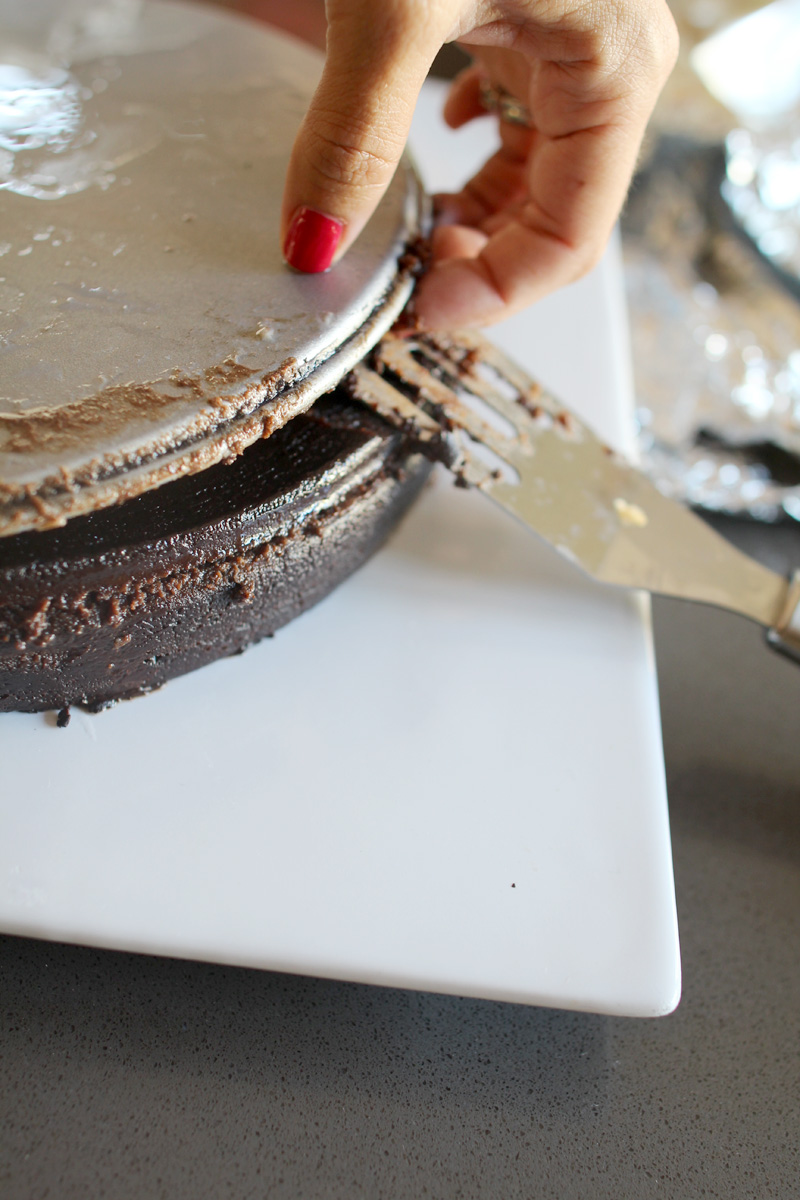 But that's not the side we want facing up!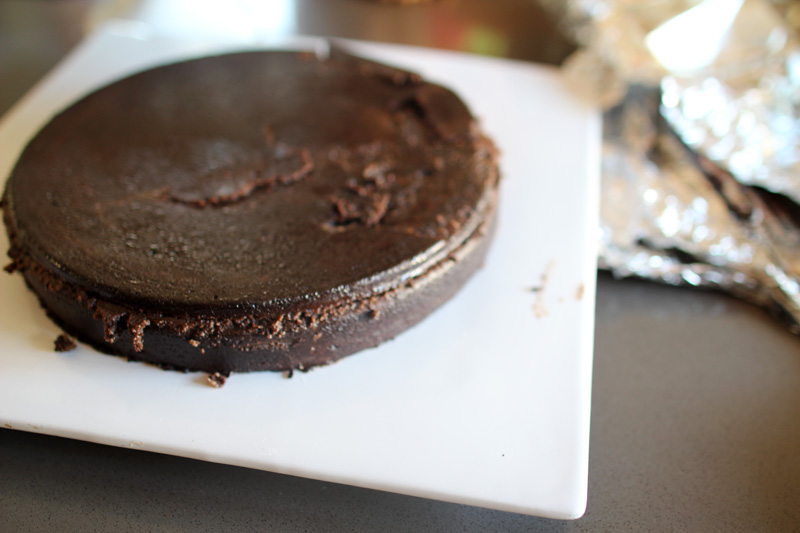 So top your cake with your final serving dish and flip again.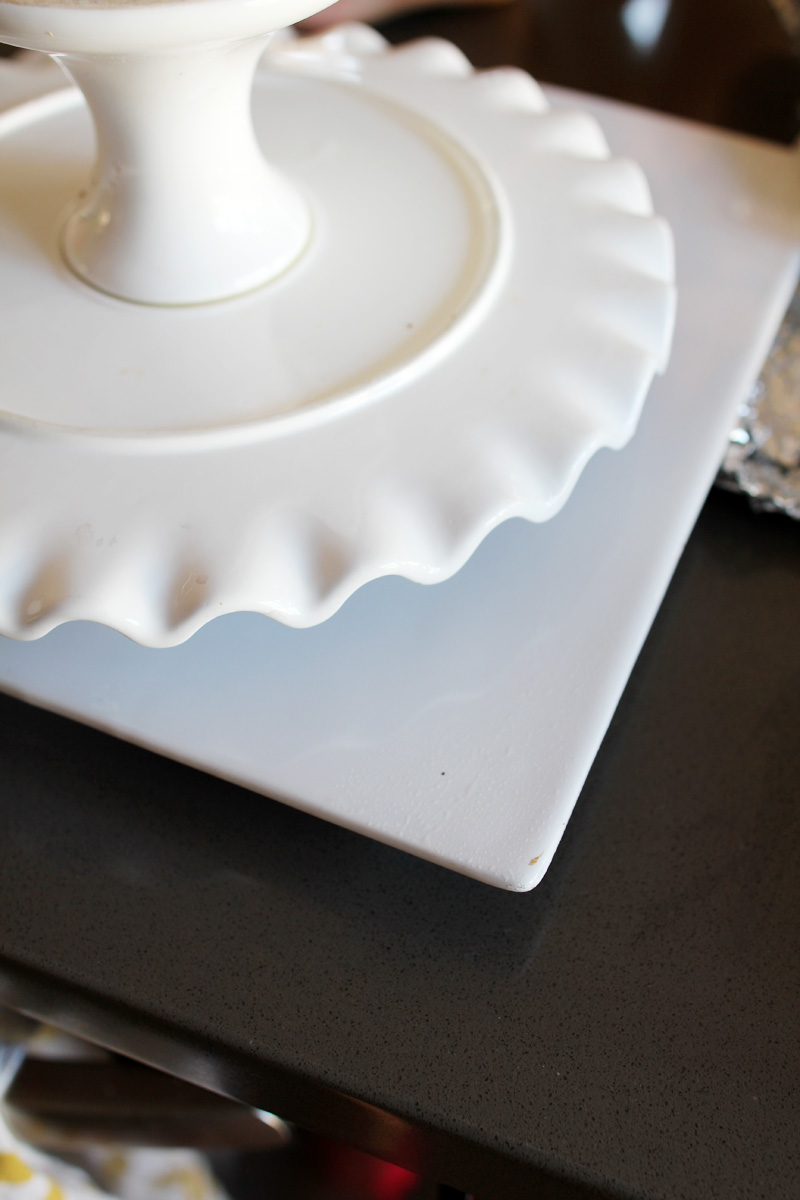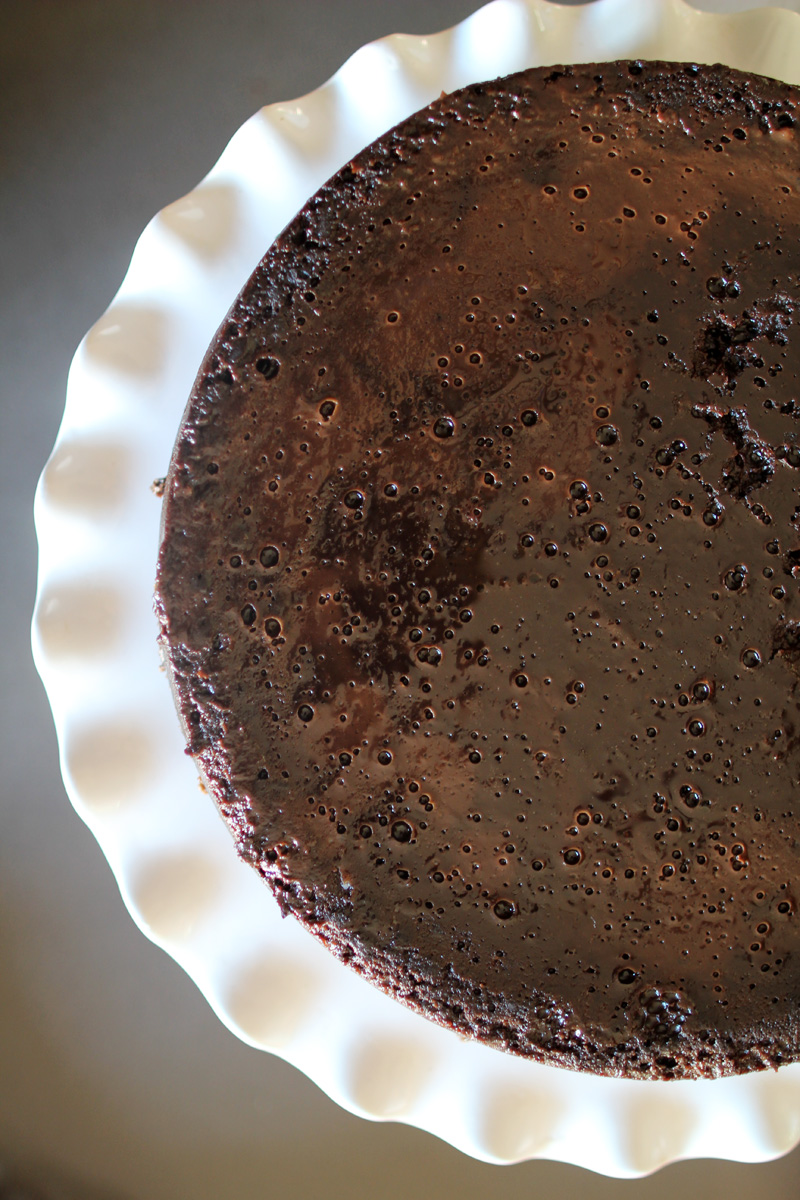 You could leave as is – so tasty! (And truly only four ingredients.)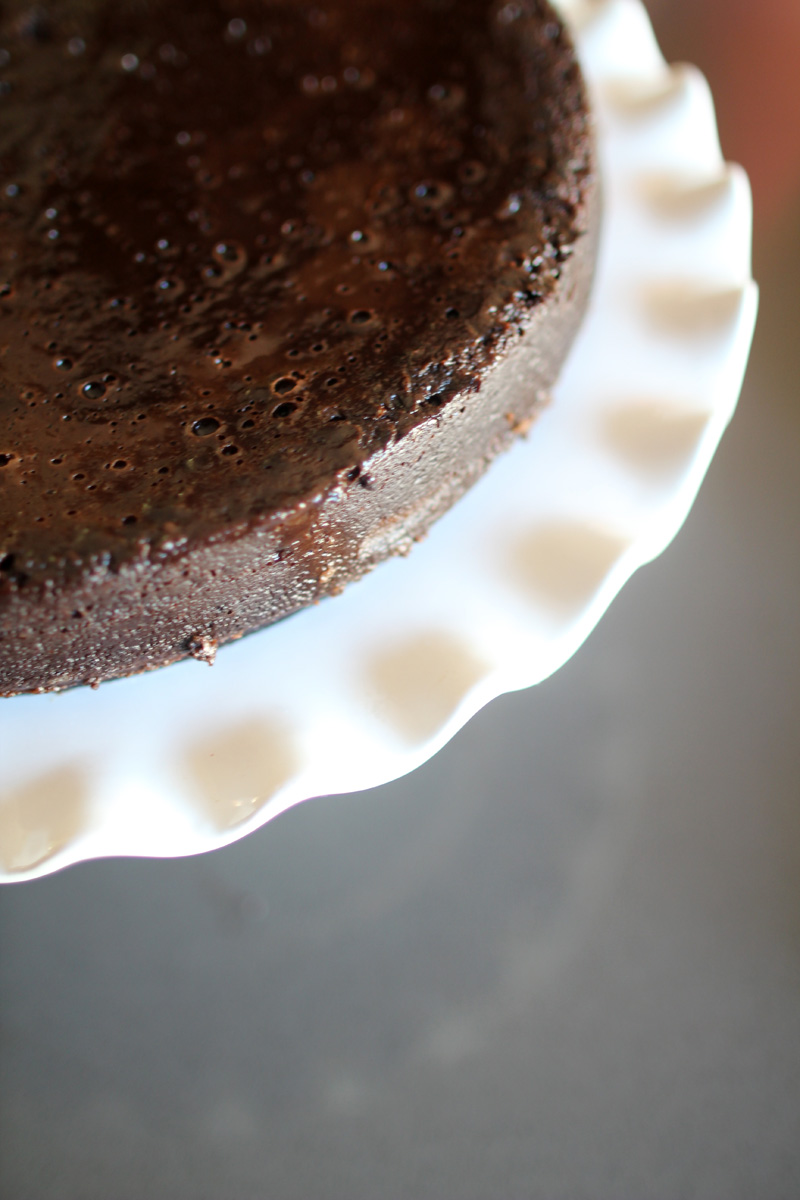 Or for a fancier display, try coating the cake in a generous dousing of cocoa (using a sifter or thin mesh strainer).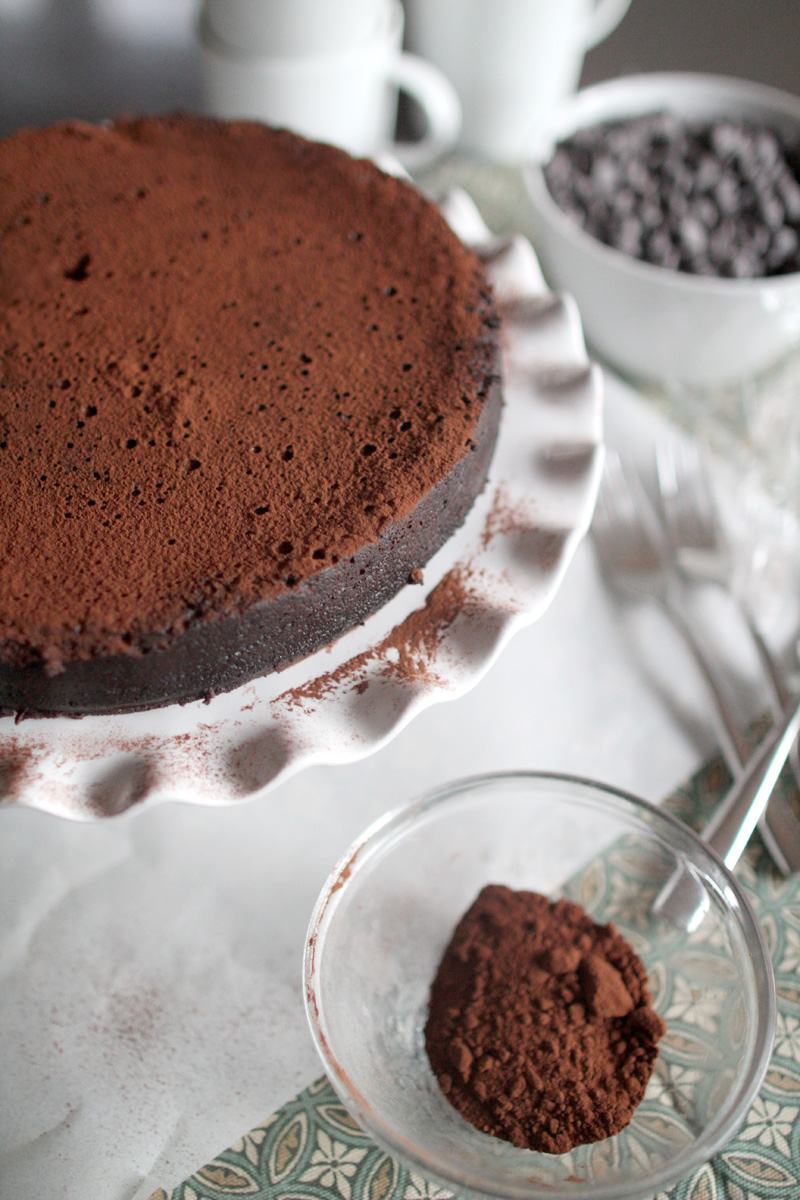 I love to serve this cake with a very thin ganache, too.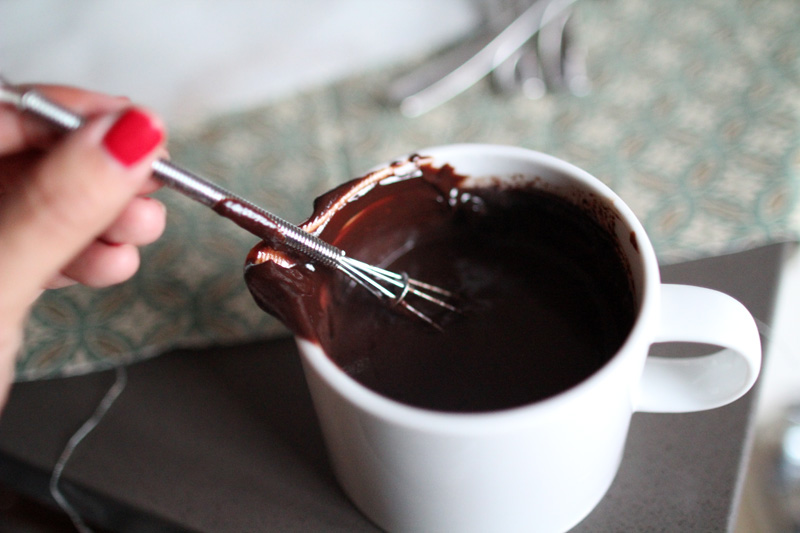 For the ganache, I head back to my double boiler and mix up 1/2 cup chocolate chips with a couple of tablespoons of butter. The final addition is a dollop of whipped cream or a splash of regular cream (or half & half), keep stirring in until the mixture is thin and liquid-y.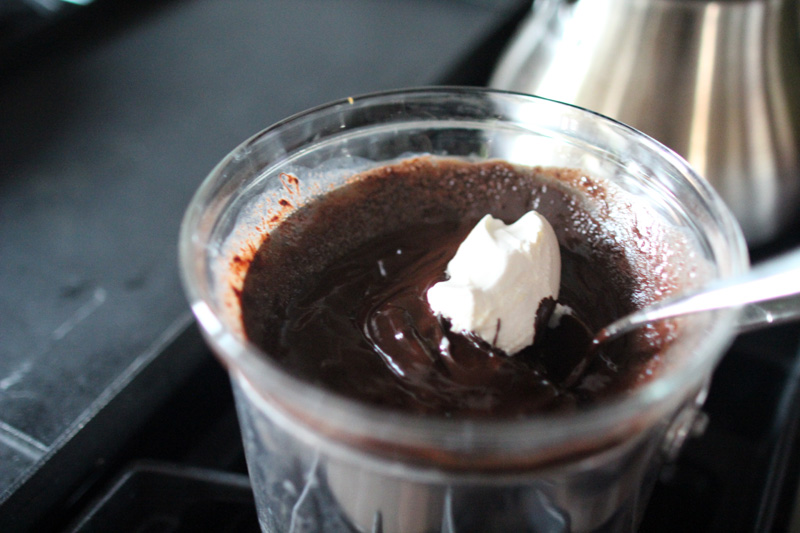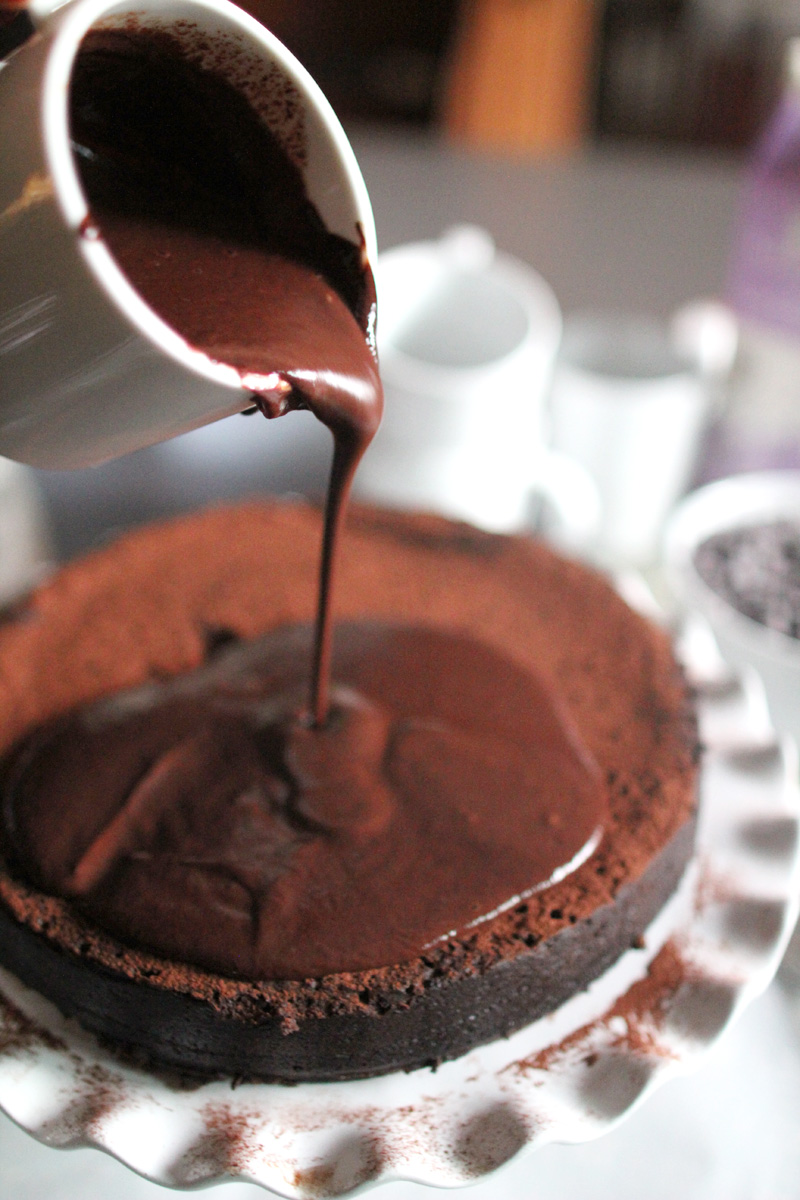 That's what I'm talking about. Be sure to wrap that ganache all the way over the edge.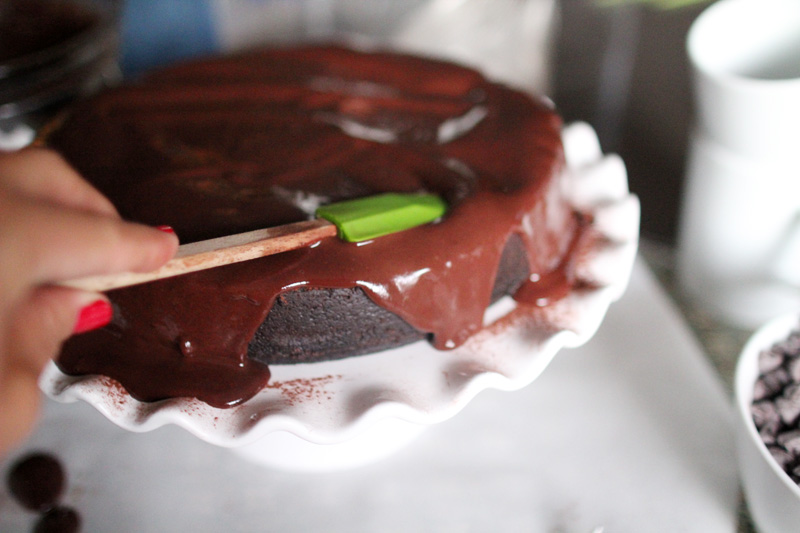 And then one last shake of cocoa to finish the cake off.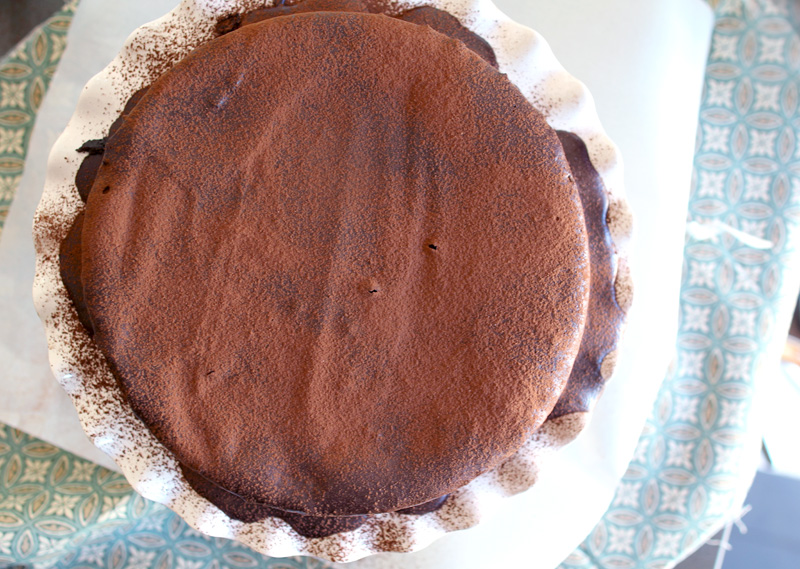 This cake really is so rich that it will knock your socks off. But it's also a huge guest pleaser (especially with a scoop of coffee gelato). I love how easy it is to make, how few ingredients you need to have on hand, and how pretty it looks when served up.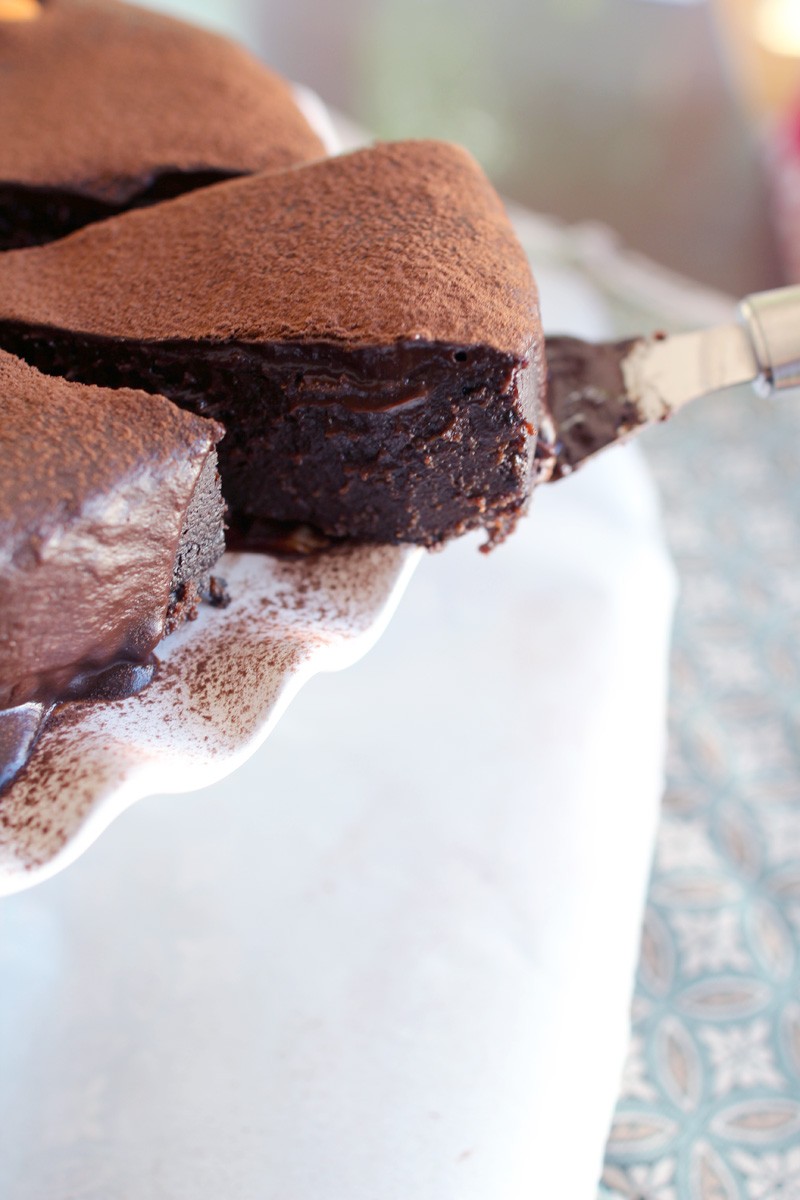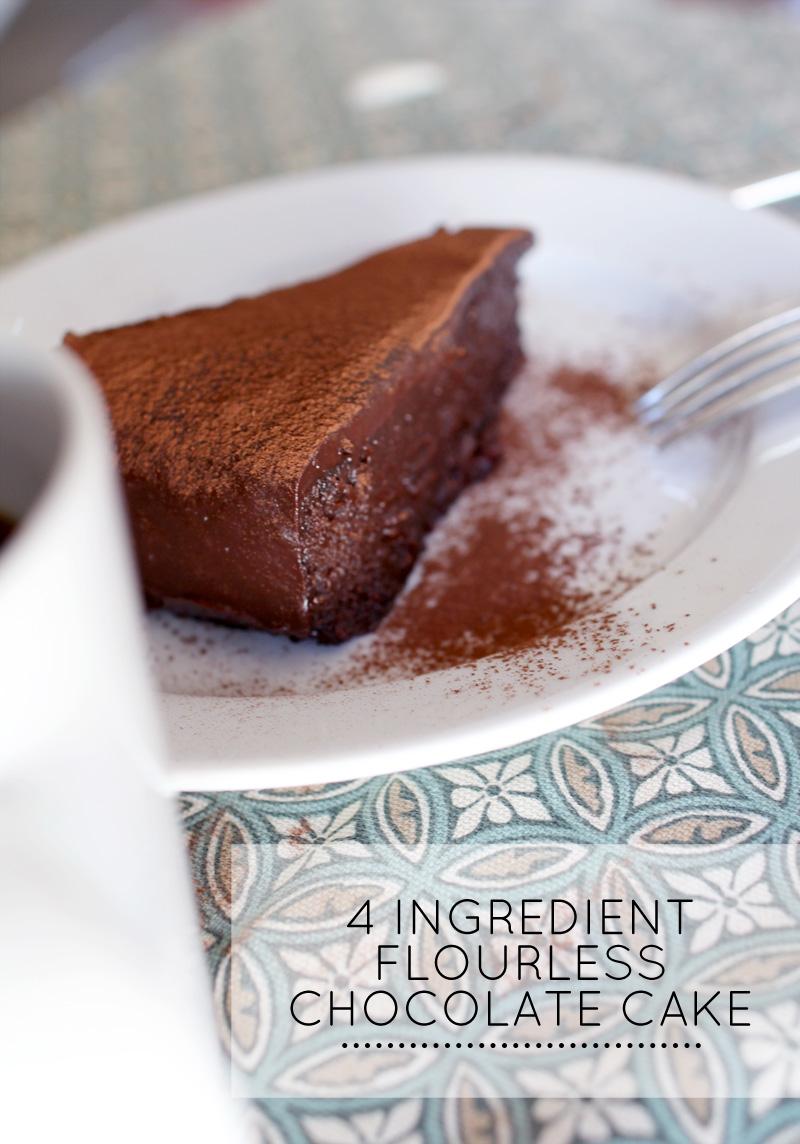 Mmmmmm.
PS More good eats found over here. 7 tips to the best chocolate chip cookies! and my favorite coconut macaroons.