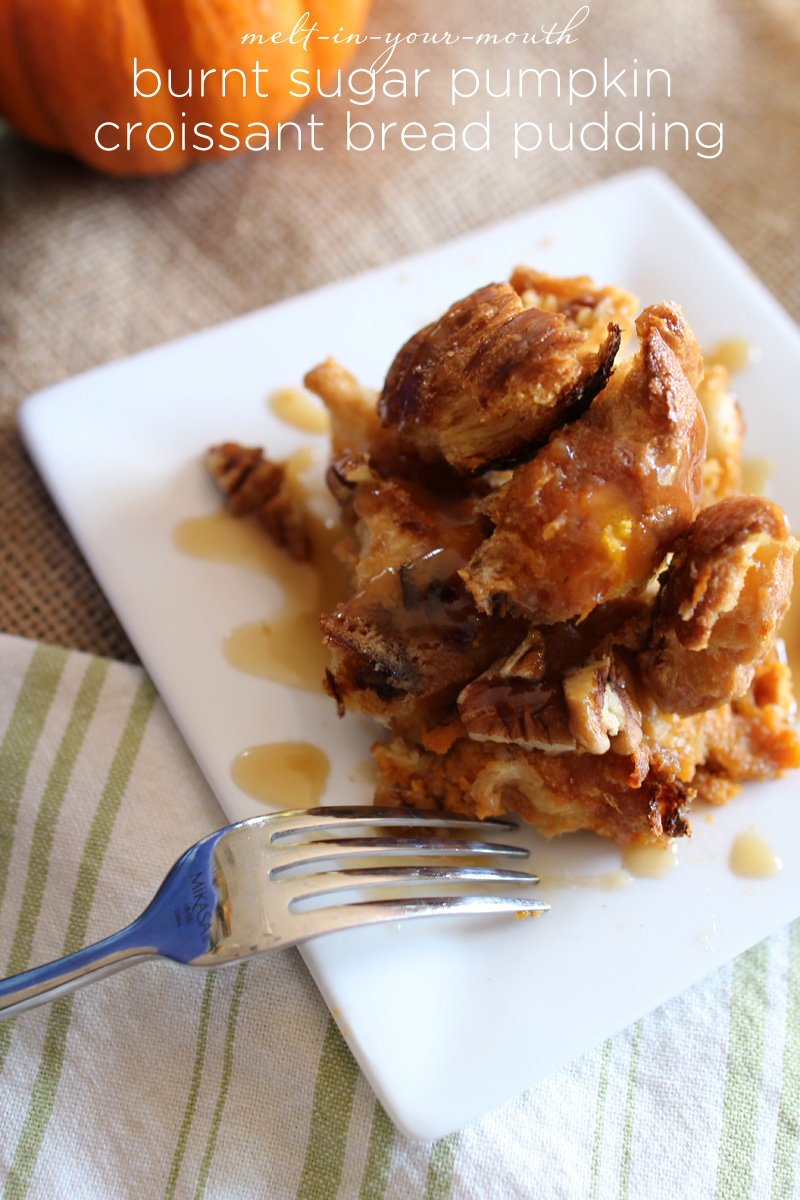 What do you traditionally make for dessert on Thanksgiving? We always over bake with usually an apple pie, a pumpkin pie and something like a pecan pie. Here's a recipe alternative though that I wanted to share for a less traditional Thanksgiving dessert that is perfect for this time of the year (and so, so, so good).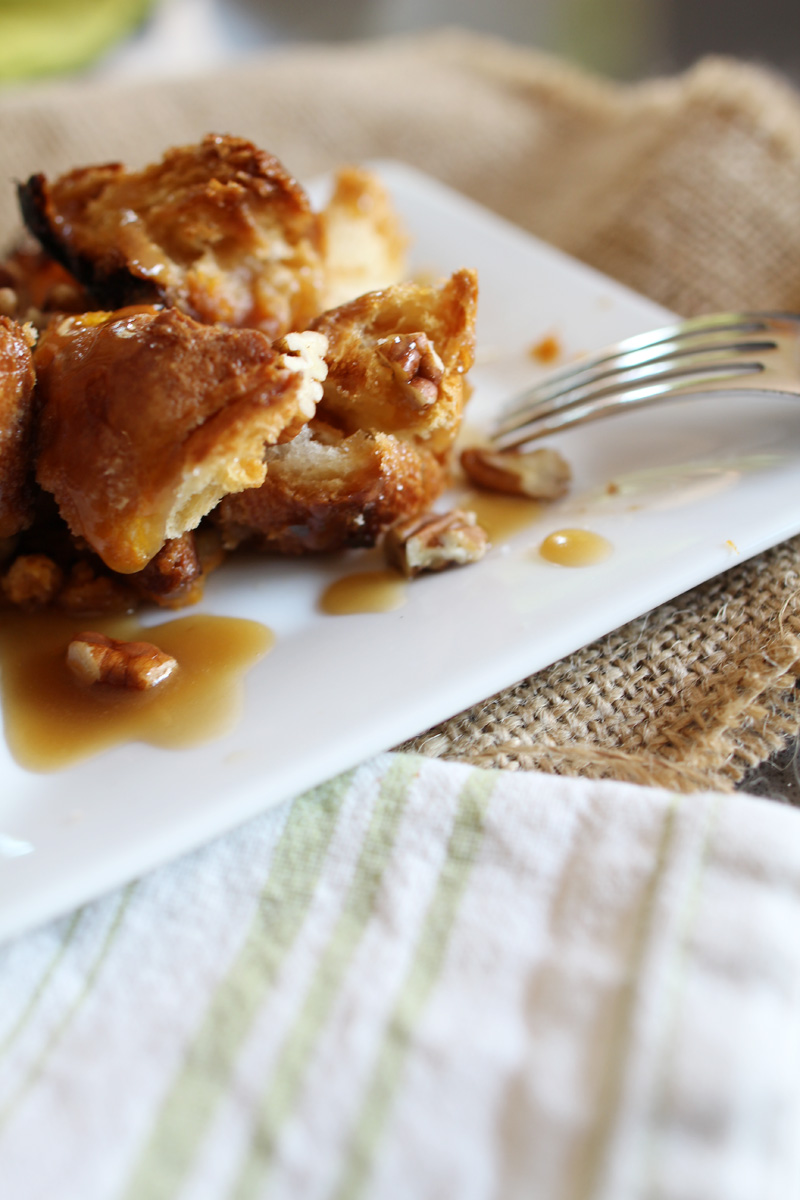 I've partnered up with Got Milk again to bring you a recipe that features milk and cream in two new ways. Last week I shared on my milk art fall leaf kid's craft (we're using those guys as place cards this year for the table!) but today milk plays the part of a key ingredient in one amazing dessert.
I LOVE bread pudding. There's something about the caramelized, melt-in-your-mouth flavor plus that delicious, creamy custard that makes it one of my very favorite-ist desserts. But, I might ask, what's better than bread pudding? Croissant bread pudding with a slightly burnt sugar crust. And better than croissant bread pudding? Burnt sugar croissant bread pudding covered in a gooey, homemade caramel sauce & toasted pecans. Oh man, home run.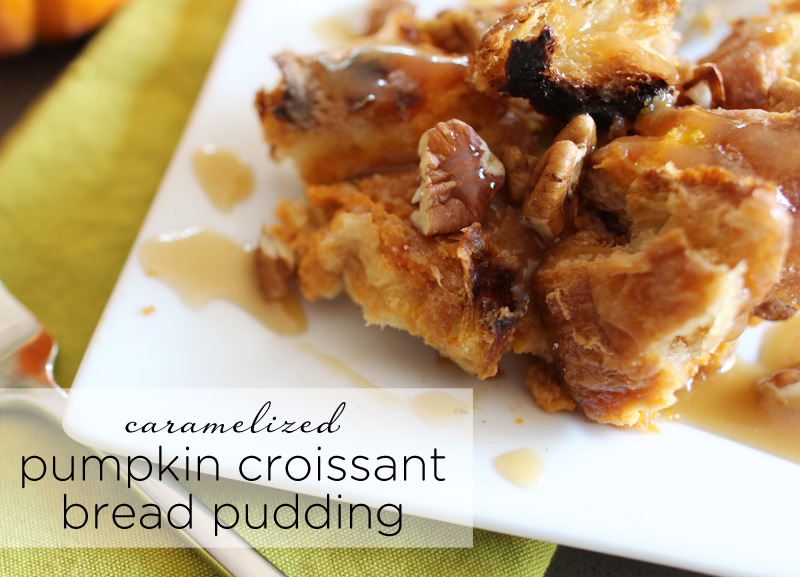 Today's recipe is a pumpkin + carmel sauce croissant bread pudding that probably packs a day's worth of calories in one bite. But I invite you to not consider that. This recipe is so over-the-moon-good with it's toasted, flakey croissant base, caramelized crust and pumpkin custard filling that it just about makes you keel over. Did I mention that I also spoon hot caramel on top, too, just before serving? Oh yeah.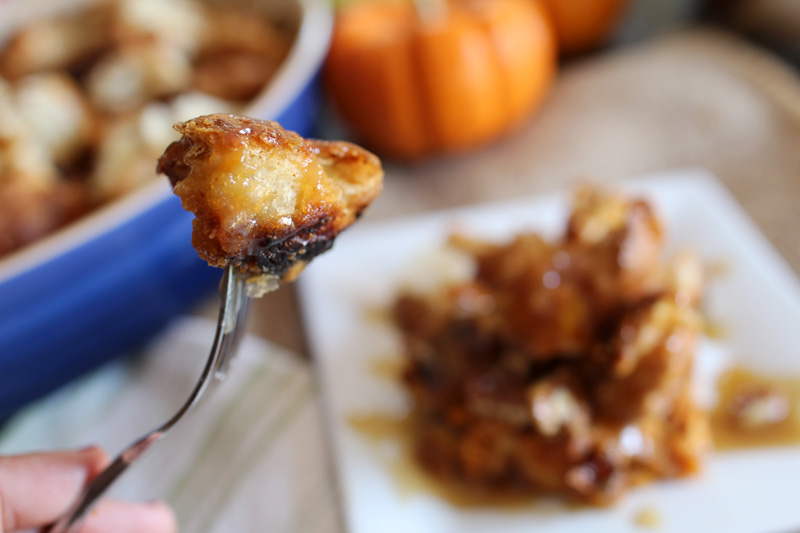 The best part is is that bread pudding is not terribly fancy to make. In fact, it's actually pretty easy! Past-shelf life bread + butter + eggs + milk, and the possibilities are endless.
Burnt Sugar Pumpkin Croissant Bread Pudding
Ingredients:
6-7 cups torn up croissants (about 6 small croissants)
3 T butter
1/4 c sugar
16 oz can of pumpkin
3 eggs
1 1/2 c milk
1/2 c pecans chopped
Caramel sauce:
1/2 stick (4 T) of butter
1/2 cup brown sugar
1/2 cup cream or half & half
1/2 t pure vanilla extract
1/4 t salt
The first step in this recipe is optional but I highly recommend it. In fact, it makes store bought croissants so delicious that it's totally one you can steal for serving croissants at brunch, as a sandwich and so on (just skip the 'tearing up' part).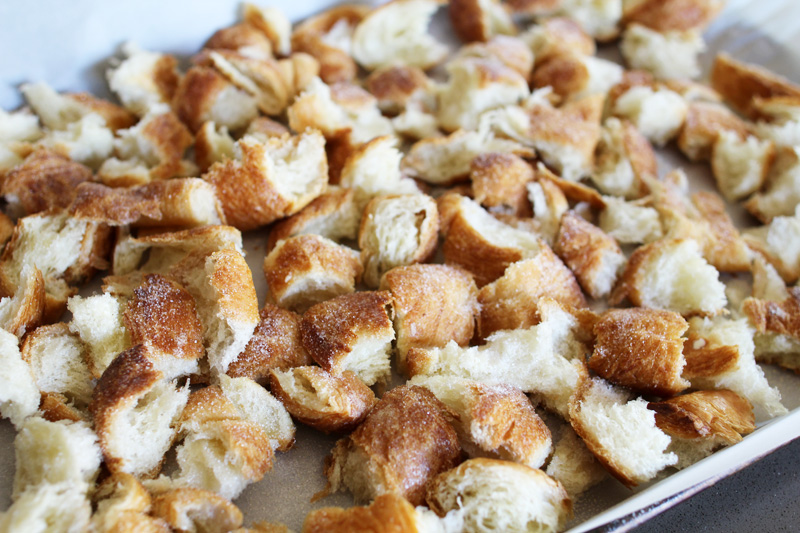 Croissants fresh from the bakery should be a little crispy on the outside and very soft and flakey on the inside. Often store-bought croissants are soft all over and are missing even that tinged brown color on the crust though. They are usually definitely not flaky or crispy. Before adding the croissants to the bottom of my bread pudding dish, I love to caramelize and crisp them up in the oven (and it's a much cheaper alternative to buying a half dozen top-shelf bakery croissants for this recipe).
To do this, preheat oven to 450 degrees and spread the bite-sized and torn up pieces of croissant across a baking pan lined with parchment paper (to help prevent a big mess) Lightly sprinkle melted butter on top. Gently coat the croissant pieces in sugar by sprinkling raw sugar over the torn up pieces and then hand tossing them. If the oven is hot, add baking sheet and leave the door ajar to watch the croissants carefully. Pull them out when they are toasted brown. Mmmm the sugar on top is now a crystalized, burnt sugar covering over the little bite-sized pieces. The croissants should be crispy, too. When cool, pile croissant bites into the bread pudding oven-safe dish until the pieces stack 2-3 high (you should have 1-2 cups left over). Reduce oven heat to 350 degrees.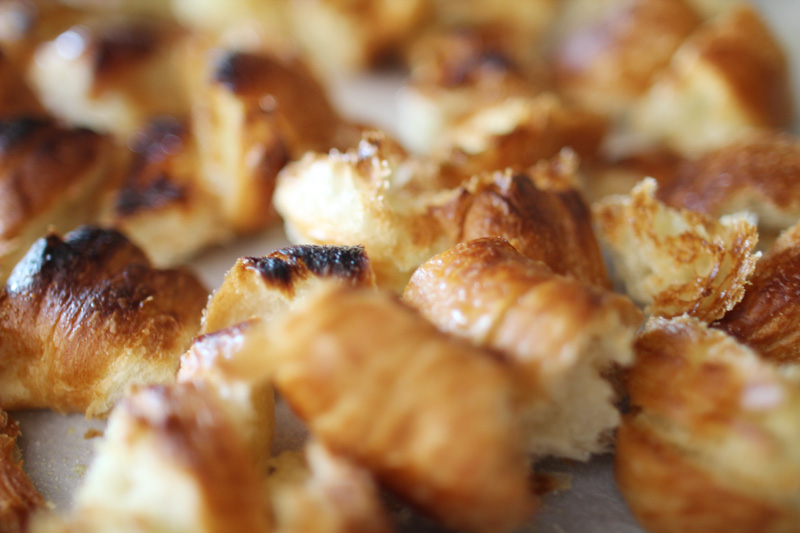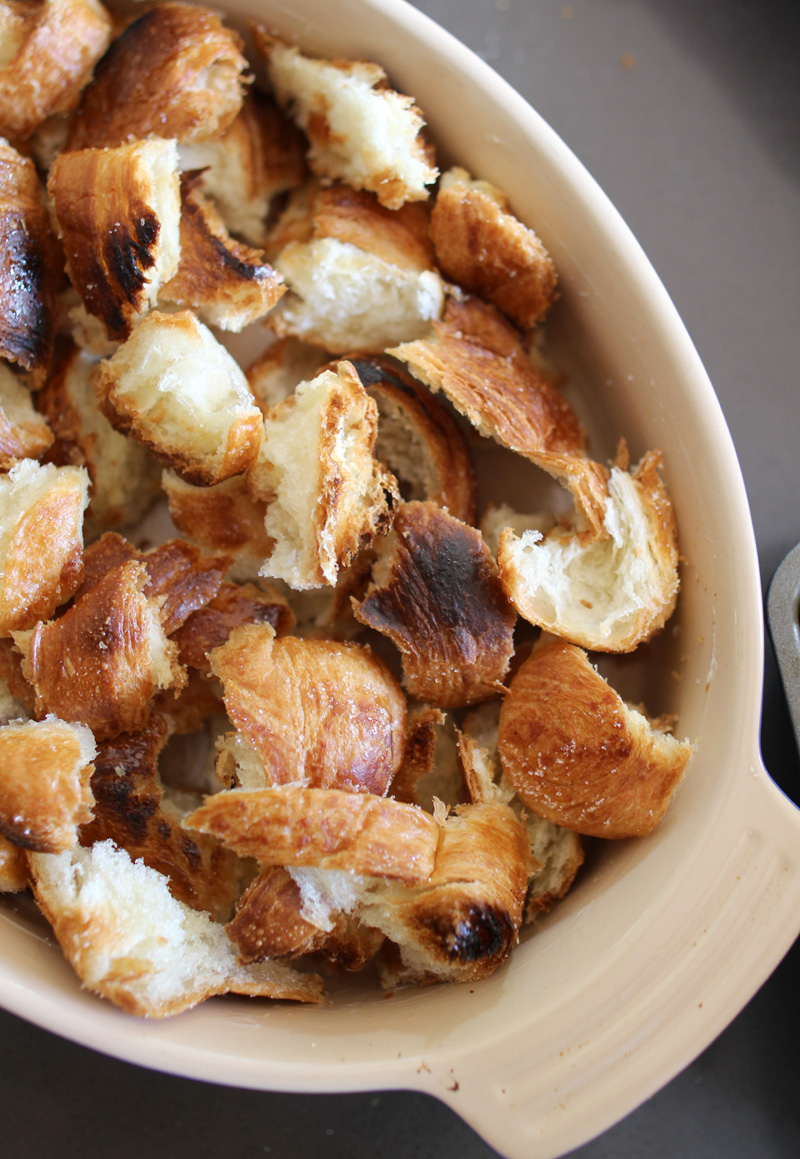 Next up is preparing the caramel sauce. This recipe is fantastic because no candy thermometer is required. Melt butter in a small sauce pan over medium-low heat and add brown sugar, stir with a wooden spoon for about two minutes. Pour in cream, stir for another two minutes. Remove pan from heat and add vanilla and salt, stirring in the final ingredients as the pan begins to cool. Let sit (to thicken up) for 5-10 minutes.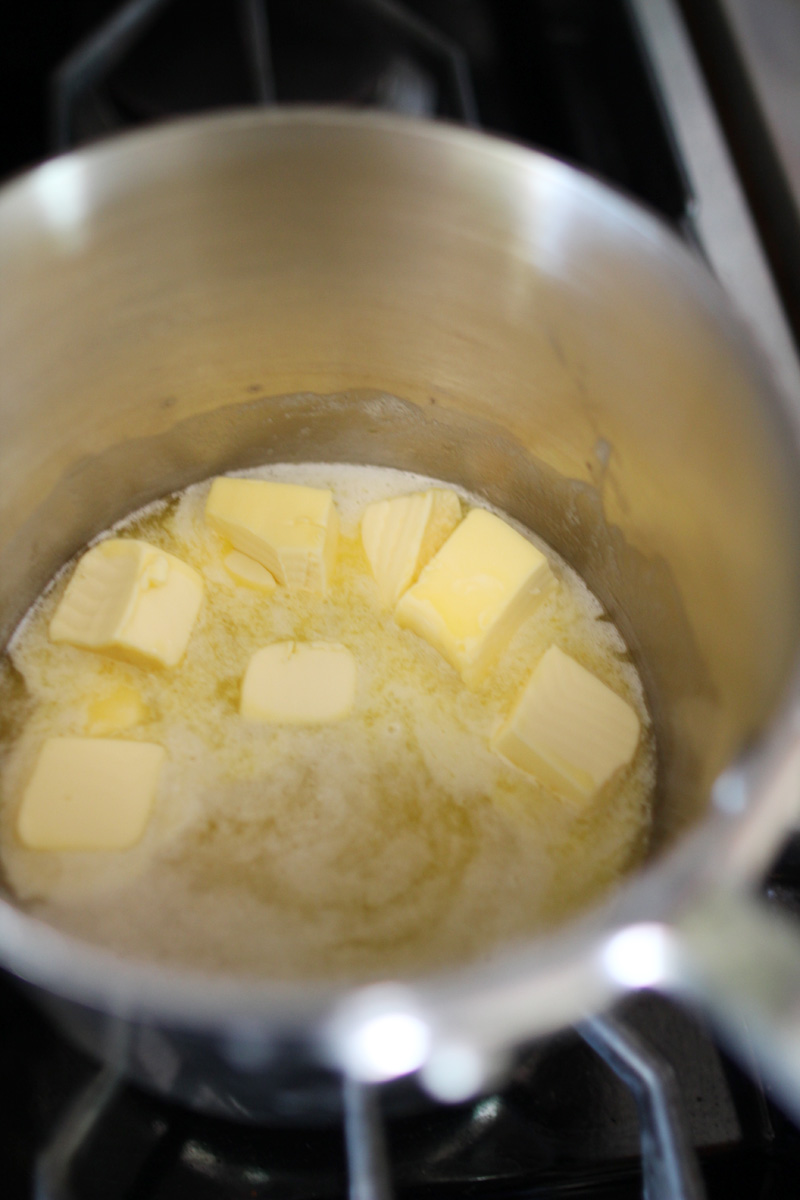 Back to our pudding. Beat three eggs in a bowl, add pumpkin and milk and continue to stir.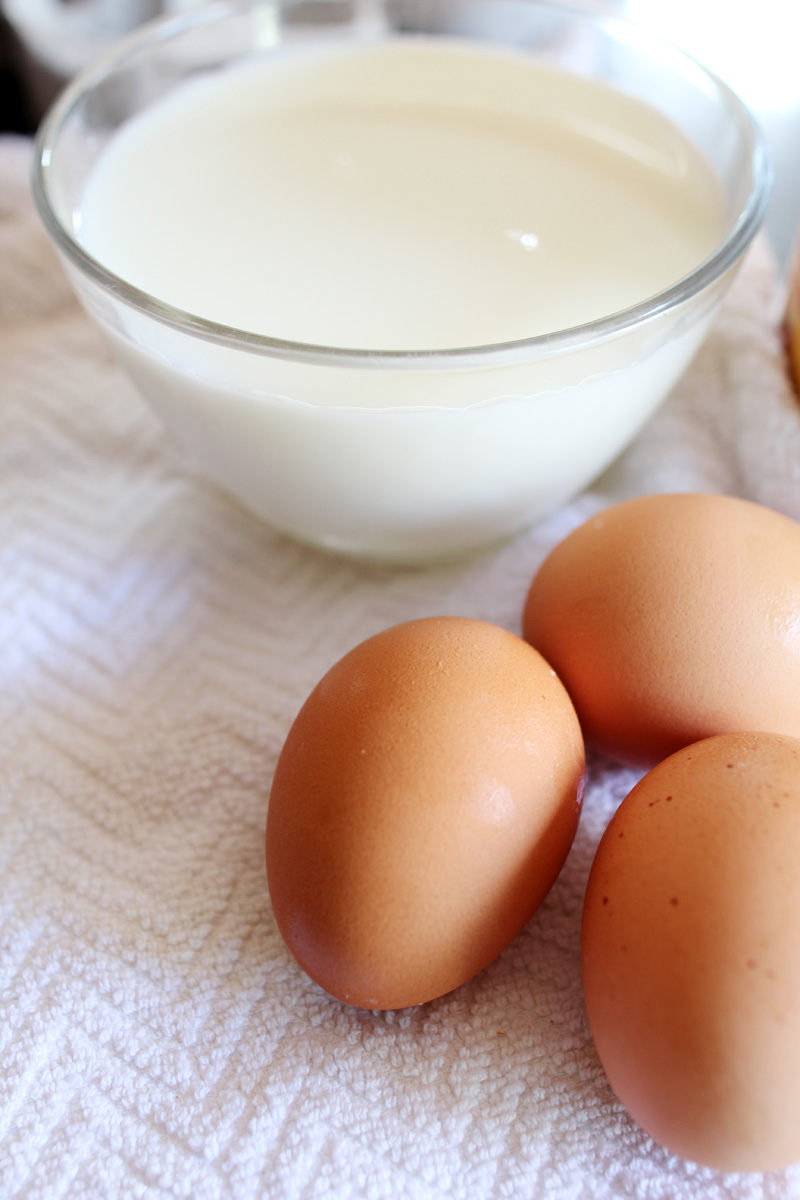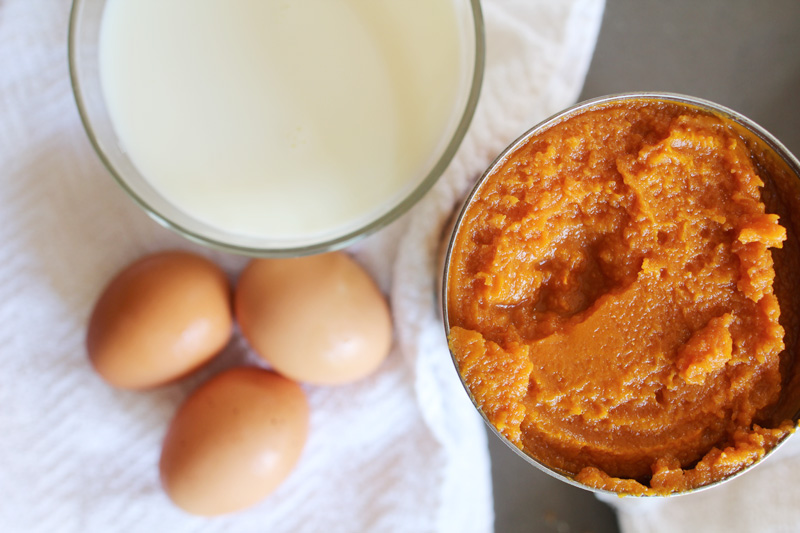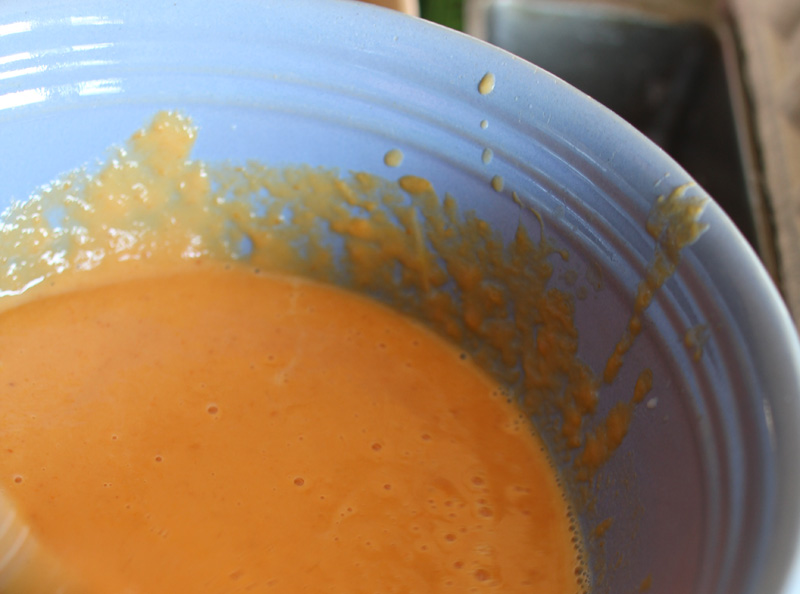 Layering time. Lightly pour the pumpkin mixture over the layers of croissant, follow by drizzling the caramel sauce as well until all of the croissant layers are coated. Sprinkle half of the chopped pecans on top. Add the last of the leftover croissant bites to the top and again lightly coat in pumpkin and caramel (this last coat should be a very light coat so that some of the crystalized and crispy croissant pieces are left as-is). Sprinkle the rest of the chopped pecans.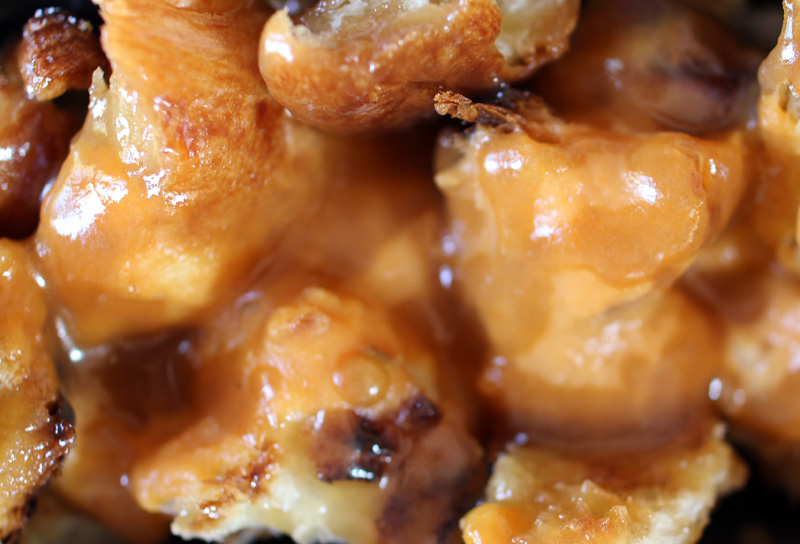 By now the oven should have reduced its heat to 350 (from 450 for toasting the croissants). Add the bread pudding dish and bake for 20 minutes. Let cool for 10 minutes before serving. As I'm plating each scoop of the warm finished bread pudding, I love to drizzle with even more caramel for a finished look. Yum.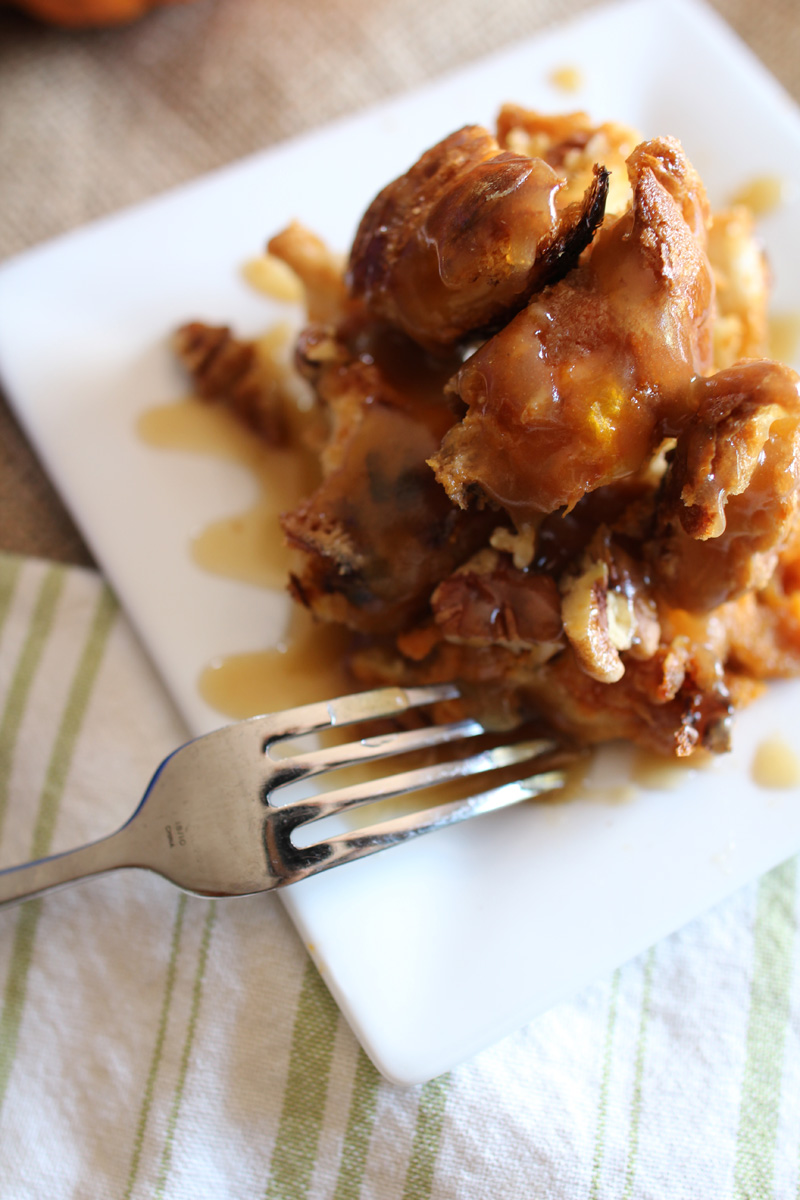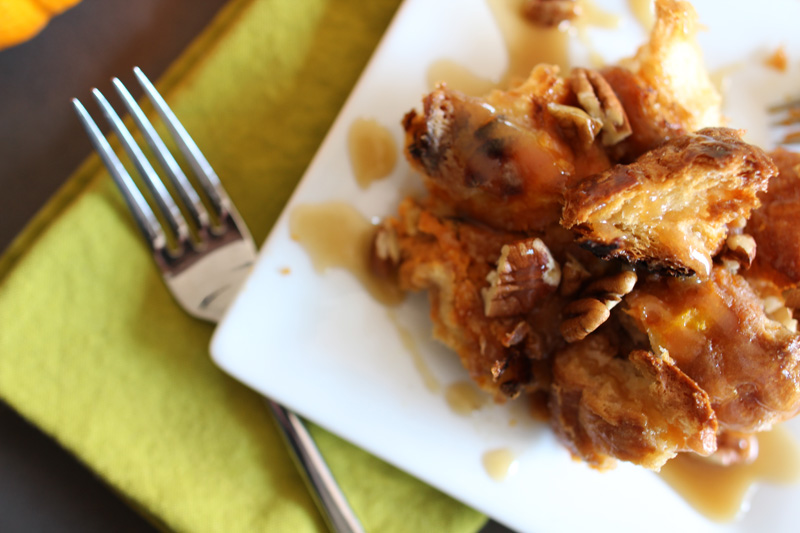 Enjoy!
More good eats over here. Some favorites include a gooey, flourless chocolate cake and these maple oat bars.
I partnered with Got Milk on this post today, the recipe (and opinions shared) are all my own. Milk fuels our bodies and our minds, and is an important component to our family's daily diet (we love the stuff). Thank you for allowing me to share more on the companies that support this site :).