Merry Christmas! Hoping you and your family have a relaxing and restful Christmas break as we celebrate the reason for the season. We are staying close to home for Christmas (no expectation of an early baby but just in case) and are excited to welcome family to our home this week. Here's to everyone enjoying plenty of sugary sweets, special cuddle time in front of a fire, the magic of twinkling lights and LOTS of family games.
May I take a moment to offer a heartfelt thank you for visiting this site. I am beyond grateful and humbled that you stop in to say hello, especially around this busy, merry time. Thank you for allowing me to share part of what makes me whole.
Before I sign off, a delicious Christmas punch for those family and friends who might be stopping in this week to visit and share a cup of cheer.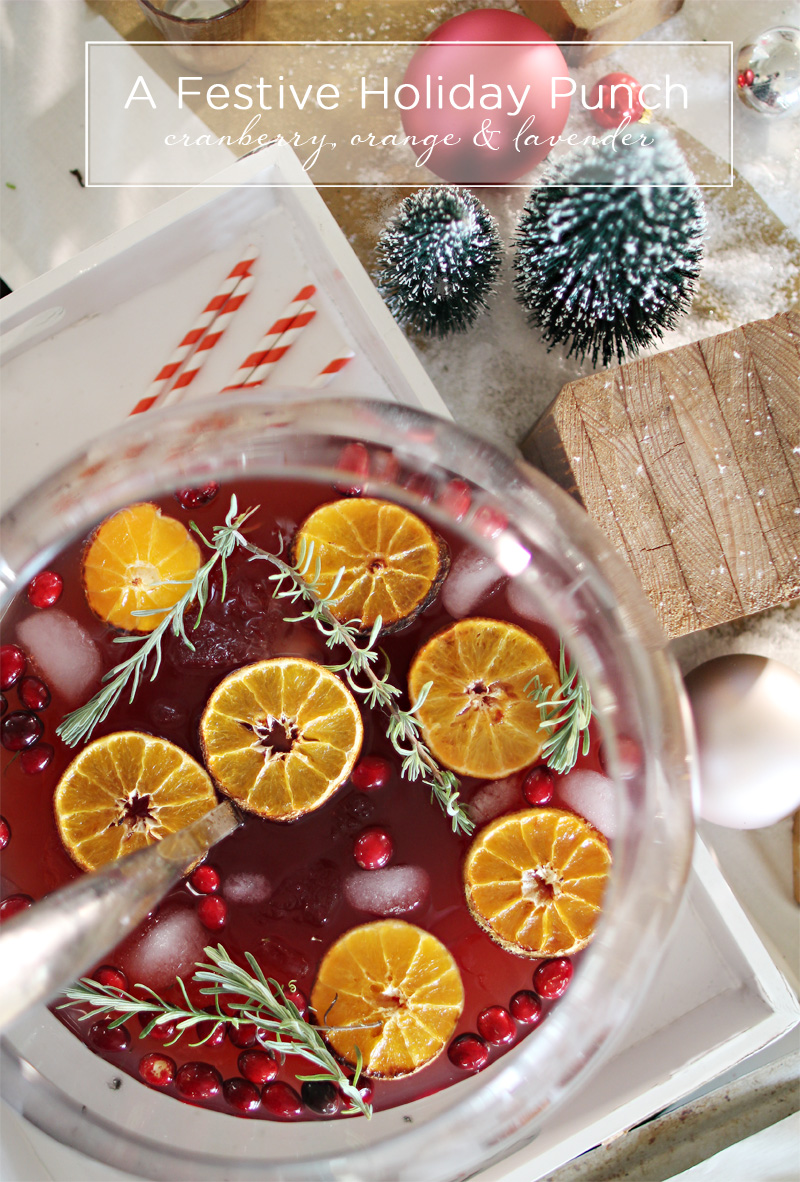 Cranberry, Orange & Lavender Holiday Punch
Ingredients
2 cups sugar
2 cups water
2 cups whole cranberries
A large bunch of lavender sprigs
3 oranges sliced
3 liters cranberry cocktail juice
3 liters blood orange Italian soda (or any other alcoholic or non alcoholic sparkly/bubbly alternative)
3 liters bourbon or whiskey (optional)
Ice
Instructions
Simmer sugar, water, 1½ cups whole cranberries, half of lavender sprigs and 2 sliced oranges in a medium saucepan for about 15-20 minutes or until mixture is reduced to a simple syrup (cranberries should be soft and tender). Let cool.
In a large punch bowl, mix ice, cranberry cocktail juice, Italian soda (or alternative) and bourbon/whiskey. Pour in cooled cranberry syrup and stir.
For garnish, bake 1 orange sliced on a bed of foil in the oven for 10 minutes at 450 degrees or until the peel blackens a bit on the edges and the juice caramelizes. Float orange slices, ½ cup cranberries and extra lavender sprigs in the punch bowl.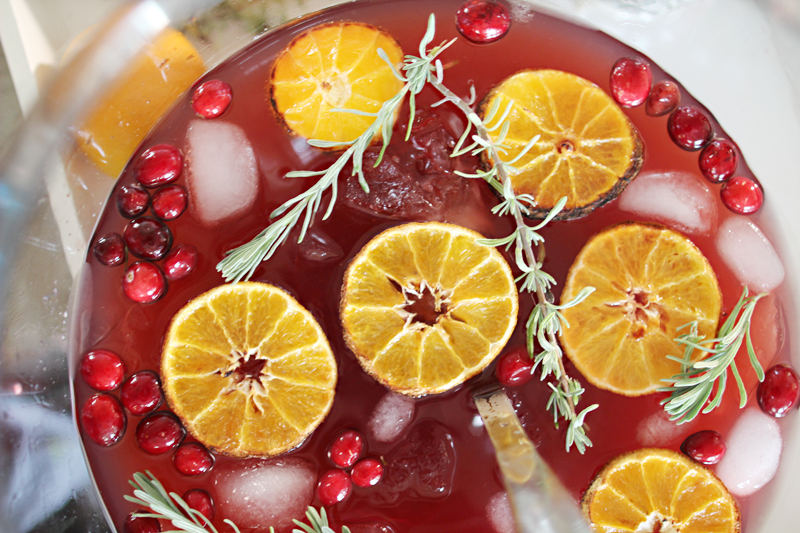 This recipe is very similar to the simple syrup handmade gift idea shared here, but on a mass scale to feed a party. The bourbon is optional, we let guests add their own to their liking for our Christmas party this past weekend (and because of all of the pregnant ladies in the house!).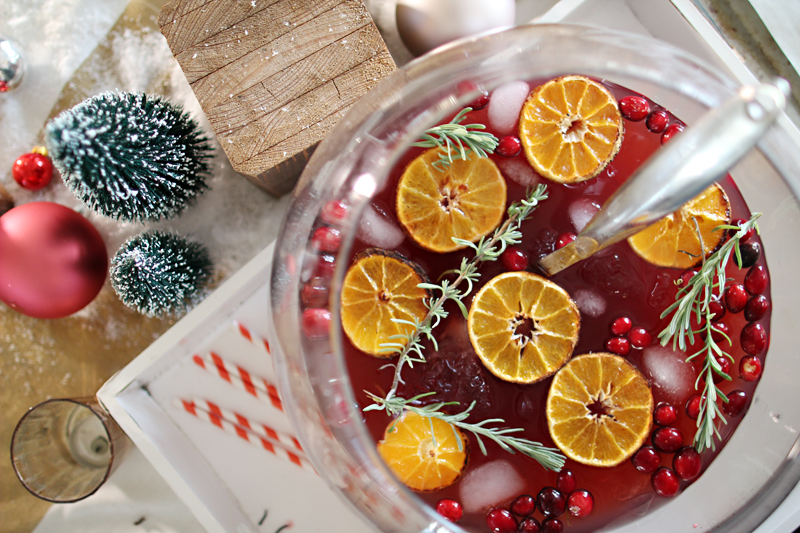 As an alternate to roasting fruit, you can also try broiling with just a bit of sugar (higher temp and juicier effect). Here's another tip for creating a sugar-rimmed serving glass with simple syrup.
Speaking of our holiday party this year, did you get a chance to see the sneak peek of setting up? More on the diy table runner, miniature tree centerpiece and party decor over here. Food-wise, we served these EASY two ingredient brown sugar sausage bites, roasted butternut squash & ricotta crostinis and lots of yummy cheeses, fruits, nuts and olives on my new gold tray (which I scooped up in store for less than $13, suddenly the favorite holiday purchase). All other delectables were brought by our awesome guests.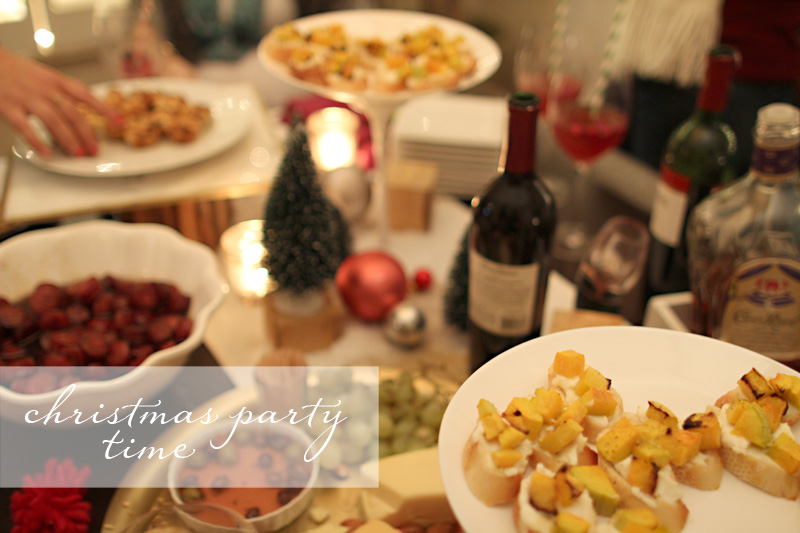 Merry Christmas and see you in a few days.
xo Morgan
PS I'm trying out the Easy Recipe plugin for my new Foodie Pro Plugin theme. More to come on that big migration (started the conversation on choosing a hosting site last month) to come.