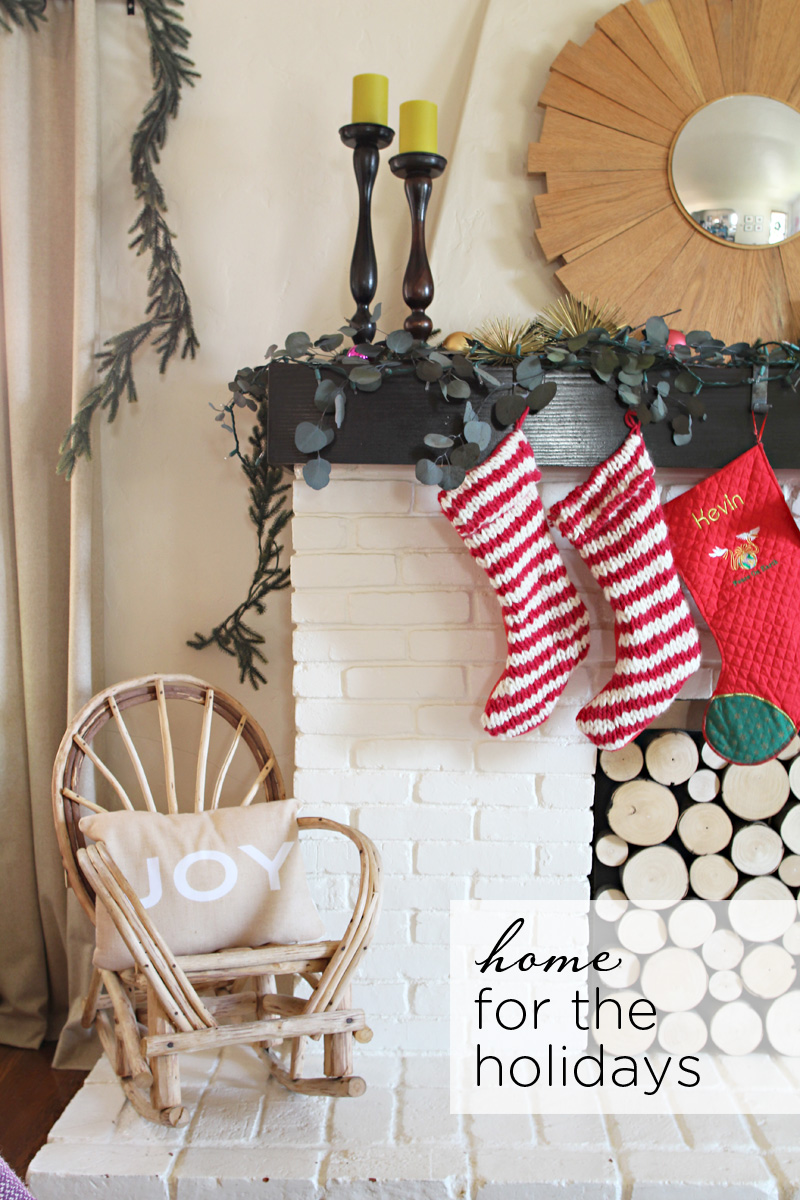 We hosted a little Christmas party this weekend and I took advantage of the opportunity to take a few photos while our house was in a festive (and clean!) state. It turned out to be such a lovely night – cranberry & lavender mocktails & cocktails were served, Ella Fitzgerald was playing in the background, and a seriously awesome white elephant exchange was had. I almost ended up with a belly dancing kit (stolen from the pregnant lady though).
First a little tour of our home. Soon I hope to post a few shots from the party, too. Plus snippets of the tablescape that we prepped for food and drinks. This post is brought to you by Shutterfly & Tiny Prints with whom I partnered for several of the ideas I'm sharing today :). PS those striped red and white stockings above? I made those guys this year (thanks to several long car trips and my knitting needles). I'm not sure it's a tutorial-worthy project because I really pieced them together, but they make me so incredibly happy every time I look at them. Hoping to finish the 3rd one before Christmas day!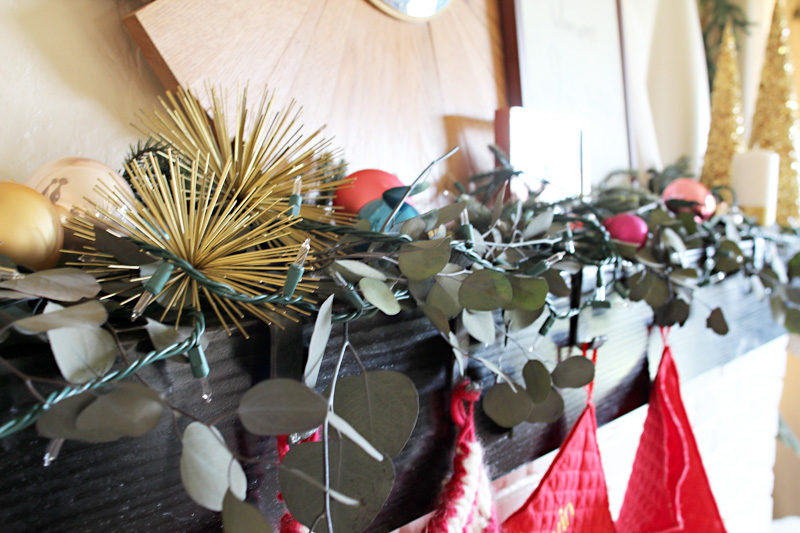 I had the most fun I've ever had decorating this year because I had the BEST little helper. Liv was so into Christmas decorations and every night following Thanksgiving asked eagerly what we could 'decorate' that evening. I'm on to pouf and cranberry garland to keep her little active and creative hands busy.
To mix things up just a little bit, I added eucalyptus leaves (faux from West Elm from the summer) to our traditional pine garland strands (originally from Ikea). I love, love eucalyptus and have kept a dried bunch of it on our buffet for as long as I can remember. The faux version looks so very real and doesn't fall apart when brittle and dry. Bonus.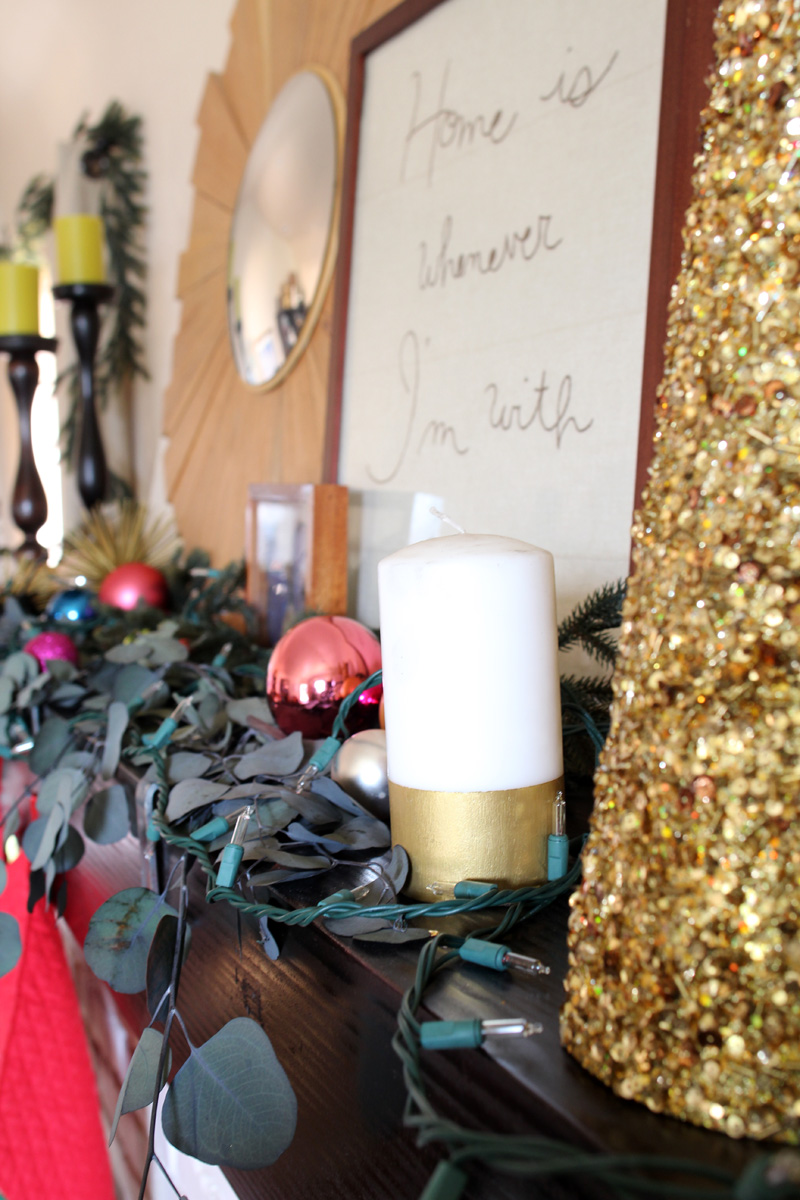 For me, garland + twinkle lights is the simplest, most perfect way to create a cozy Christmas atmosphere. So that combination went everywhere. The gold candle diy project can be found here and the gold glitter trees were found at Jo-ann's.
For the couch and Liv's little rocker (see top photo above), two Christmas pillows (one handmade 'merry' pillow made by me and one customized 'joy' pillow from Shutterfly). A new herringbone throw blanket (with a monogram) helps to create that cozy, just-curl-up-and-watch-a-movie corner on the sectional.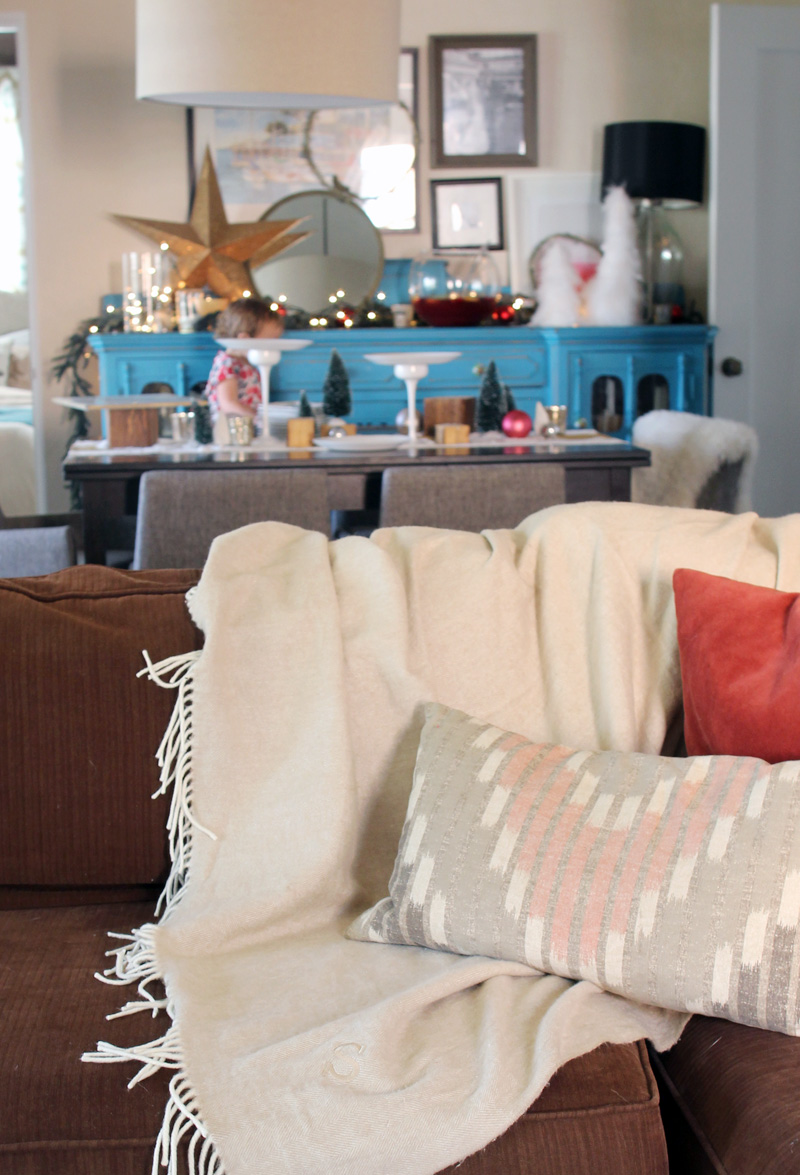 You can see the start of the party buffet along the back there (with one of my little helpers).
Another favorite for me is our oversized paper star ornaments (from World Market or Pier 1 so long ago) that we hang in our dining room. I try to fill them with Christmas lights so that they light up the space in their own way.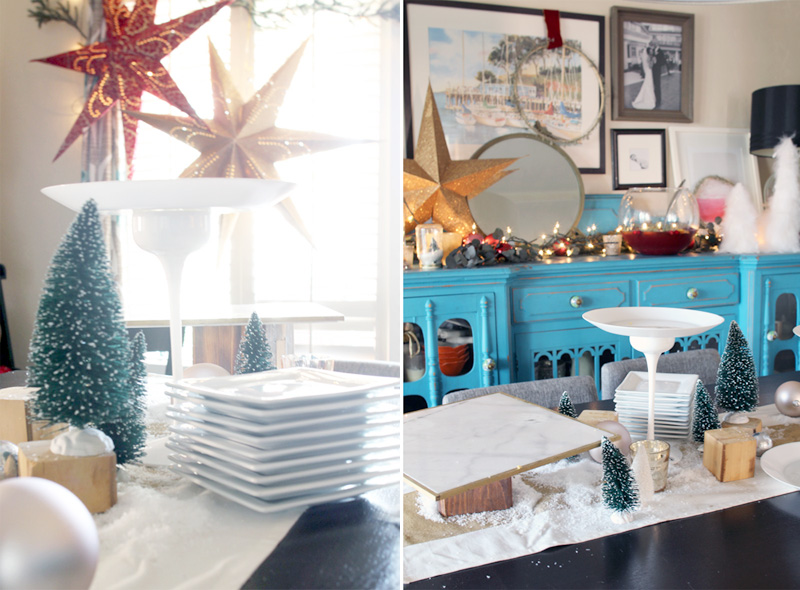 A few more pics of the dining room table before appetizers were added (the party was an appetizer and dessert potluck so with the exception of a few hors d'oveurves,  I just made room for all of the yummy food that friends brought over).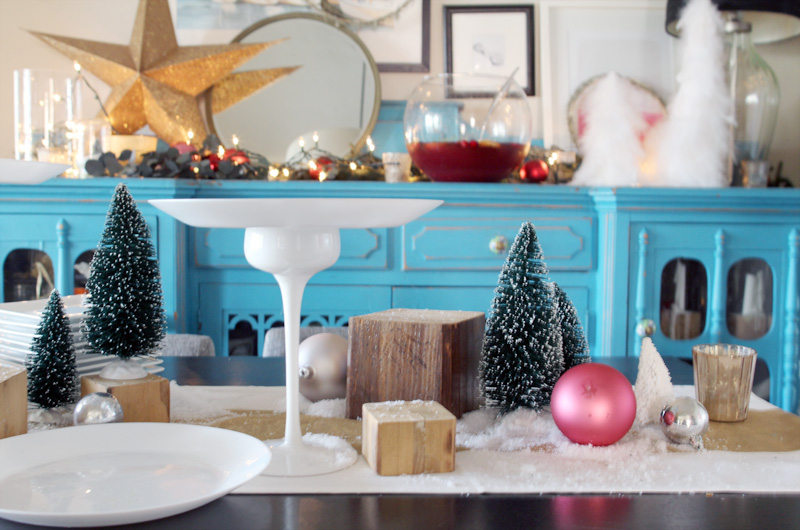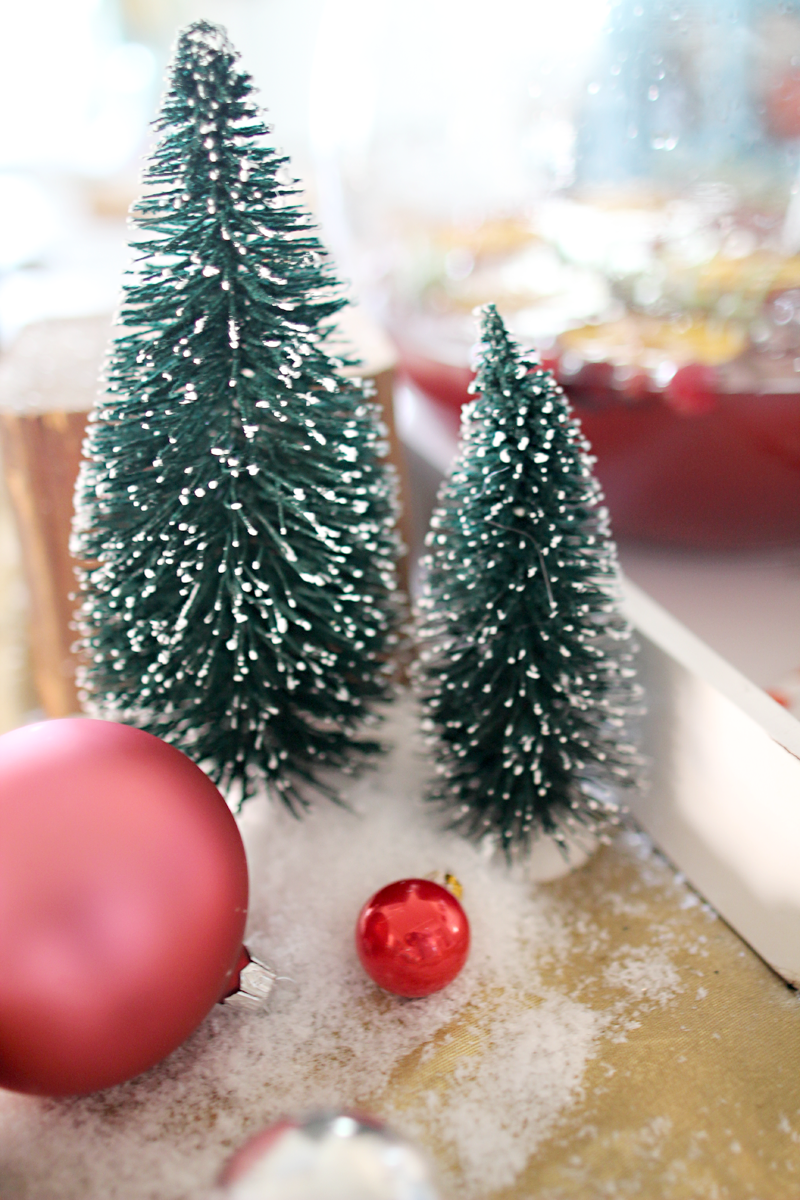 Oh, those miniature trees!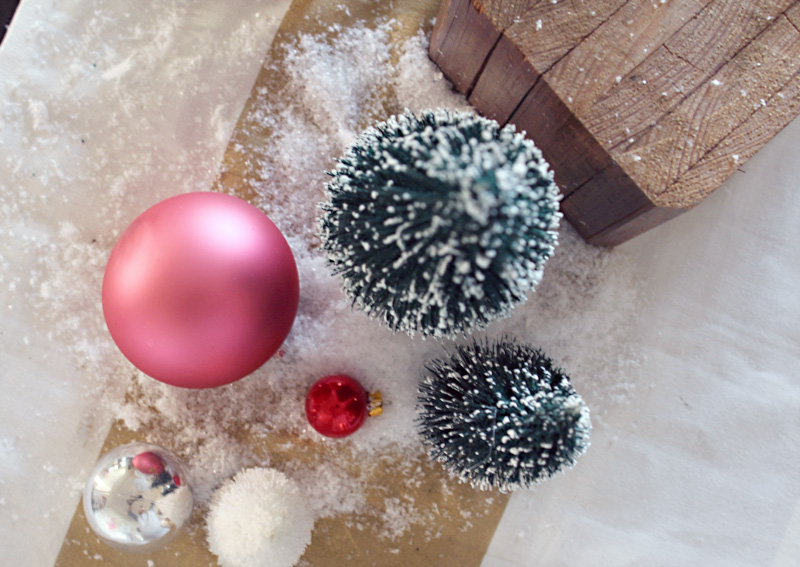 Our nativity scene is usually nestled into the garland on our buffet (we have an adorable kid-friendly set that my friend, Liv's godmother, made for her last year that she plays with regularly) but for party prep I needed a bit more space for food. DIY gold rimmed marble tile cheese plate featured here.
I made the table runner from a white Ikea runner and spray painted a line (using painter's tape) down the center. Attempting to mimic this guy.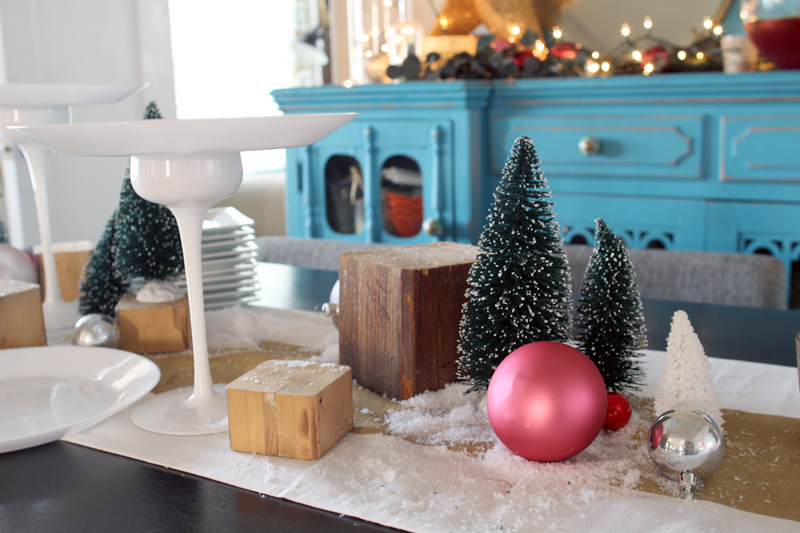 Liv covered our Christmas tree with every plastic ornament we own (one day we'll be able to upgrade, but for now the fewer the shards of ornament in the feet the better :)). Our tree was covered in head to toe with red, green, blue gold, pink… the rainbow.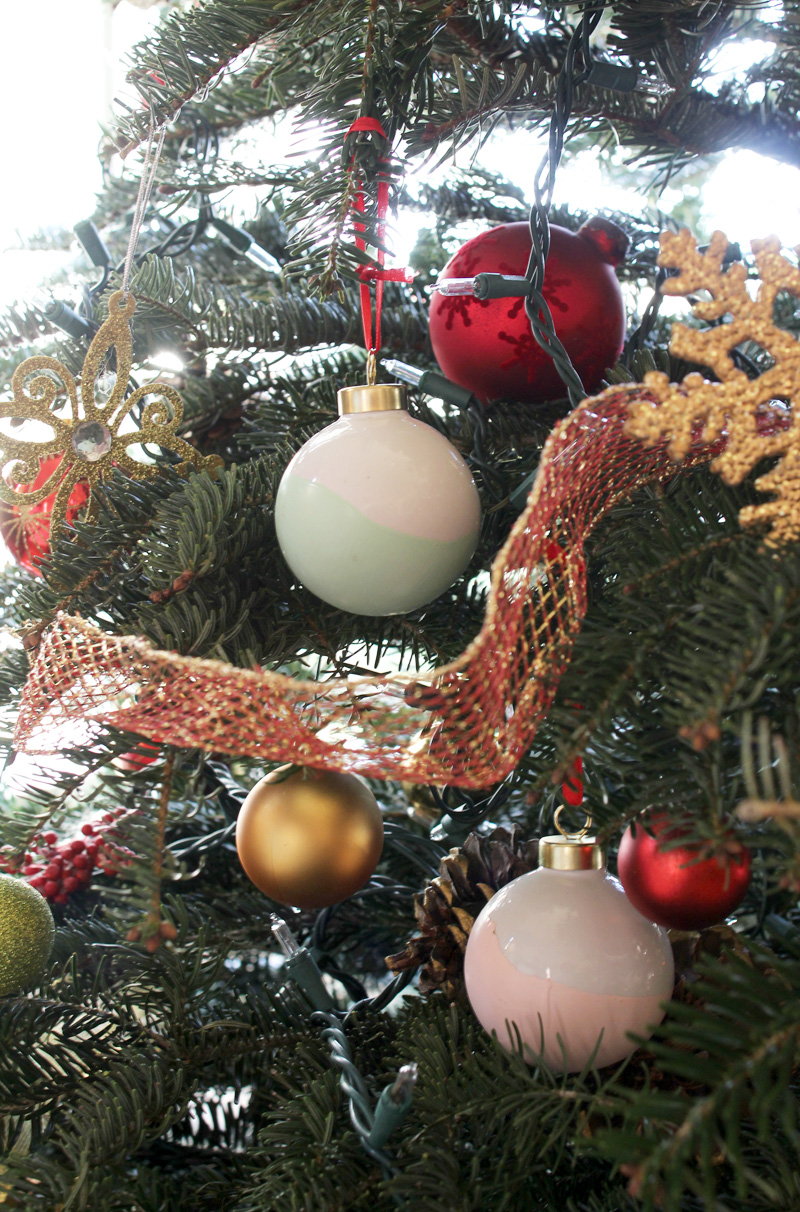 The one exception to that plastic-only rule were a few dipped ornaments that Liv and I painted together (from Michaels and on sale for $1/each).
I usually stock up on wrapping paper early in the season. I love white, gold, shimmery… and paired that this year with TinyPrint's custom paper (I chose the Perfect Montage layout for each of my designs – the first a black and white version and the second a mix of the girls playing at the beach during our Maui trip. This one is sentimental for so many reasons and is the perfect wrapping for a photo book of the same topic as a gift for my mom. The black and white I love so much because it has played double duty as a coloring book for Liv to customize her wrapped presents, which was my original thinking when desaturating the photos.)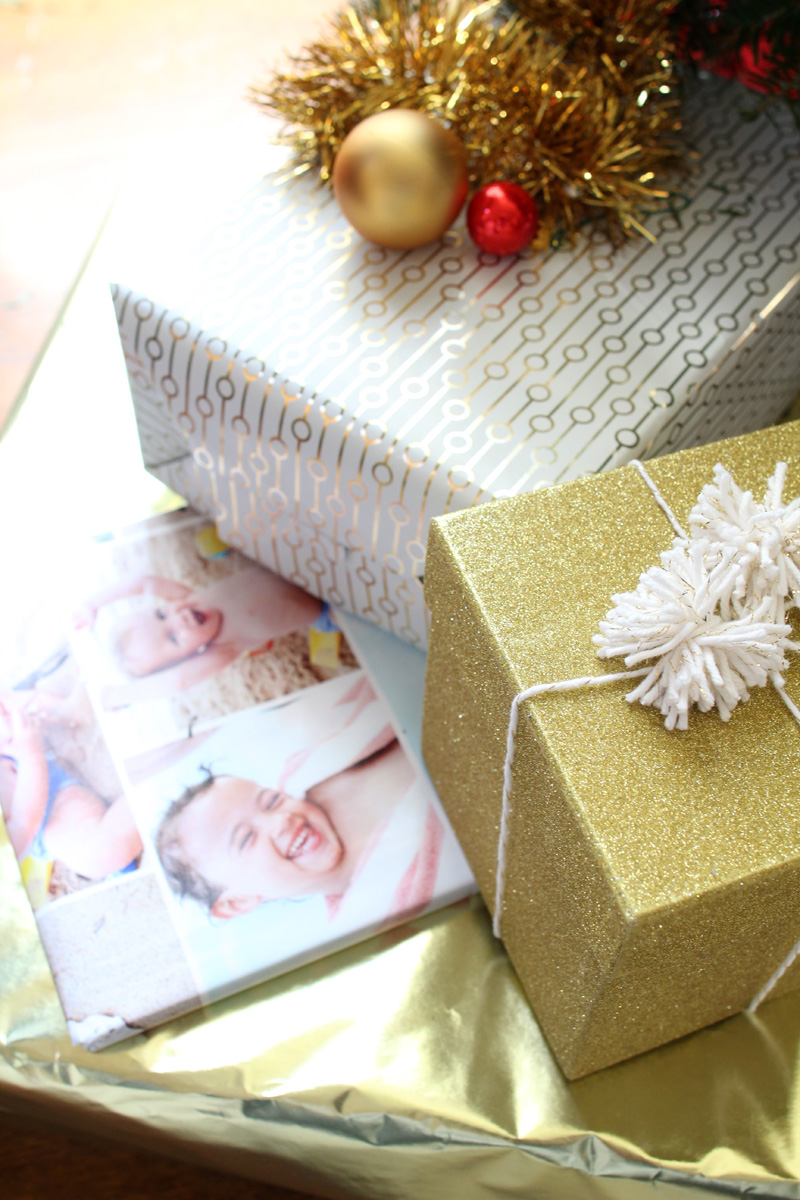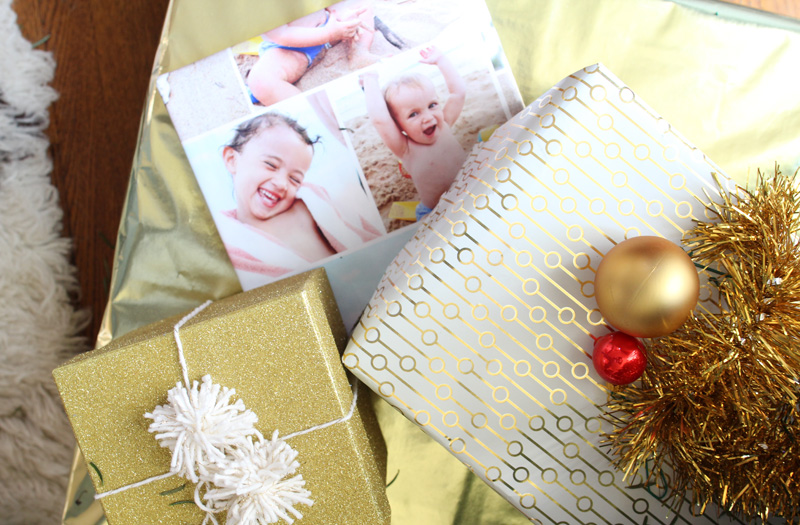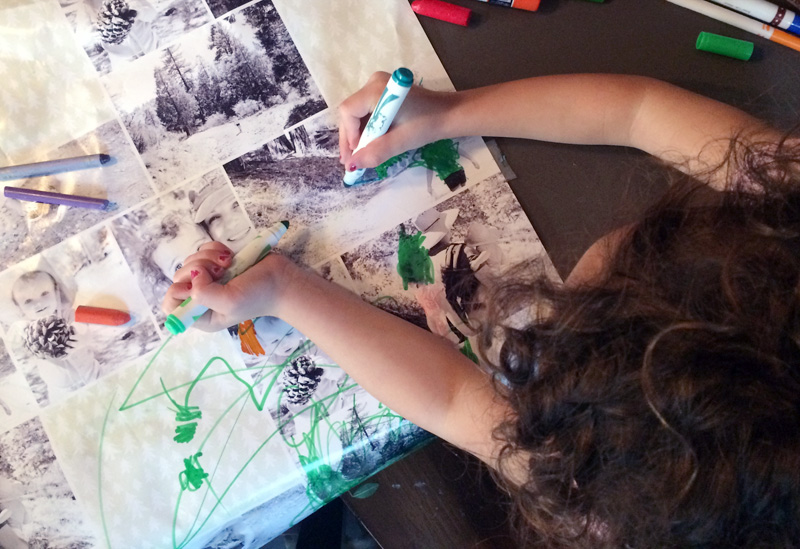 The photo book is one of my favorite presents this year. I think that personalized gifts are always amazing and always so treasured. I was really happy to find a bit of time to put together a special book that documented our special family adventure (especially of the girls).
I chose the 'Everyday Sentiments' (usually I always opt for blank and start each book from scratch) and was so happy with the simple embellishments that that design offered. They're perfect for this book. 'Modern White' is also a great template.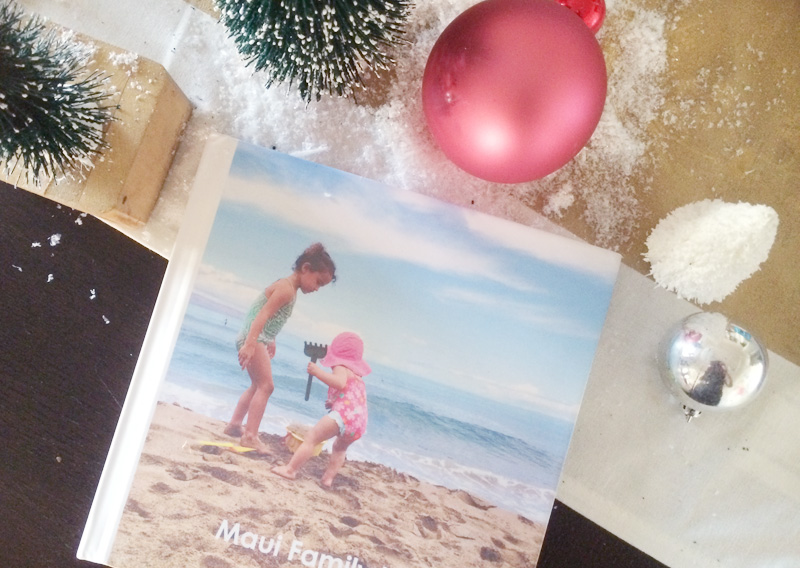 A few snapshots of the templates you can play with for this book – I dropped the opacity using the Shutterfly tools for the cover and I love that it looks a bit filtered.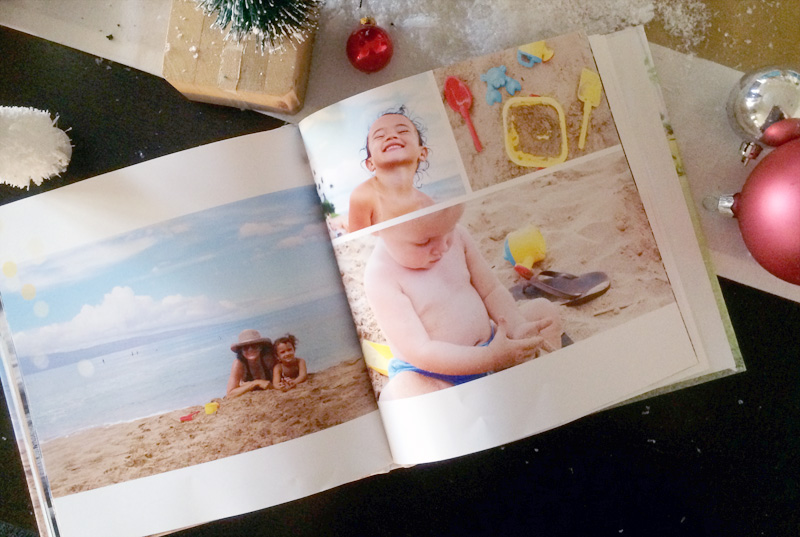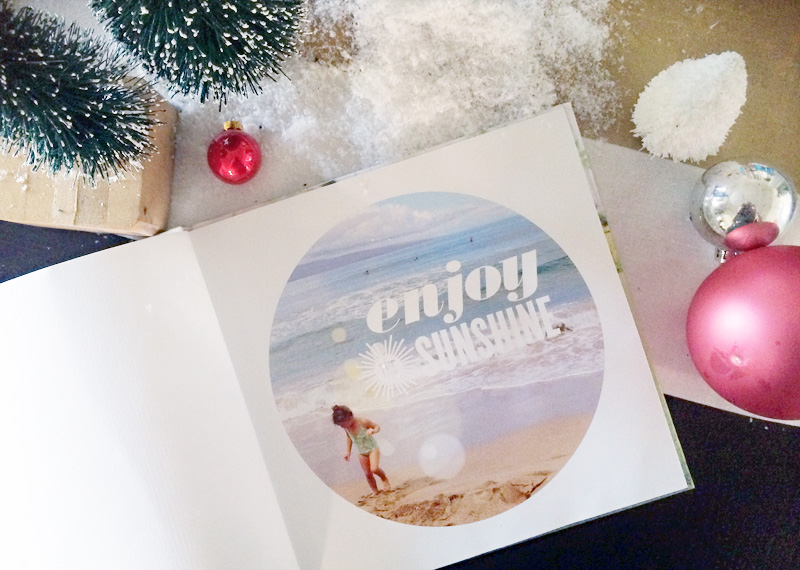 In the kitchen sits the new olive branch wreath.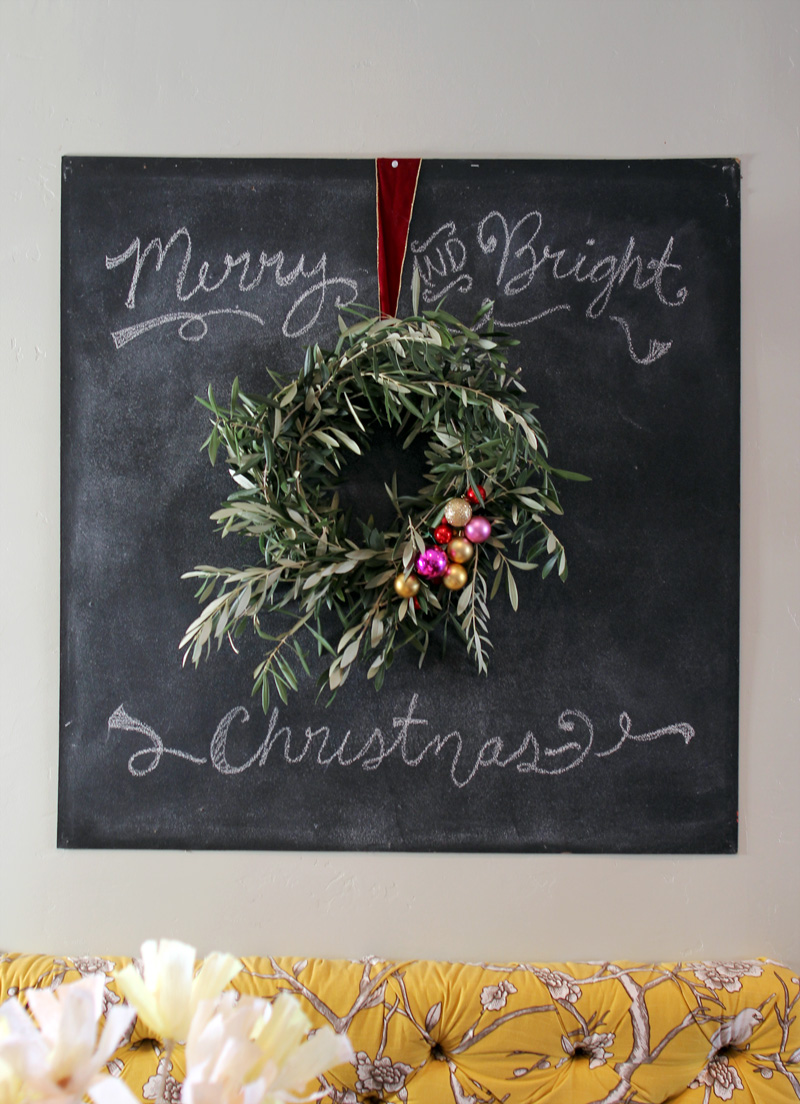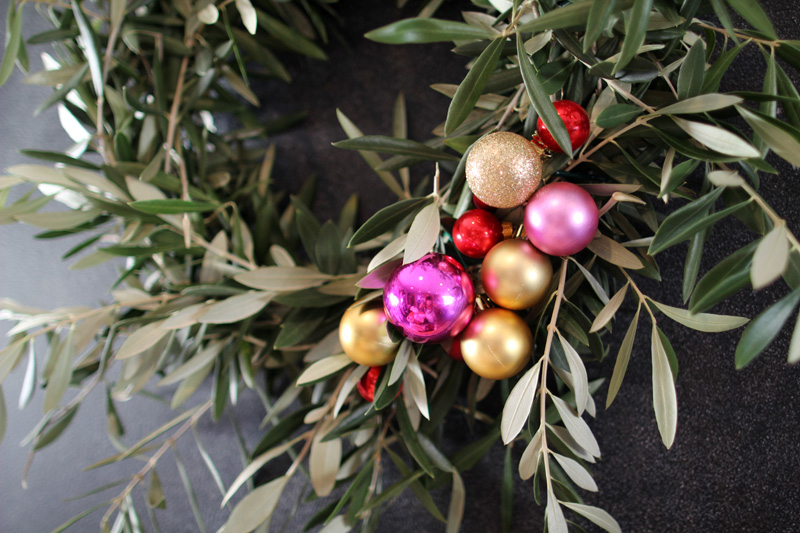 We also moved the fiddle leaf fig to the far corner of the kitchen and it's a great spot – might have to buy a second for this space permanently. I lined it with a battery operated set of twinkle lights (there's no plug nearby).
Here's Liv hard at work painting more wooden ornaments – the perfect wrapped present topper!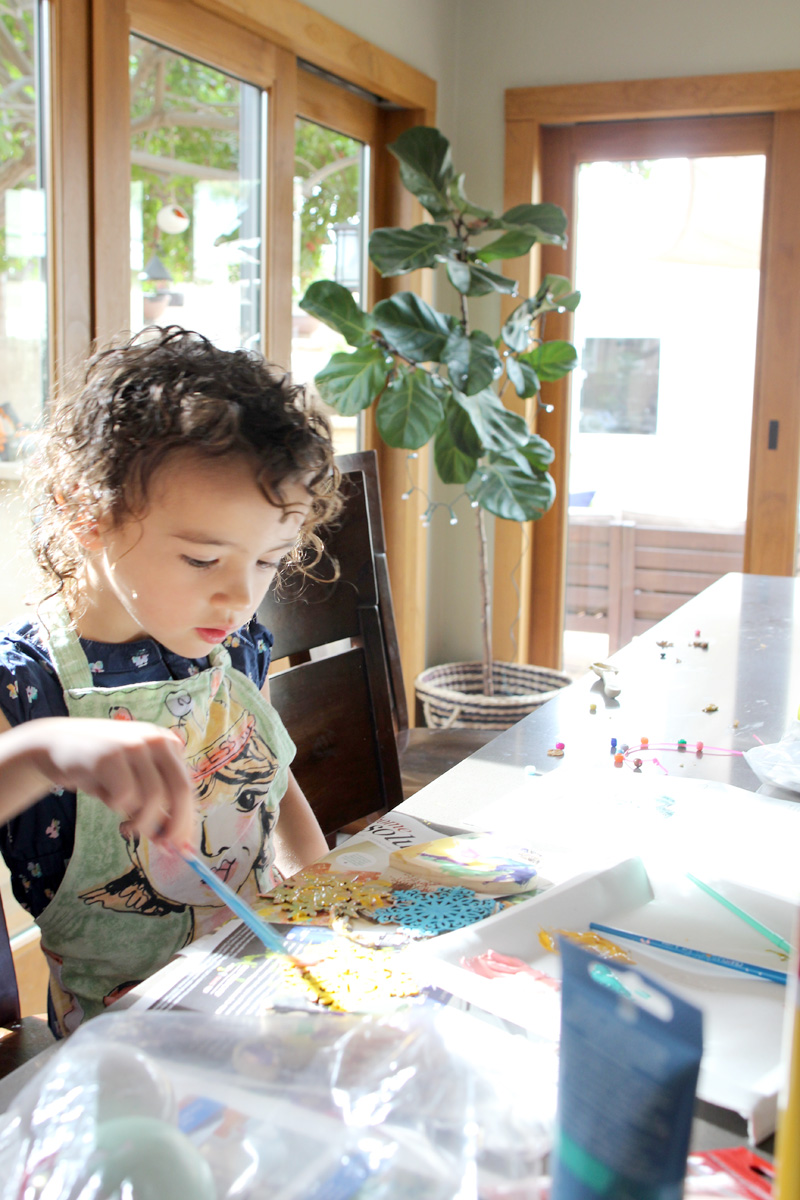 Outside, keeping it simple with just a gold, brass and pink bulb covered wreath for behind the antlers above our fireplace.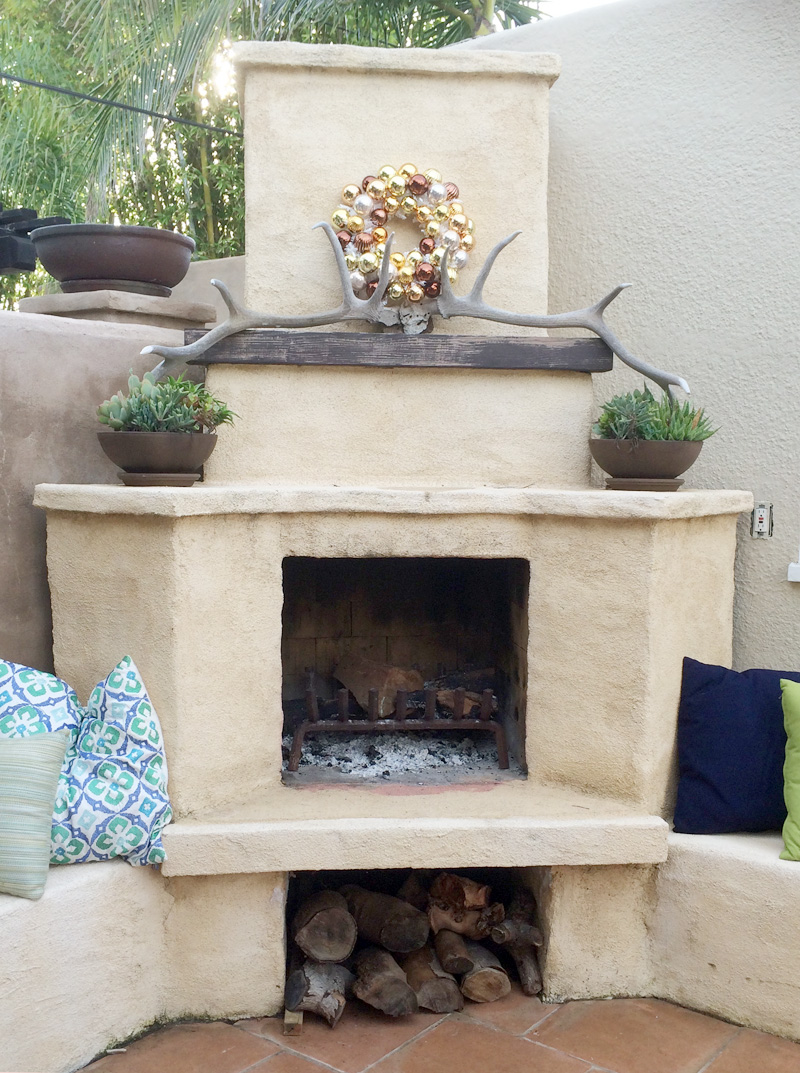 A simple feather wreath to brighten up the bathroom: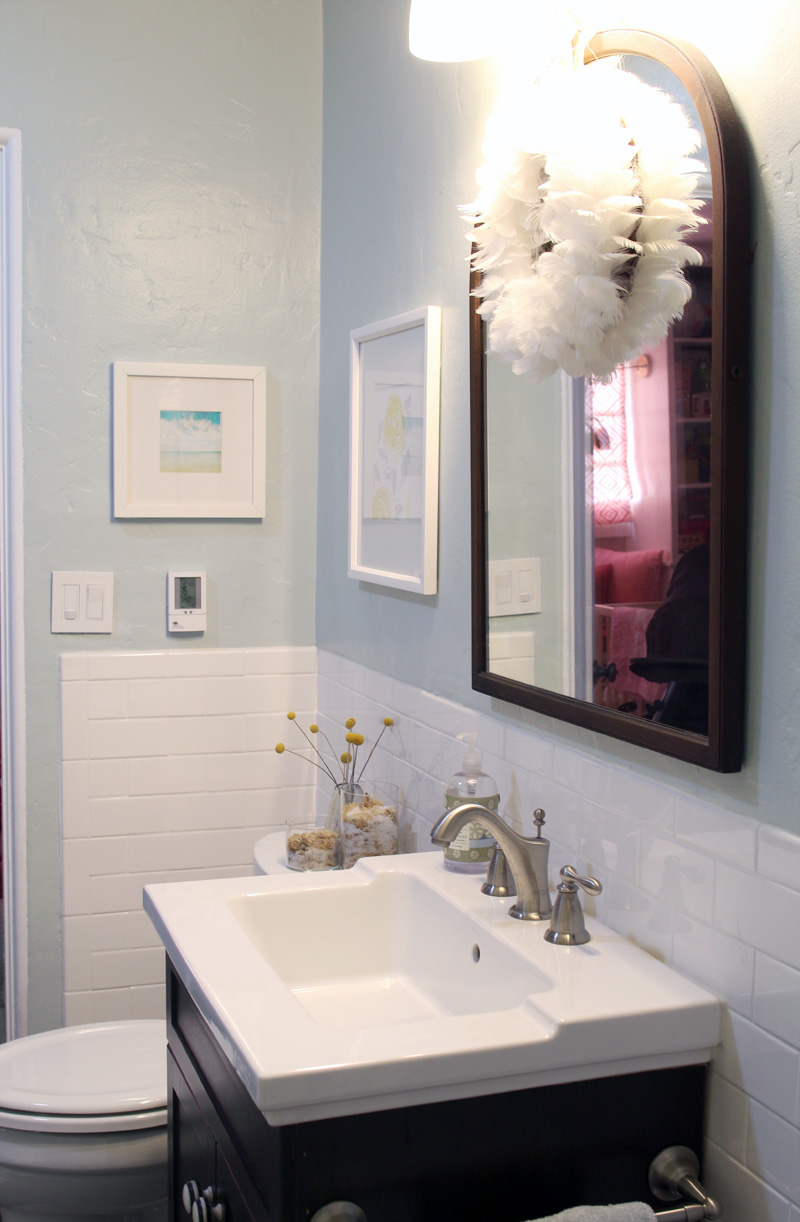 I had this adorable set of photos of the girls with the lights from the tree before we strung all of them up and created Thank You cards with a TinyPrints template (Divinely Dotted in Raspberry). Liv has already begun filling out a few to her grandparents, aunts, uncles for thoughtful gifts sent these last few weeks (with requests for opening early – Christmas PJs and what not :)).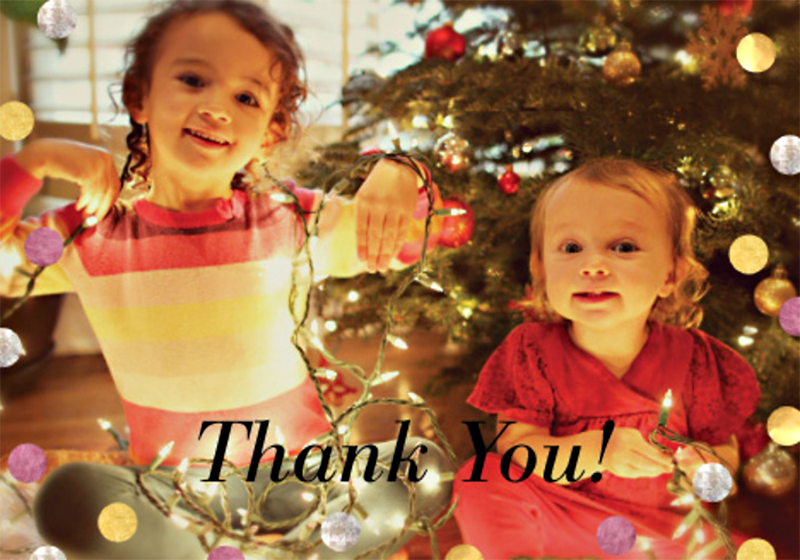 That's a shot of the cover of the folded thank you notecard above.
There's our Christmas home tour this year! Hope you are having a very merry last few days before Christmas. We are feeling very blessed over here.
PS what to do with all of those pretty holiday cards post-Christmas, a great felt Christmas gift for kids, our home for the holidays in 2010 (feels so different to me – but might look awfully similar to everyone else!)
This post was sponsored by Shutterfly and Tiny Prints, thank you for letting me share about the brands that support this site :).