April 24, 2013
Happy midweek! This is the time of the week that I just love because I'm starting to plan out my weekend projects and anticipate my time away from work with the fam, but am still not so rushed to finish my desk deadlines that I'm biting my fingernails. Midweek is a great time of the week.
A quick update to share regarding the trending colors that are making a friendly splash in this casa. That is to say that gold might be the new pink in this house. Or maybe they're tied at this point (as evidenced here, here, here, here and here), but I'm noticing that I've been drawn to gold-hued home decor for a while now and that it has begun to pop up with sparkly and brushed gusto over the past couple of months.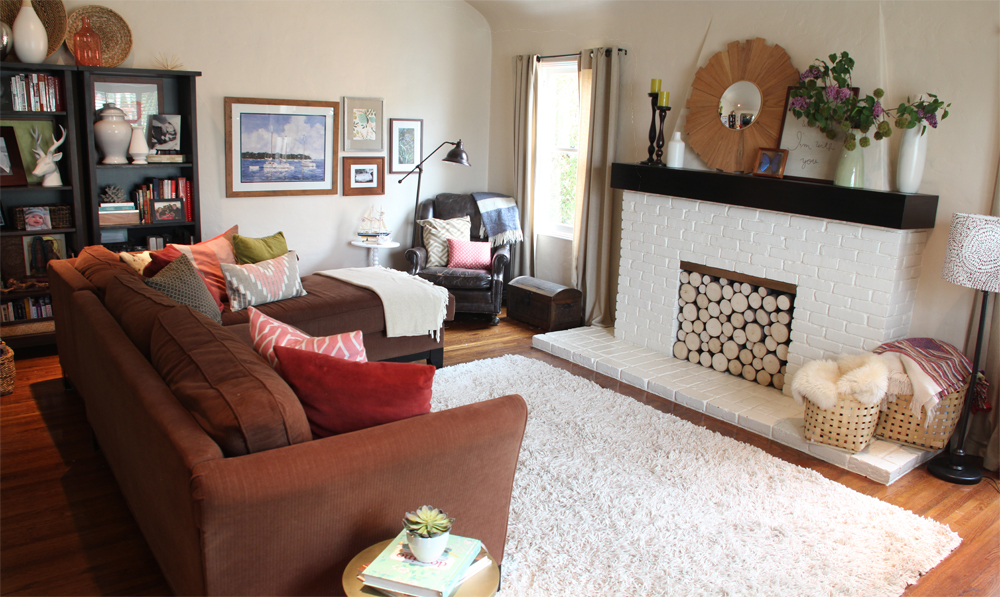 Lots of pops of pink. Something so soothing and warm and inviting, no? Perhaps teal or navy should make an entrance…
I feel like I jumped on the gold-lovin' band wagon early and began to embrace its shiny patina back when Kev and I first married almost six years ago. I'm pretty sure gold was still very not cool back then (remember the grimace you made when visiting Grandma's perfectly brass-covered bathroom?) and I recall bringing a dainty gold chain necklace in for repair to my local jeweler and having him inspect it oddly, telling me 'no one wears gold, no one'. I still wear that simple gold chain with a little pendant from Kevin every day.
Okay, side stories aside, here's a new gold addition that I'm especially enamored with: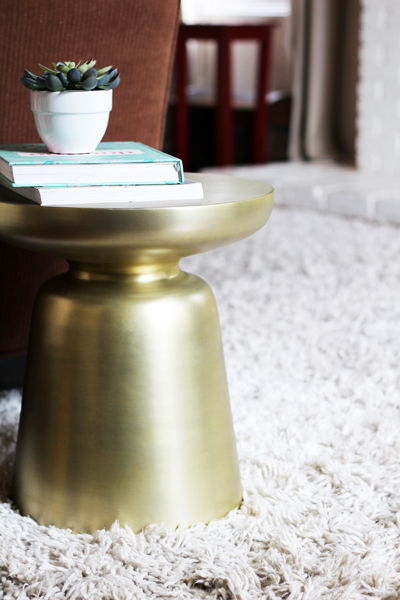 And it's brass, too! Without a coffee table we have been in need of a convenient table solution for drinks and whatnot, especially with friends over. I have a little wooden tray that I usually keep on the couch that houses all things reading material, remote controls, etc but with a bouncing toddler and snuggly dog it never felt quite sturdy enough to hold mugs of tea or glasses of water.
So it's been a side/coffee table search.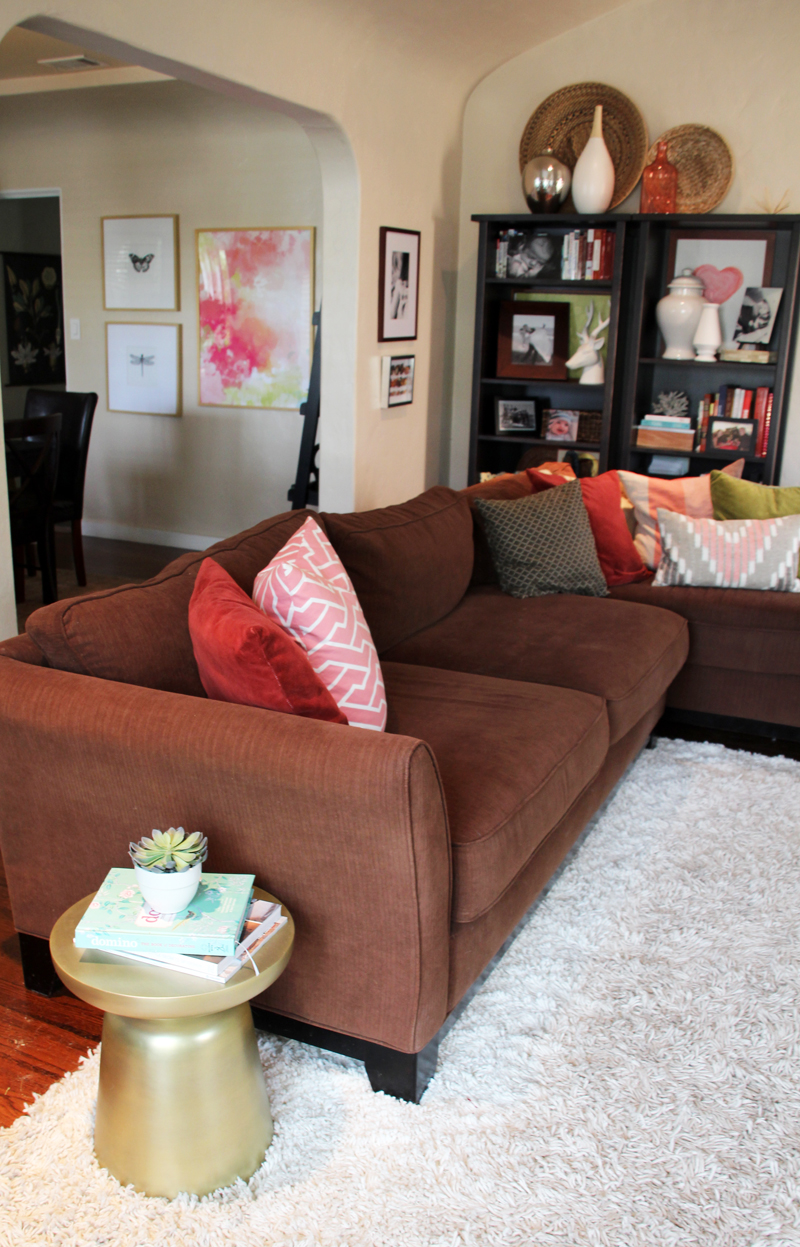 I tried out a couple of variations here and there over the past year (loooong search) but quickly found that this end-of-the-couch location called for something low profile and sturdy (anything with legs was easily tipped during the Liv and Bodie trial – one has inquisitive fingers, the other a very strong tail).
This antique brass West Elm drum table passed the test with flying colors.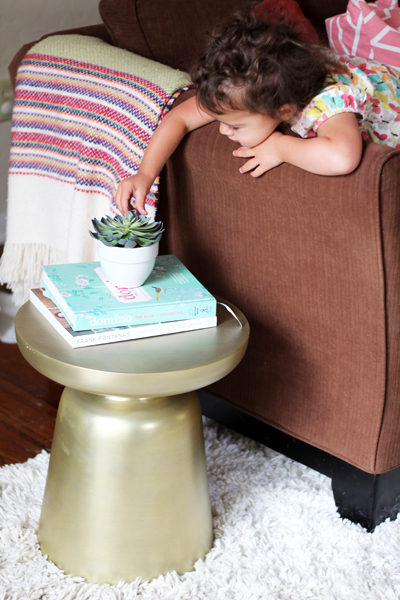 It is still tail height and it is still visited by inquisitive hands, but now the table is far from tipping when anyone runs by it at a fast speed. It's also fairly  light weight so we move it to the center of the sofa when it's needed for wine and water glasses.
I've had too much fun at West Elm over the past few months. It's rare that I'm toddler free outside of work and one of my favorite little stops when running errands is to swing by our local West Elm store and browse the sale section (which happens mayyybbeee once every three months). Other recent West Elm additions? There are a few now that I can spot.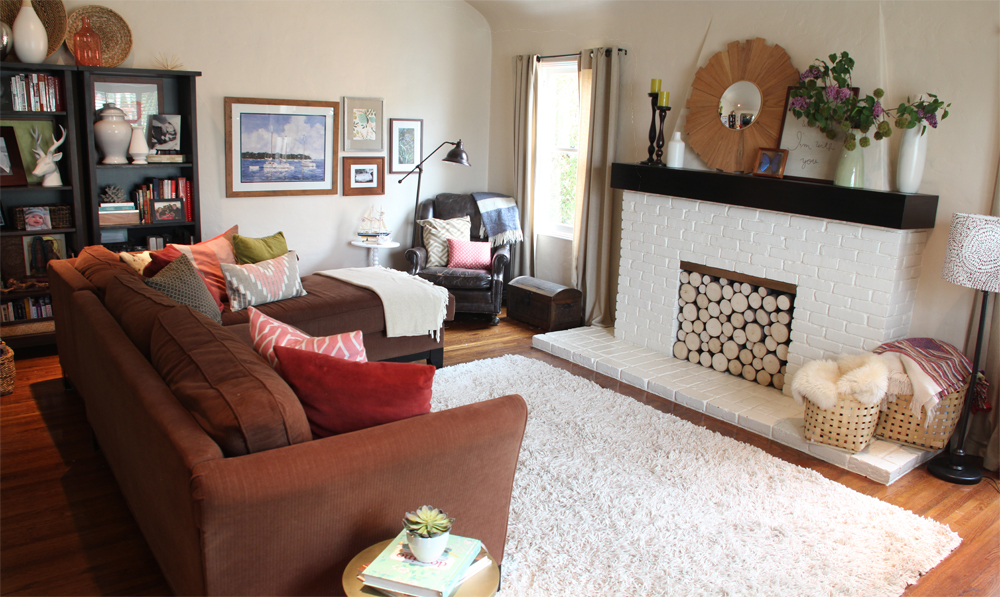 This pink/coral vase that sits atop the bookshelves is a clearance find. (Kevin didn't love my gold 'home' art project that used to also sit here and he ended up winning – I decided the letters might be best elsewhere after a couple of weeks).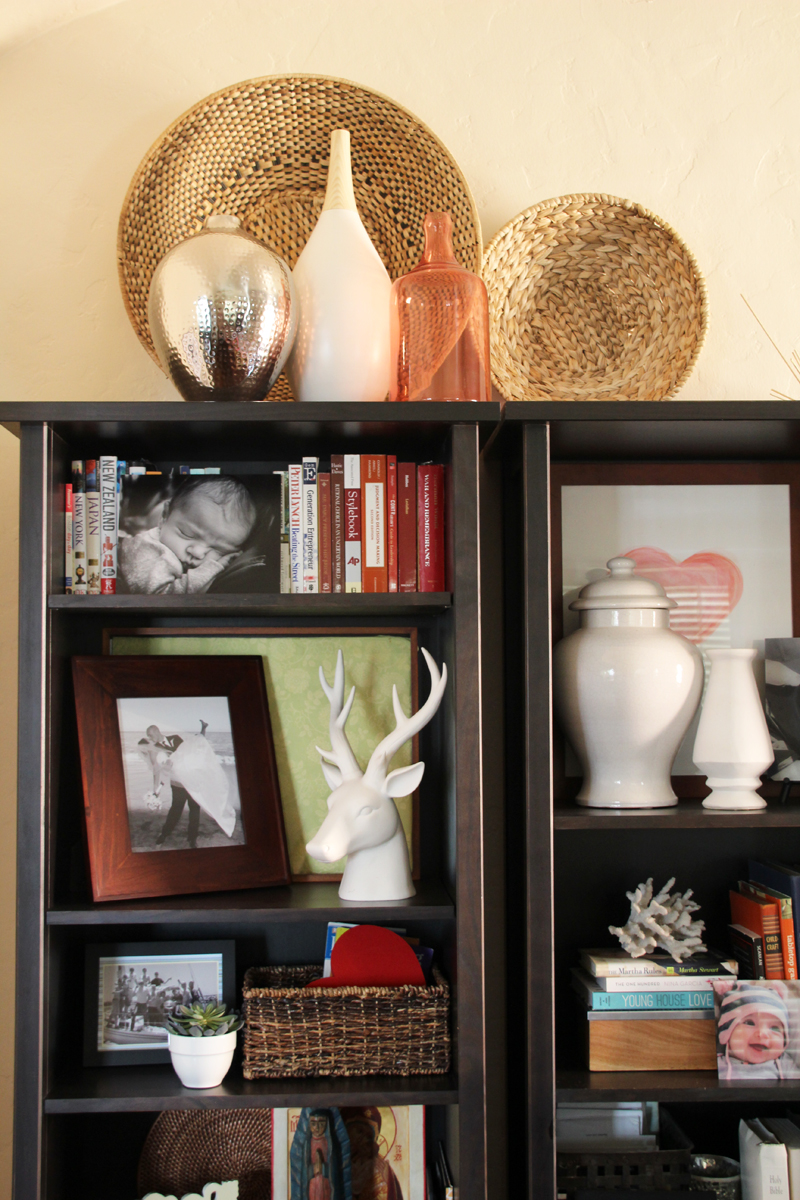 As well as a couple of new pillows. How great is that pink and taupe tribal print? Or the striped coral and brown guy that pulls the entire couch ensemble together?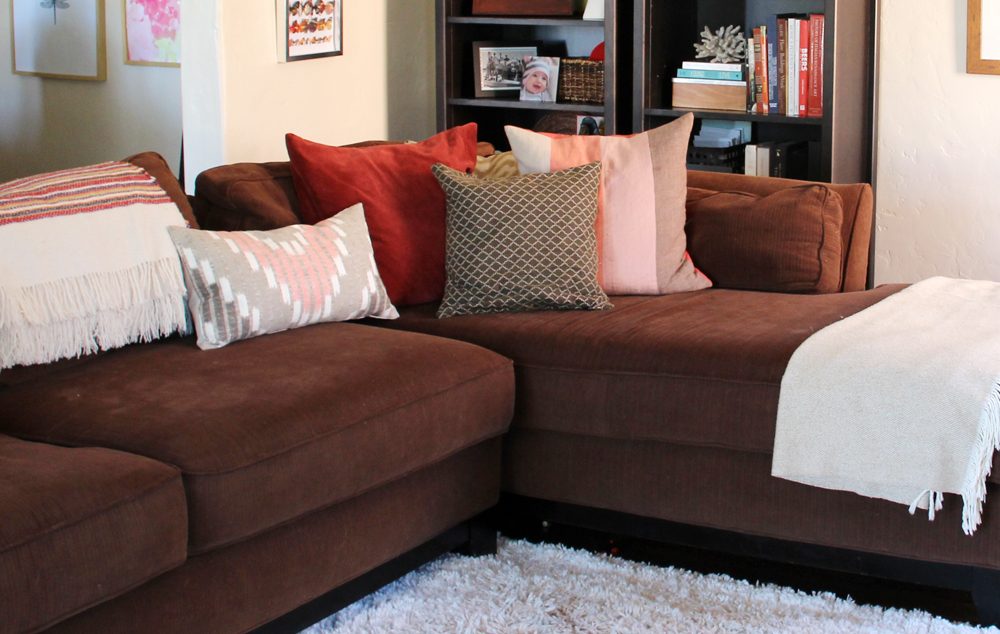 This one also now sits on our old leather corner chair.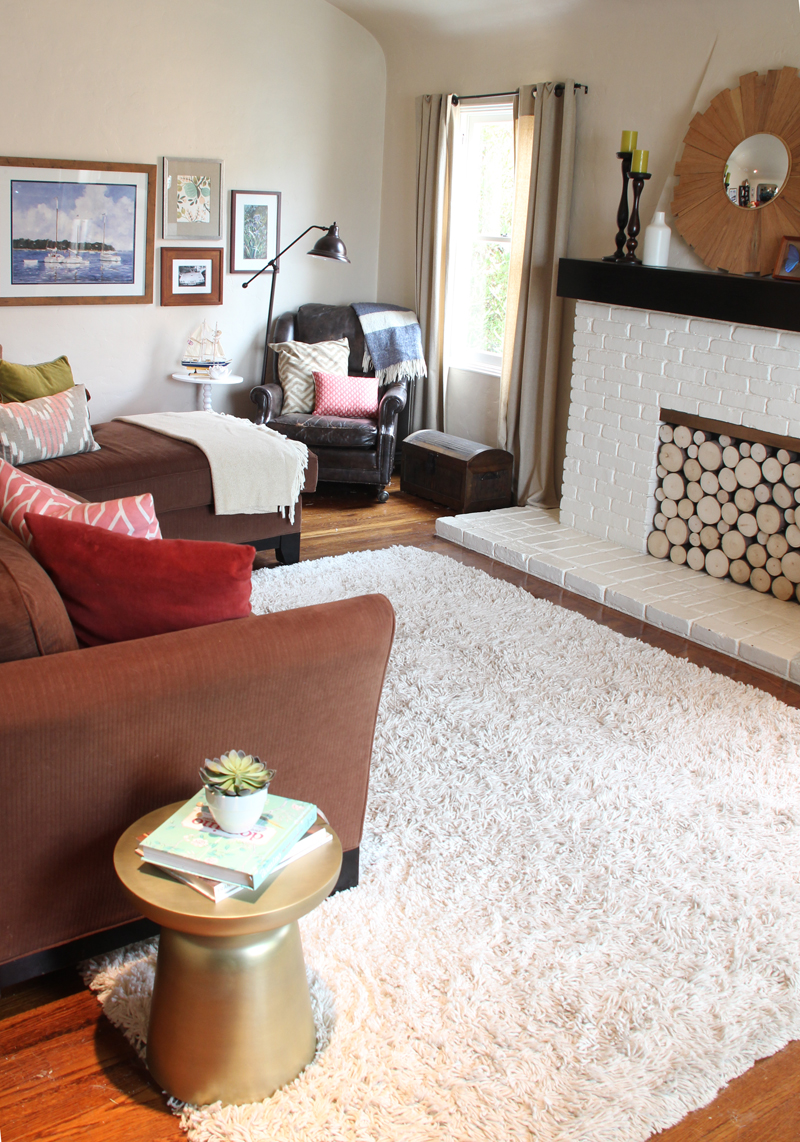 On the more pink front, I believe I've finally settled the score on deciding on new wallpaper for the new nursery! And my gold Land of Nod desk lamp and pillow for the office have recently arrived. Talk about sparkly

.
Happy soon-to-be weekend.
 All living room posts are sorted by tag right here for easy searching.
Tags:
Accessories
,
Decorating
,
Gold
,
Home
,
Living Room
,
Patterns & Color
,
Pink
Posted in
Home
,
Our Living Room
,
Renovating Adventures
|
1 Comment »
April 23, 2013
Remember when I made these guys a couple of weeks ago? Well I ended up overdoing it on the amount of deliciously melted chocolate in my double boiler and wanted to find an easy way to scoop up the remaining goodness, lest it be wasted or eaten in an entire sitting by myself.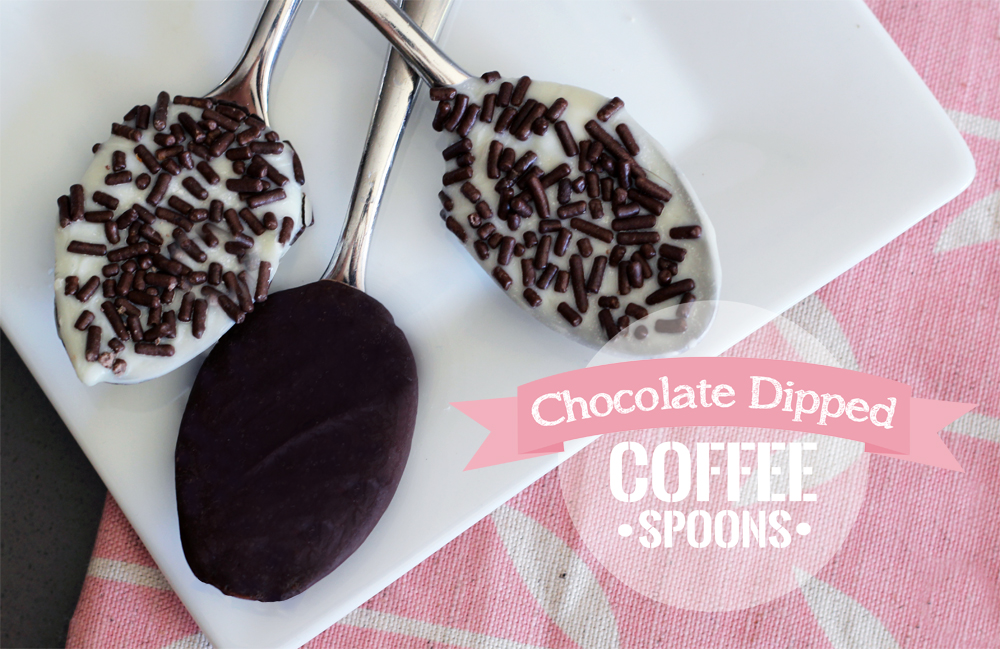 The easy solution was dipped spoons! I've actually made these before with plastic spoons for a hot chocolate bar at a friend's nesting baby shower, but it's been a couple of years so I thought I'd revisit and share how easy, yummy and practical (can't let that last bit of chocolate go to waste!) this is. These dipped coffee spoons would also would make great gifts if sealed up in a little cellophane and ribbon.
So easy and so quick, and they look so pretty when set out with coffee, hot chocolate, chai… you name it.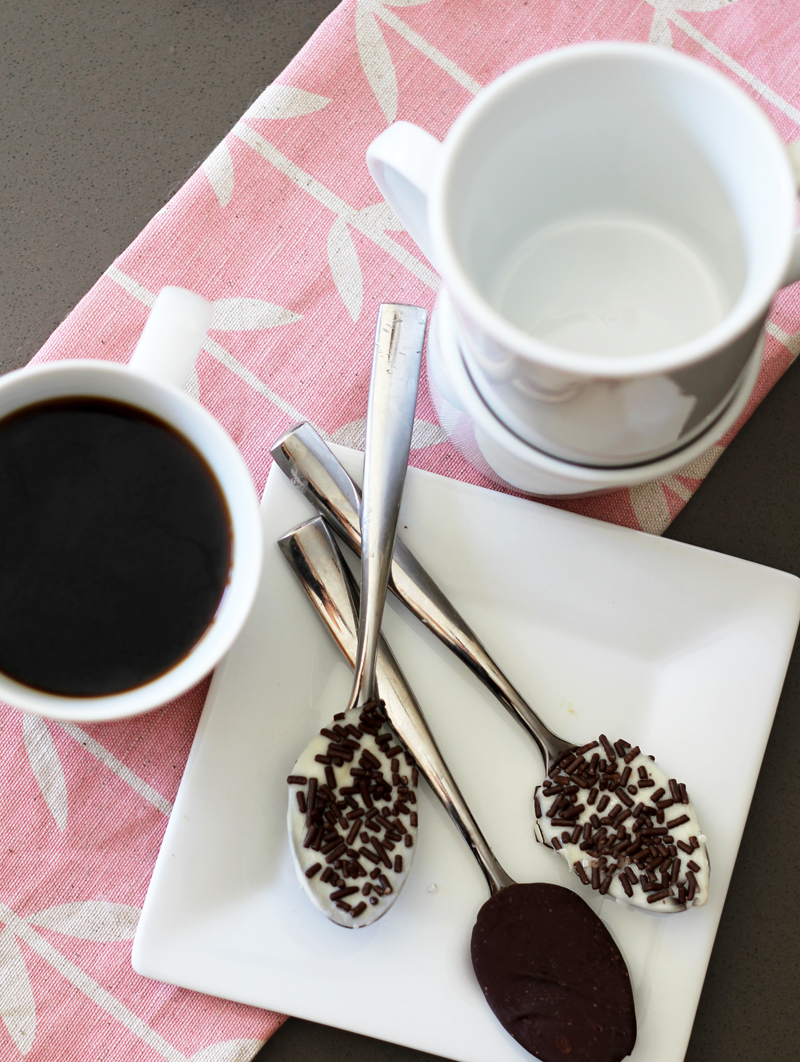 They could be covered in any pretty sprinkle or sugar for a customized look for a shower theme or party, or swagger with alternative chocolate colors (white over the dark, for example) for a fancier design.
The left over spoons went onto the coffee shelf in my kitchen – so tempting!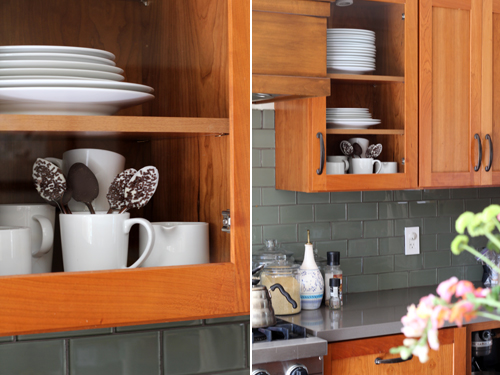 They won't last longer than a couple of weeks before the chocolate begins to crack, but I really haven't had to worry about an 'extended stay' problem

.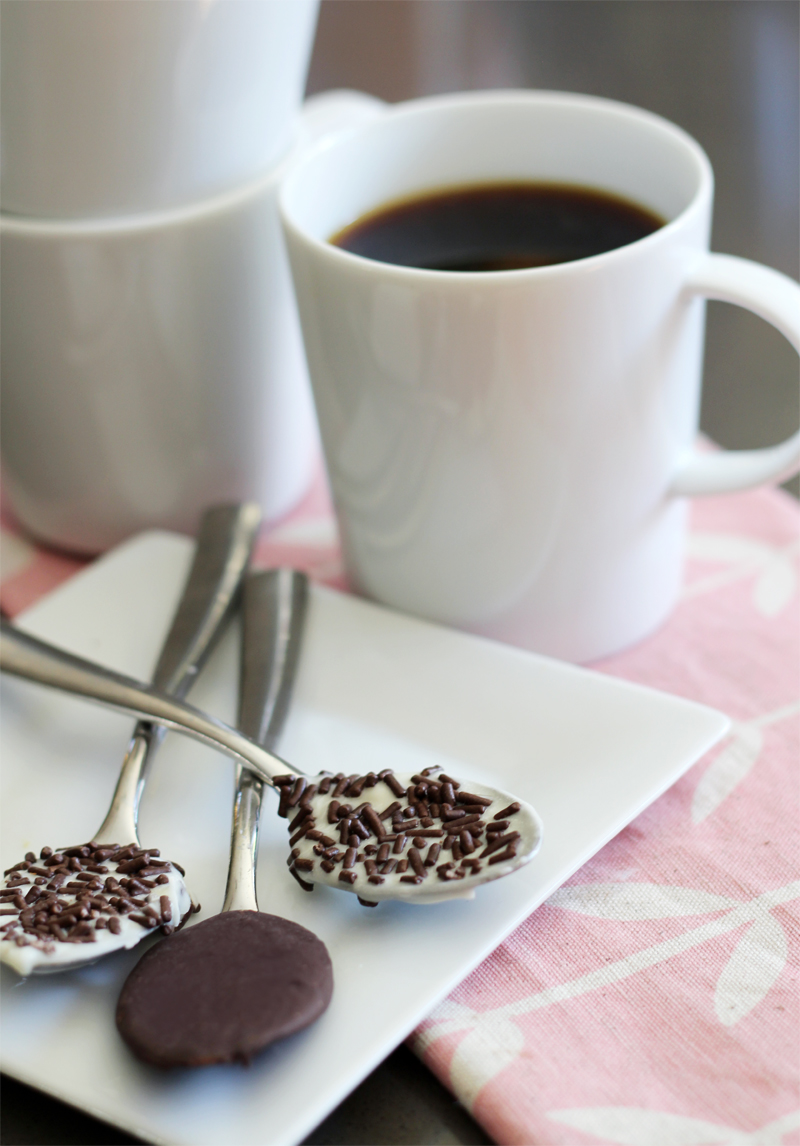 Making them is easy peasy, see this post for a better overview but the basics are: chocolate chips, double boiler, spoons (if using plastic as favors or gifts, make sure your chocolate isn't hot hot hot or the spoons will melt during the dipping process), toppings.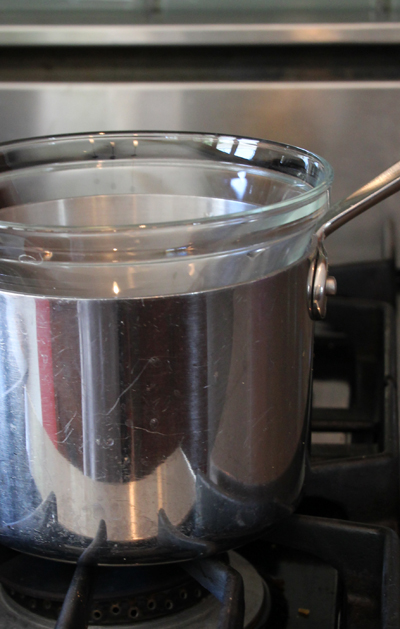 Yum.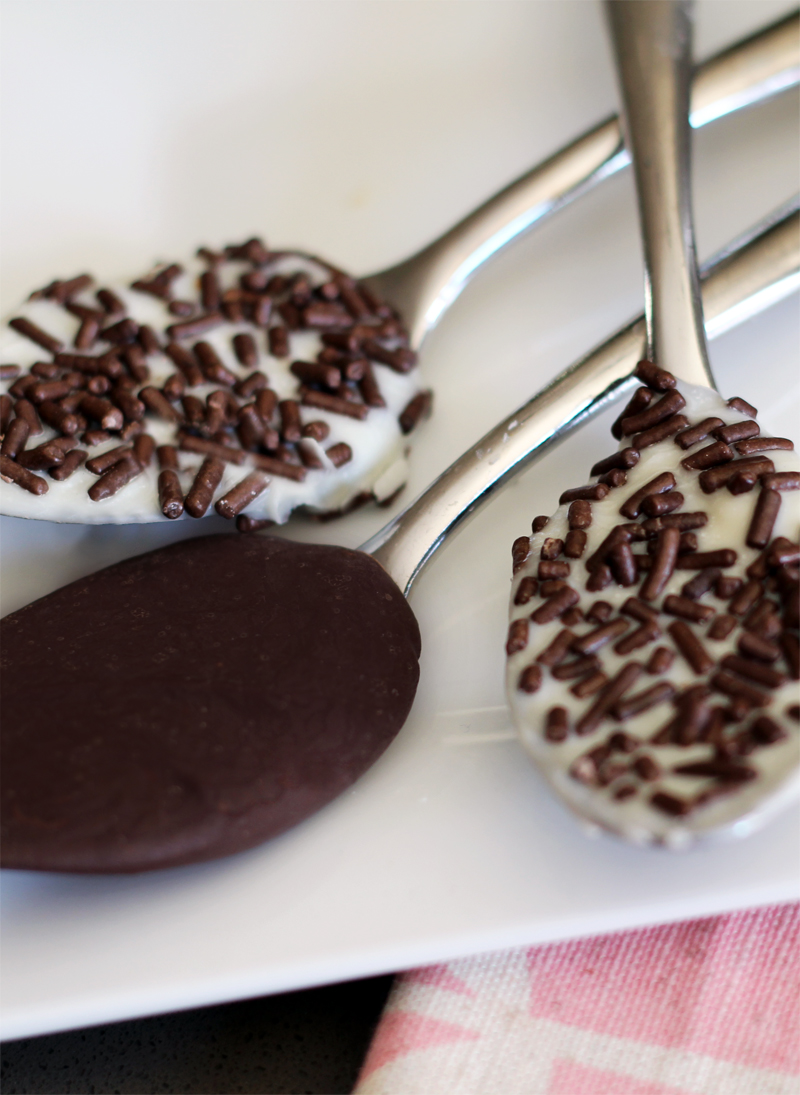 PS More recipes and good eats can be found right here.
Tags:
Baby Shower
,
Birthday
,
Bridal Shower
,
Chocolate
,
Desserts
,
Dinner Parties
,
Favors
,
Gifts
,
Parties & Entertaining
,
Wedding
Posted in
DIY
,
Parties & Entertaining
,
Recipes
|
3 Comments »
April 22, 2013
Recently a neighbor who knew we had chickens stopped by to check them out. He was considering setting up his own little city hen house and was curious as to how we were getting along with our feathered friends – the conversation sparked a little reminder that I haven't posted an update on the ladies in some time!
Here's the original post on when we added them to the roost, complete with a tour of the homemade coop and blue nesting box Kevin built from scratch.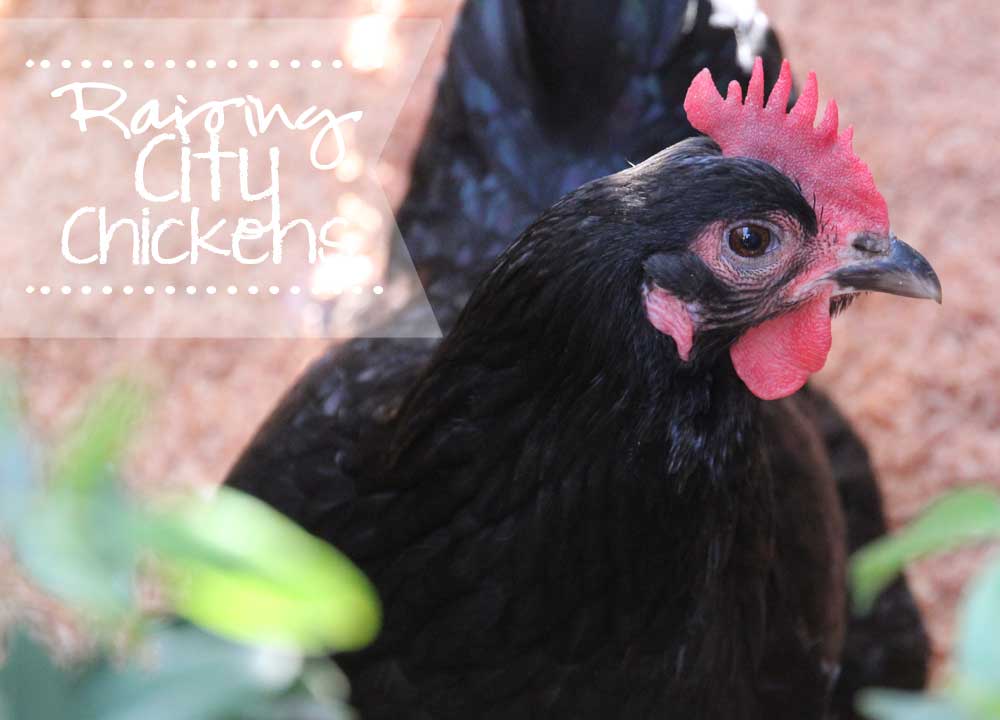 You'll notice in this post that we have just two lovely ladies left in the mix. Due to an unfortunate mix up early on, we accidentally returned our white hen back to the farm when her frequent 'cockle-doodle-doo!' early morning wake up calls had us convinced we ended up with a rooster. Turns out she was really a she and from that day forward we stopped finding white eggs in the hen house. I later learned that it's not unusual for a female chicken to exhibit a few of the traditional rooster cries and reactions when there's no rooster around. Sigh.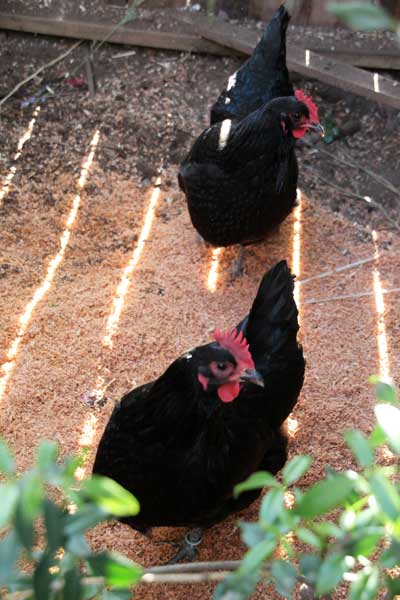 But! Our two other ladies are doing just great. See how much they've grown? They joined our family at just 4 months old – almost two years ago.
Between breakfast, hard boiled egg snacks and baking, two hens are actually the ideal for the amount of farm fresh eggs our family eats each week.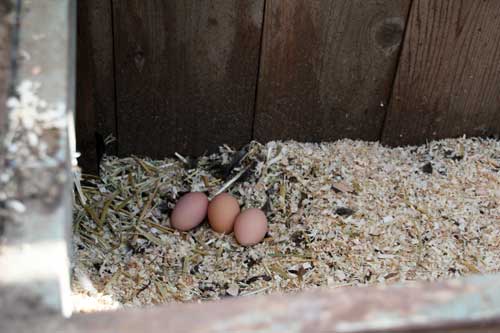 Each hen lays maybe 5-6 per week which means that we rarely ever have to purchase eggs from the grocery store or Farmer's Market. Plus, the eggs are the best you've ever had. Rich, dark yellow yolks full of yummy nutrients, thick egg whites perfect for separating out or cooking with, and of course they're incredibly fresh.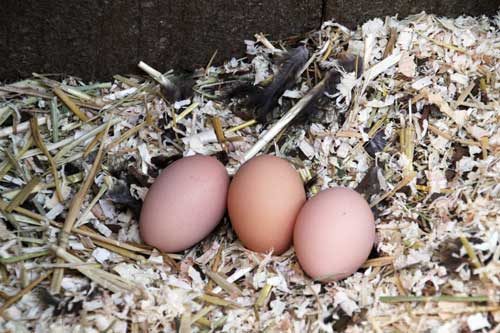 We feed the ladies a mixture of pellets, mash (a corn blend) and kitchen scraps. They devour left over morning oatmeal with raisins (a near everyday treat) and love veggies – especially greens and tomatoes – and fruit. It's a great way to compost, nothing goes to waste.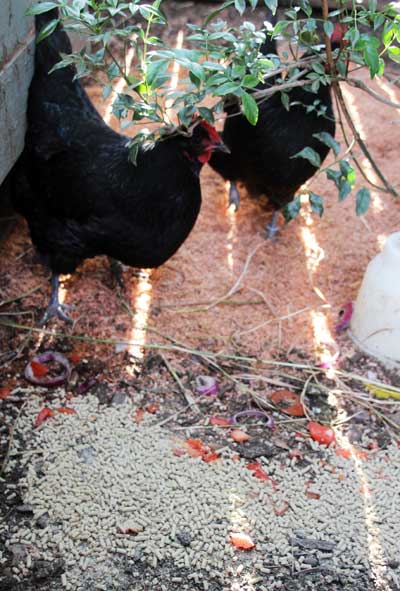 Prior to us finishing the new deck and outdoor dining area, the chickens freely roamed our entire backyard. Gathering up eggs turned into all out Easter egg hunt where one of us would suddenly stumble upon a hidden nest. Here's an Instagram post from a little while back: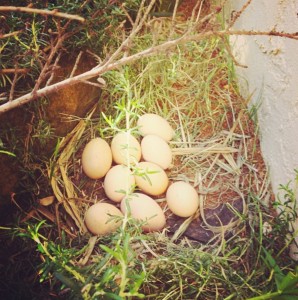 (Don't worry, fresh eggs can be left outside for weeks before going bad.)
But letting them loose outside had its pros and cons. They had their choice of vegetation and bugs to snack on plus plenty of daily exercise. But they also made a mess. Once the deck went in, back to the coop the ladies went.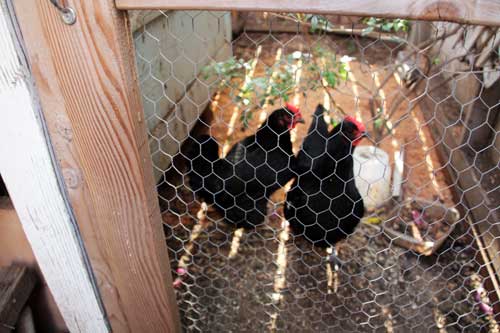 Locked up. Now instead of just sleeping in their home, they enjoy their studio apartment full time. But don't feel bad for them, their home comes complete with wood shavings for a nicely textured floor, fresh hay and alfafa in their nesting box and a roosting pole that's quite high for sleeping.
And we still enjoy a nice big bowl of free-range, farm-fresh, naturally grown eggs. If your chickens are really mad at you they'll stop laying

.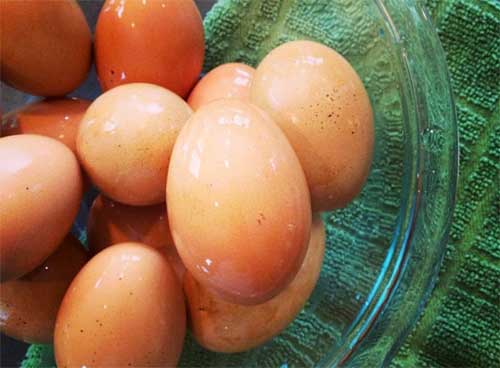 Questions that I'm frequently asked:
1. Where do you find your feed and hay supply? We used to have to source both of these from the outlying San Diego feedshops (the nearest being a half hour from our home). But we recently found out that there are quite a few city farmers in our neighborhood! And now our local pet supply store happily orders and delivers all of the supplies we need.
2. Have you had to deal with rodents or bugs? Yes. Both. We eradicated all of the above within the first few months of the hens moving in and haven't had an issue since, but it was definitely not fun to learn how to fend off non-feather friendly creatures. Diatomaceous Earth (DE for short) became a product we now know.
3. Do you add any supplements to their food? These ladies receive A LOT of delicious fruit and veggie scraps and I think that has a ton to do with how delicious their eggs are, but after a little research I began adding ground up oyster shells (also from our pet store) to the mix for extra strong egg shells.
4. How much do they cost to raise? Is it worth it? Truth be told, the cost of caring for these ladies is about equal to the price you'd pay for free range eggs at the supermarket. You have to love the idea of caring for and growing your own food to be a full fledged chicken farmer. Or, invest in more than two hens and share the wealth with friends and neighbors. We've considered expanding the flock since taking care of two or six is probably about the same amount of work.
5. What's one thing that really surprised you? We didn't realize that hens take a break from laying during winter to more permanently roost or brood. The newbies that we are, we couldn't figure out why the ladies suddenly stopped producing so frequently November – February! Many backyard farmers add heat lamps or lights to extend the daylight that chickens receive during the winter so that they'll continue to lay, but we're going au naturale – we all need a break now and then.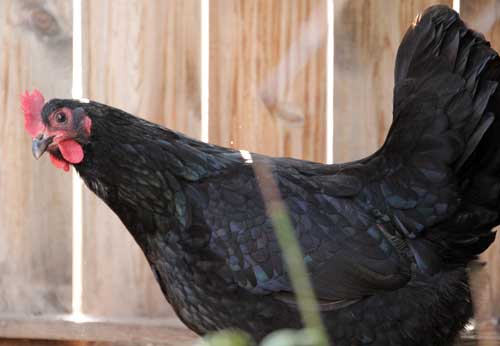 The conclusion? Chickens are a lot of work! and they're not for everyone. But we love 'em. Our mini city farm will be sticking around for a while. 
In honor of Earth Day, here's a link to all of our Going Green posts (with ideas on worm composting, favorite green household products, cloth diapering, etc).
Tags:
Chickens
Posted in
Family & Friends
,
Going Green
|
4 Comments »