This has been such a busy week, so busy that I can't believe that it's almost over. But I am equally thrilled that it's time for a little rest and rejuvenation :).
I love to share Friday guest blog interview posts with you because I love to share really great finds (read more about those here). Today I'd love to give a warm welcome to Alison from Deuce Cities Henhouse who is joining me to answer the usual five design & inspiration questions, and to share her vintage modern style and photos of her amazing home. I love (love) this girl's home. So much about her 100-year-old casa speaks to me. There is something about the art of decorating something so old that is both exciting and incredibly daunting. I never feel that we do our 1930′s bungalow justice – and it makes me happy when I get to be inspired by bloggers that do do the old thing so well.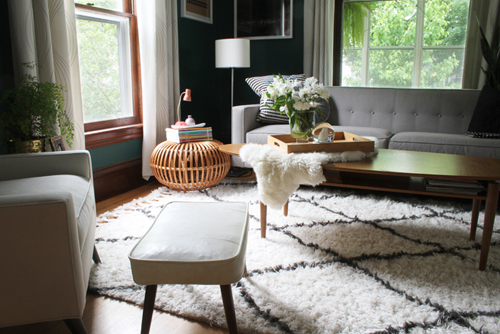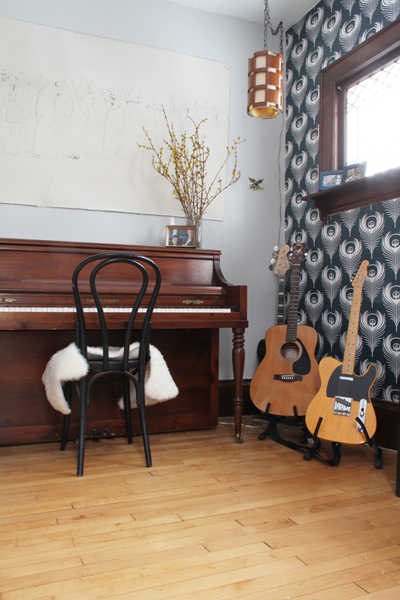 I originally noticed Alison's home when I caught a sneak peek of her music room and that amazing wallpaper. The rest of her home is filled with beautiful patterns, a mix of modern & mid-century furniture, gorgeous green house plants and even a Franco Albini wicker ottoman (yep, Alison's living room was one of the photos from here).
Alison (who goes by Scoops – awesome) is mom to Gus & Finn, majored in photography (hence all of the pretty pictures) and named her blog after the Twin Cities (her hometown).
Head on over to the full interview to see more house shots and read about Alison's favorite tips and inspiration – plus an awesome DIY project that she recently tackled.