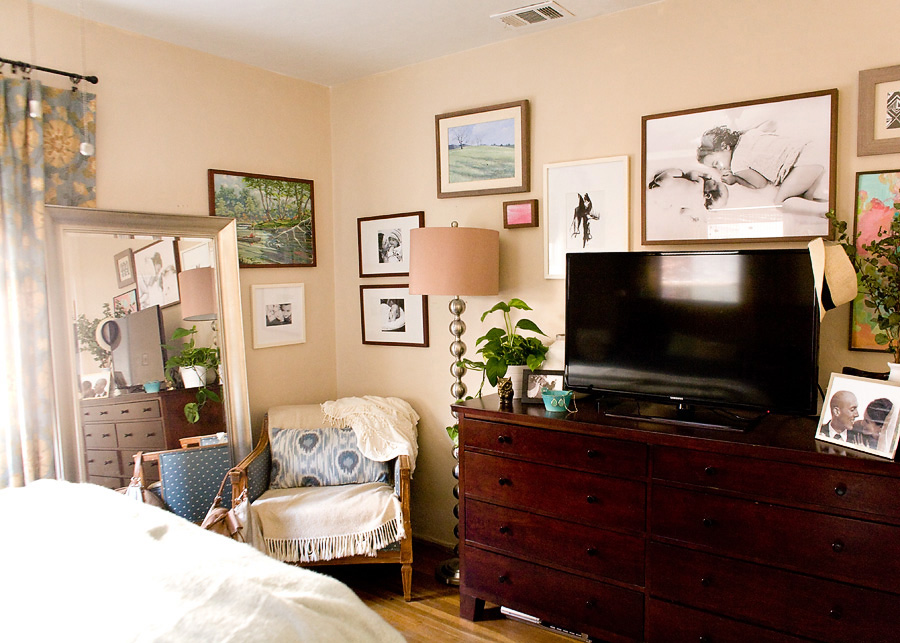 I finally finished the gallery wall in our bedroom that I started back here (more on the progress and how I hammered out the layout) and it makes me so happy to have finished off such a big piece of this room! It feels like perhaps a few 'after' photos are finally in order for a room long forgotten…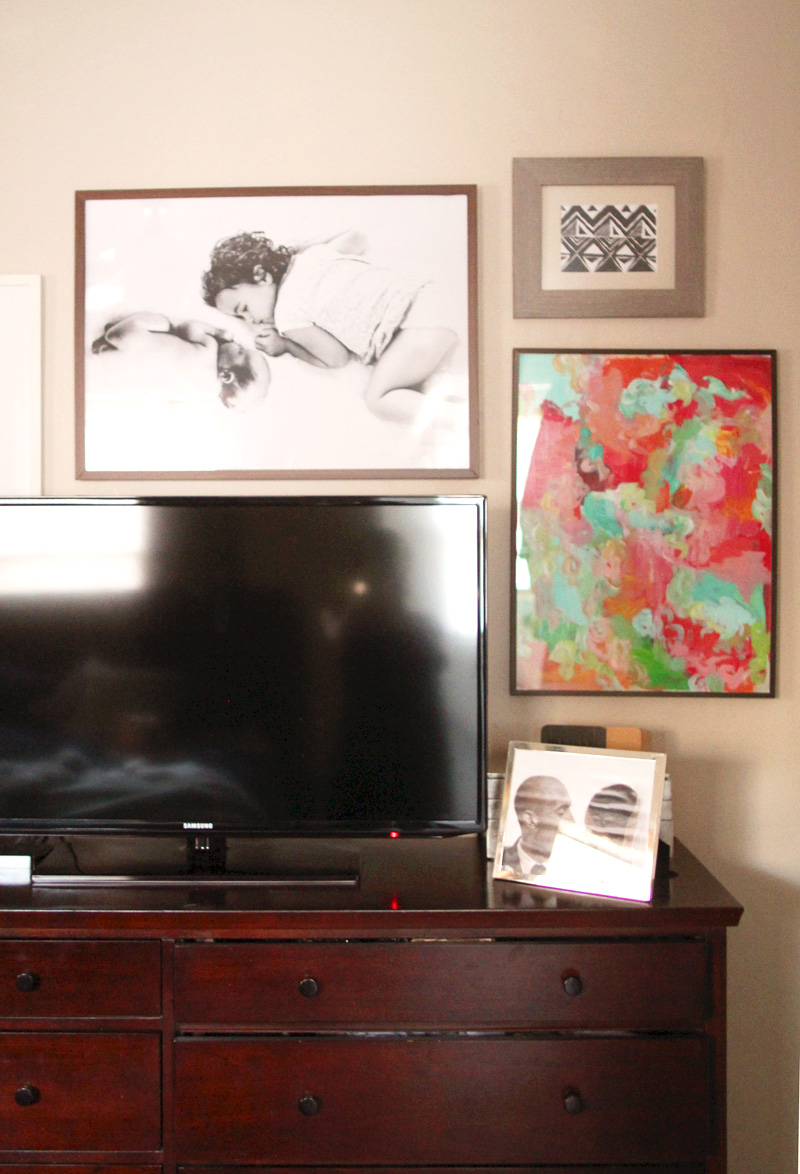 While I originally didn't put a whole lot of attention into this space (a bedroom can be so private, and it's easy to leave to last on the home front), now I so appreciate a room that is cozy and full of mementos of our family.
The gallery wall: tribal print by PrintWork | b&w abstract giclee by Paul Maguire Art | landscape and lake & rowboat was a thrift store find | b&w photos of the girls and our family | pink watercolor and colorful acrylic by Liv & I
I love the oversized black and white of the girls when T was brand new (I had it printed at Coscto for maybe $8 and the frame is Aaron Brothers). I originally didn't have that little pink watercolor to the right of the lamp on the wall, but the large acrylic abstract art was needing some sort of colorful piece on the other side of the wall for balance.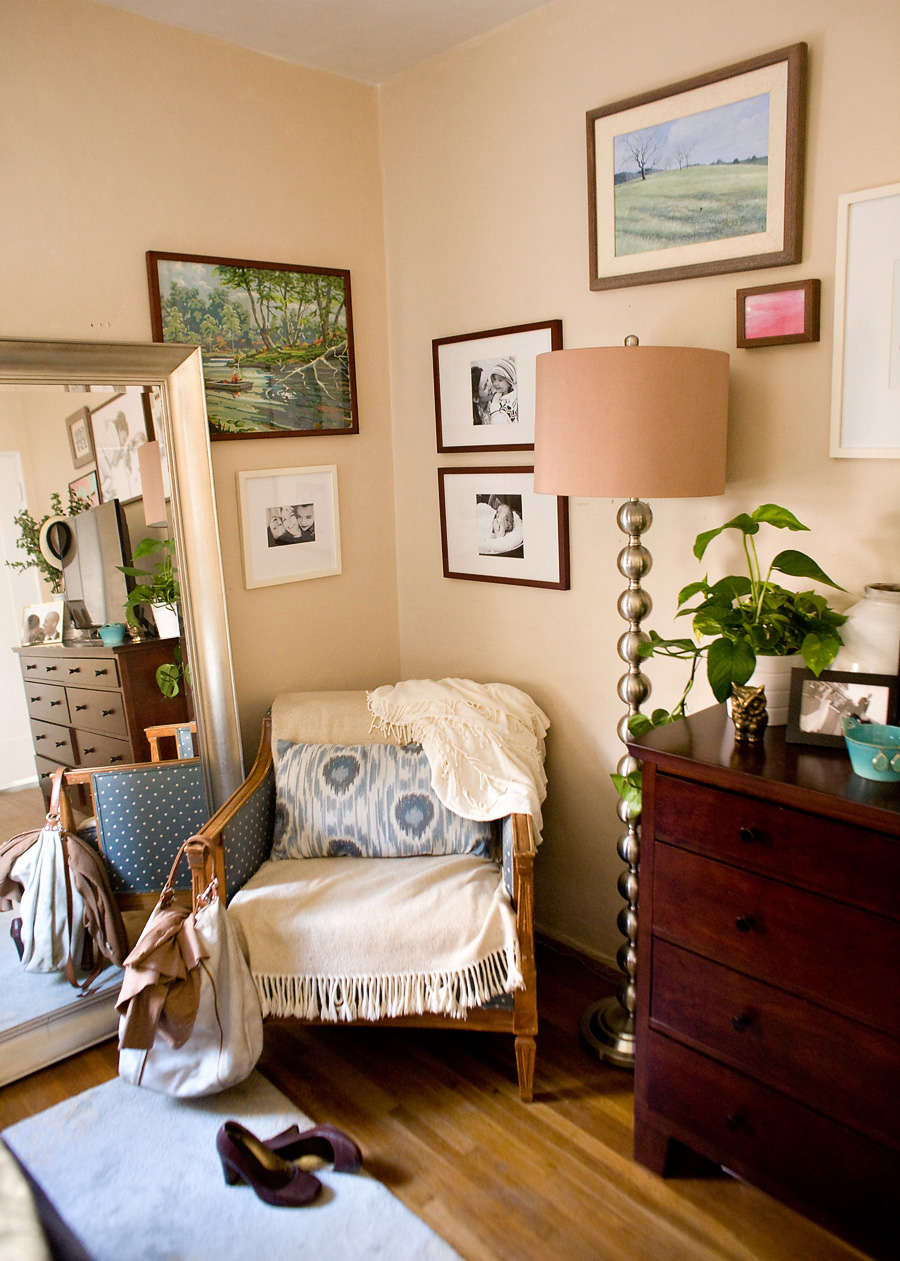 Have I shared the full room? It's an odd layout because a little half bath pokes out from one wall (see that door to the left below) and a closet that is maybe 2×2′ sits next to it, but we've found a configuration that seems to work well.
Soon the the plans for the new master bathroom/bedroom will be finished and we'll sort of start from scratch in here again.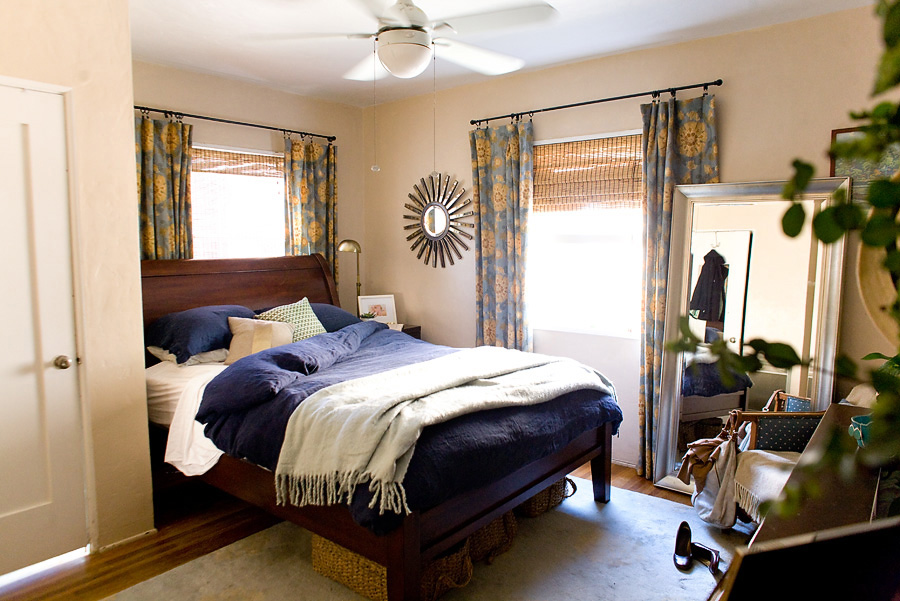 Storage is really limited, so big wicker baskets under the bed help to make up for lost closet space (it took me a long time to find thin enough baskets to fit under the bed that were affordable, but unfortunately I don't think Pottery Barn sells them any more).
I made the curtains from a beautiful Calico suzani fabric that I found a long while ago. The lamp next to our bed is from HomeGoods. I discovered linen duvet covers last year and it's an amazing material for the bed. The navy set we have was a very generous gift from our Aunt from Christmas from Restoration Hardware (warm in the winter, cool in the summer). The white cotton sheets are Calvin Klein from Macy's (it's taken ages to find the right combination, but I think that this is it.) The rattan blinds and floor length silver mirror are from Lowe's.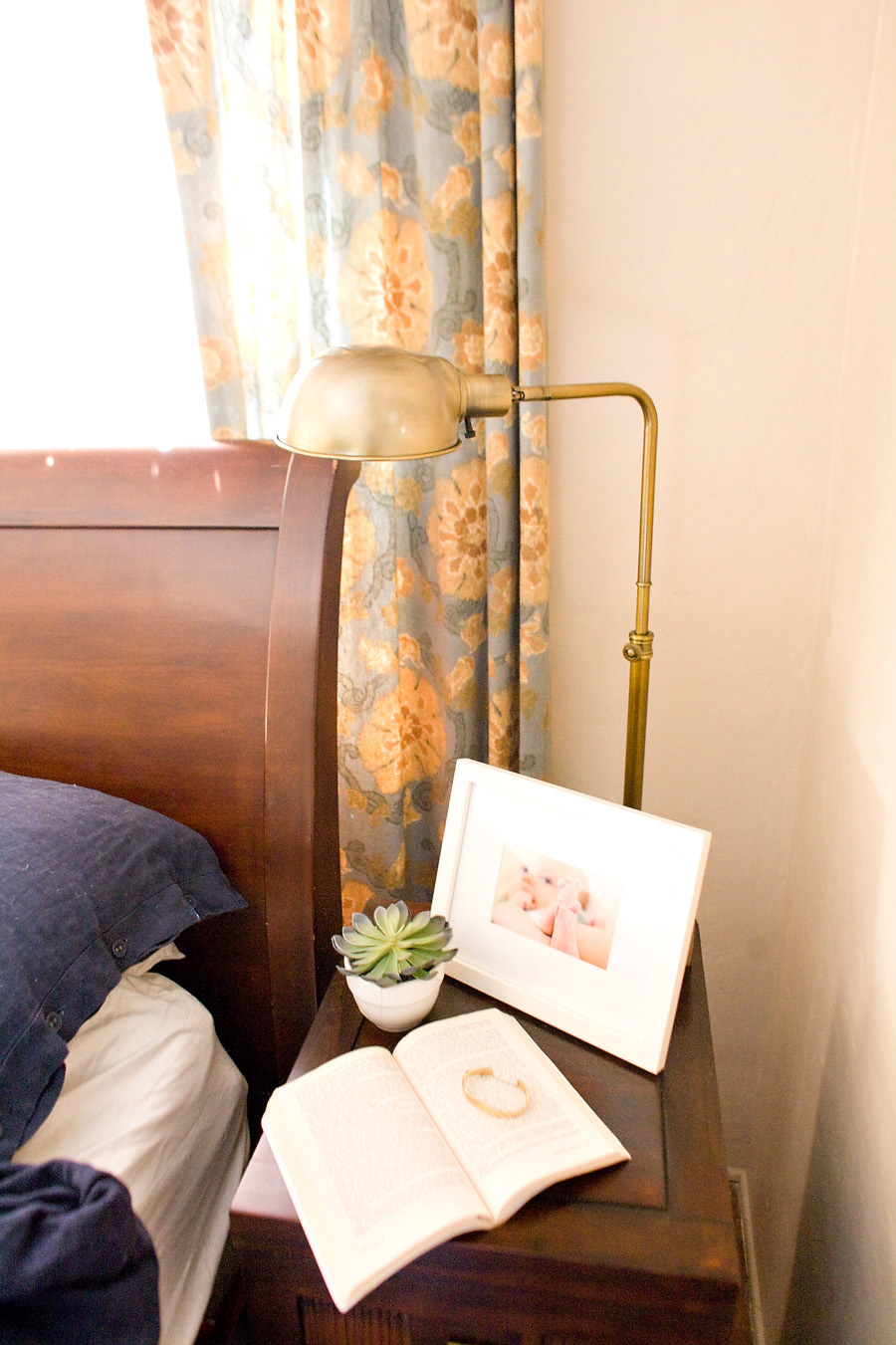 I'm waiting until the new bedroom is put back together before replacing my thrifted corner chair. It's more of a clothes hanger, anyway.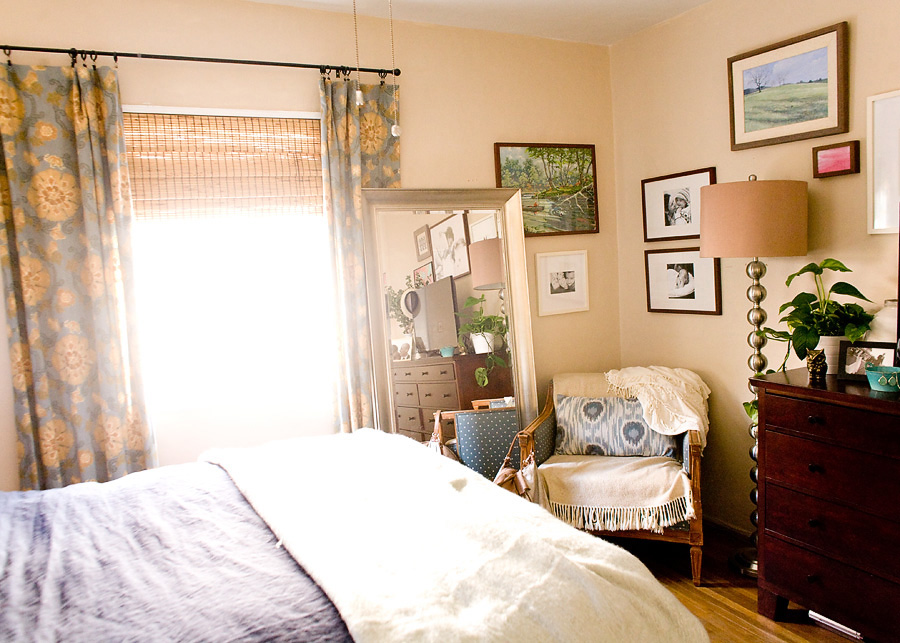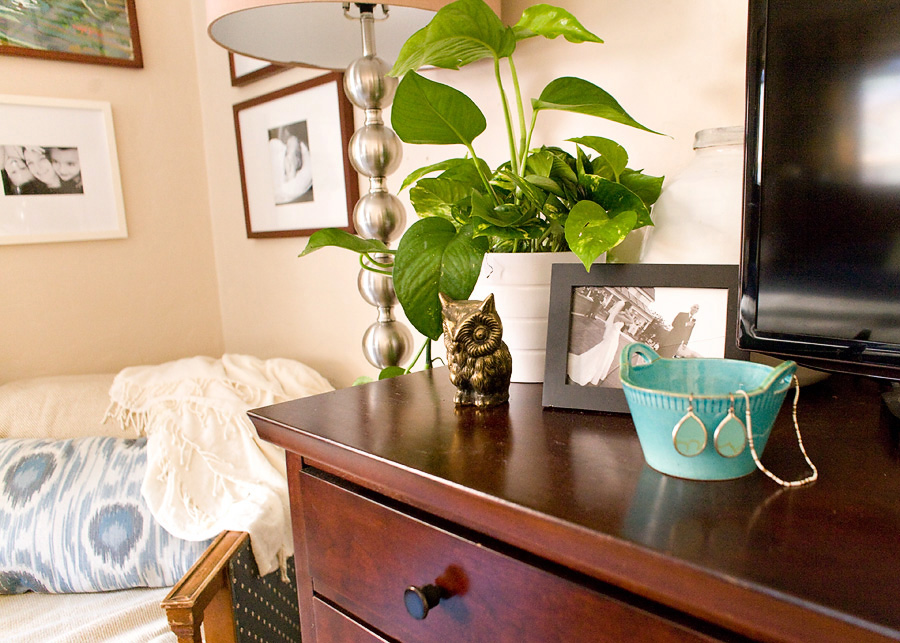 A quick tour! and here's a source list:
Still hard to believe that it came from here :-):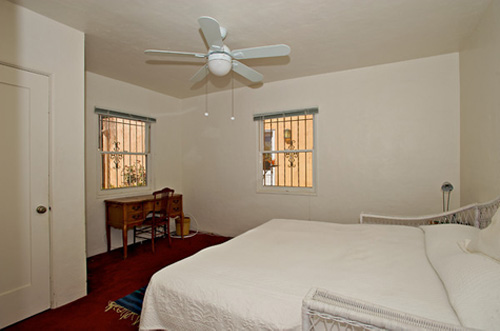 Do you tend to leave spaces that are not often seen by many to the very last? My main mission for our home is cozy and comfortable for our family and especially for the girls. Still the rooms that are last to get love are those that no one sees :), but the ones that we use ALL of the time. Go figure.
Enjoy your beautiful weekend!
PS start here for all projects relating to this room (check out my ideas for the new ensuite!). You can also continue the house tour over here. A big thank you to Katie Beverley (who has just relaunched her site with a sweet deal!) for the lovely 'after' photos.